4 Airline Stocks To Watch in 2022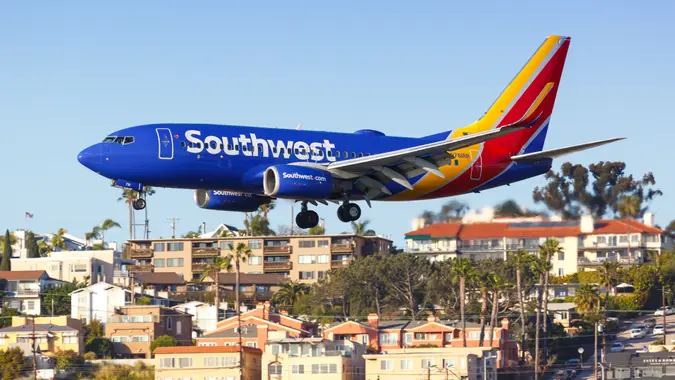 Boarding1Now / Getty Images
Airlines lost a lot of money in 2020, with earnings down 60% from 2019, pre-COVID, according to the International Air Transport Association. And they were still struggling to recover at the end of 2021 despite the first wave of "revenge travel" — consumers making up for lost time by booking trips they'd delayed during the height of the pandemic. That trend strengthened in 2022. By spring, bookings for short and medium-distance trips had come from behind to surpass pre-pandemic levels by over 25%, MarketWatch reported, and demand remained strong through the third quarter. However, as the International Air Transport Association noted, airlines have had to contend with high fuel costs and other inflationary challenges as well as labor shortages and economic uncertainty, leaving investors watching to see how this will affect airline stocks for the rest of the year. 
A Burgeoning Recovery Defined by Unknowns
The IATA expects the global airline industry to return to profitability next year, but several factors currently impacting the industry stand to influence the timing and extent of the airline industry's recovery.
Recovery Factors

The ongoing effects of the coronavirus on global travel and airline operations.
What happens with business travel, since many companies have come to terms with the likelihood that remote work is here to stay in some form and travel will be reduced moving forward.
Demand for leisure travel.
How airlines grapple with their post-pandemic debt.
The extent to which supply can keep pace with demand amid staffing shortages.
How operating costs land as airlines address maintenance needs and pay more for fuel, labor and nearly everything else.
Government regulation.
Investors Are Feeling Optimistic as Airlines Express Caution
Although airline security screenings — a measure of how many passengers are flying — are still well below pre-pandemic levels, screenings increased 185% from December 2020 to December 2021, and they're up another 16% in the past year.
That said, the rally that drove stocks' gains last year since has cooled, leaving the four major airline stocks down over the past year — in the case of American, Southwest and Delta, by double digits. But as Investor's Business Daily reported in early December, passenger volume and airfares have soared this holiday season, and United, American, Southwest and Delta all posted positive third-quarter results.
Despite the bumps along the path to what many thought would be a consistent recovery for air travel, airline stocks have trended upward since third-quarter earnings were released.
It remains to be seen whether investors' optimism will hold out amid ongoing economic challenges, but considering Americans' reliance on air travel, it seems likely that patience will pay off in the long run.
Airline Stocks To Watch
Before investing in airline stocks, you'll want to take a closer look to determine whether the current enthusiasm over them is warranted. Here's what you need to know about four stocks you might consider.
1. American Airlines Group Inc. (AAL)
Buy, Sell or Hold? Hold
Pros: American beat analyst estimates in the third quarter of 2022, with strong earnings and a 50% year-over-year increase in revenue to a record $14.46 billion. In addition, the company said it's still on target to pay down $15 billion in debt by the end of 2025. In its guidance for the fourth quarter, American forecast that revenue would climb 13% above pre-pandemic revenues. 
Cons: Although American reported a significant revenue gain during the first three quarters of 2022, it's three years from paying down debt and hasn't resumed dividends.
2. Delta Air Lines Inc. (DAL)
Buy, Sell or Hold? Buy
Pros: Delta narrowly missed analysts' earnings and revenue forecasts for the third quarter, but a positive outlook lifted the stock after the results were released. Delta announced its capacity would reach 92% of pre-pandemic levels before the end of the year and reach 100% by mid-2023. 
In an interview on CNBC's "Squawk Box," CEO Ed Bastian said the company has made a significant investment in staff, having hired about 20,000 people since the beginning of 2021.
Cons: In addition to pandemic-related revenue loss and rising fuel costs, Delta carries significant debt from loans it took to ride out the pandemic.
3. Southwest Airlines Co. (LUV)
Buy, Sell or Hold? Buy
Pros: Southwest's reputation as one of the best-run airlines could settle the nerves of worried investors. And as a low-cost carrier known for its excellent customer service, Southwest might be the first choice for budget-conscious travelers grappling with inflation. 
Southwest reported record revenue in the third quarter and easily beat analysts' earnings predictions. What's more, it has reinstated dividends. 
Cons: Staffing shortages and delayed delivery of new Boeing aircraft have limited flights and resulted in a slower return to pre-pandemic flight volumes.
4. United Airlines Holdings Inc. (UAL)
Buy, Sell or Hold? Buy
Pros: United said that strong demand for flights to Europe and flexibility for remote workers to travel helped drive strong third-quarter earnings and revenue growth that surpassed analyst expectations — and in the case of unit revenues, outpaced 2019 results by 25%, according to CNBC. The company expects to see profits again next quarter.
United is about to embark on a hiring spree, hoping to bring on 30,000 employees by the end of 2023 as part of its growth plan. In an earnings call with reporters, reported by CNBC, president Brett Hart said that the vast majority will be in new positions as opposed to filling vacated positions. 
Cons: Staffing and supply chain issues continue to constrain flights. 
Good To Know

Investors looking to capitalize on a rebound in air travel don't need to pursue individual company stocks unless they want to. A diversified airline exchange-traded fund called the U.S. Global Jets ETF (JETS) can provide exposure to Southwest, American, Delta and United airlines, as well as manufacturers, airline operators, airports and related services.
An Industry Ready To Recover, However Slowly
Much of the coverage of airline stocks right now revolves around the economy. The airlines were one of the first retail sectors impacted when the COVID-19 lockdown struck, and as they rebuild, they need to confront many ongoing obstacles such as increasing interest rates and fuel costs, labor shortages and supply chain issues.
All signs indicate that at least a few of these airlines are staying nimble and doing the work it will take to reemerge fully. However, investors will likely need to stand by patiently while that reemergence develops over the next year or so.
Kelli Francis contributed to the reporting for this article.
Data is accurate as of Dec. 8, 2022, and subject to change. Information on ratings was sourced from Yahoo Finance.
Our in-house research team and on-site financial experts work together to create content that's accurate, impartial, and up to date. We fact-check every single statistic, quote and fact using trusted primary resources to make sure the information we provide is correct. You can learn more about GOBankingRates' processes and standards in our editorial policy.