6 Best Metaverse Stocks To Invest In for 2023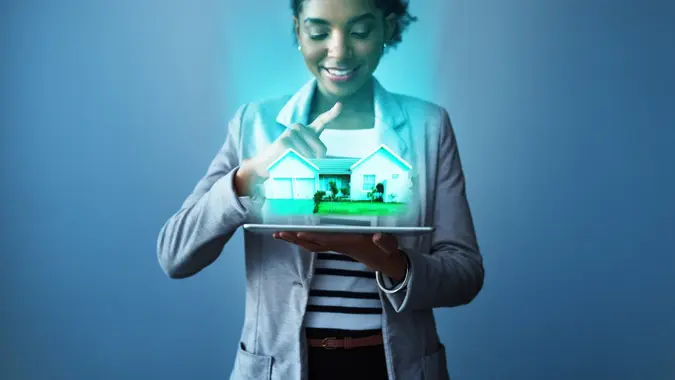 PeopleImages / iStock.com
If you've been researching digital real estate, diving into cryptocurrency, scrolling through NFTs or spending any amount of time in the virtual reality realm, you've been taking part in the metaverse.
With metaverse stocks turning into a hot topic on Wall Street, they've quickly become one of the most widely followed financial trends. If you are curious about this investment option and are considering adding metaverse stocks to your investment portfolio, these top stock picks will help get you started. 
6 Best Metaverse Stocks To Watch
Here are six of the best metaverse stocks to invest in for 2023:
1. NVIDIA (NVDA)
The metaverse requires significant data processing to operate, and that's what NVIDIA does best. The company develops and sells the processing chips required for much of the metaverse to run. In fact, many argue that AI wouldn't exist without the company's technology. Although the P/E ratio is high, the fact that the company dominates the AI sector and plans to continue to do so as generative AI rolls out justifies its high valuation. 
2. Meta Platforms (META)
Meta is the parent company of Facebook, a company that's become a household name around the world. The company changed its name to further reflect its focus on the metaverse. In particular, Meta is heavily invested in virtual and augmented reality solutions. Moreover, with a P/E ratio of 36.72 and a strong history of growth, the stock trades with a fair valuation. 
3. Match Group (MTCH)
Market Cap: $11.68 billion
P/E Ratio: 38.84
Match Group may be the last company you expected to see on a list like this, and for good reason. What's a dating company doing on a metaverse list? The answer is simple. Match has been investing in the metaverse for quite some time. The company has spent billions of dollars on metaverse acquisitions and other activities in the space.
Although it's pulling back on its metaverse investments, it still owns plenty of intellectual property that it can lean on if the metaverse does take off like some expect. Moreover, the pullback offers more of a safety net if the metaverse doesn't work out as expected.  
4. Autodesk (ADSK)
Autodesk is a software company that provides digital tools for engineers, architects and others in similar industries. The technology makes it possible to create 3D digital landscapes and models of homes and technologies. This makes it highly valuable to metaverse architects. Moreover, this isn't just a play on the metaverse. Autodesk is a leading software solution among engineers, designers, architects and a wide range of other professional service providers, offering yet another layer of security to the investment. 
5. Unity Software (U)
Unity Software isn't yet profitable, but don't let that fool you. If you want exposure to the metaverse, this is a great way to get it. The company is a central hub for metaverse designers. After all, the metaverse is a digital realm that depends on graphics and 3D designs, much like you see in gaming. Unity software gives developers the tools they need to create these virtual worlds. 
6. Microsoft (MSFT)
Market Cap: $2.49 trillion
P/E Ratio: 36.39
Microsoft is another household name around the world. The company is best known for its Windows operating system and its suite of software solutions. However, the company has also made several investments in virtual reality, augmented reality and other areas of the metaverse. As such, an investment in Microsoft is an investment in a reliable company that offers exposure to the metaverse as well.  
How To Invest in Metaverse Stocks
If you're interested in digital real estate investing but don't want to take on the risk associated with NFTs and cryptocurrencies, metaverse stocks are for you. Here's how to invest in them:
Open a brokerage account with a discount broker like Robinhood or Webull that offers free stock trading. 
Choose a metaverse stock in which you would like to invest.
Search for the stock in your new brokerage account. 
Consider valuation metrics like the price-to-earnings ratio to make sure you get a fair deal. 
Purchase shares of your preferred stock through your brokerage account.
Final Take
If you're interested in investing, consider trying out one of the best metaverse stocks mentioned above. These companies have the potential to benefit from the financial growth of the metaverse. They also have core businesses that have the potential to produce gains even if the metaverse implodes on itself, which adds a level of security to your investment. 
FAQ
Here are answers to some commonly asked questions about investing in the metaverse.
Can you invest in the metaverse?

Think of the metaverse as a

new-and-improved internet

. While you can't invest in the internet, per se, because it isn't a specific thing owned by a specific entity, you can buy stock in companies involved in building the network and creating the websites people use to shop, socialize, learn, play and work. The same is true for the metaverse — you can invest in the metaverse by investing in metaverse stock.

How do I buy metaverse stocks?

You can purchase shares in metaverse companies by opening a brokerage account — most simply by signing up with an online broker or an investing app. Once your account is active and you've funded it with money from a bank account or credit or debit card, you can select and purchase stocks.

What are the top five metaverse stocks?

The five best metaverse stocks to invest in for 2023 are as follows:

NVIDIA (NVDA)
Meta Platforms (META)
Match Group (MTCH)
Autodesk (ADSK)
Unity Software (U)

What are the best ETFs for the metaverse?

Two of the best metaverse ETFs include Roundhill Ball Metaverse ETF (METV) and Global X Metaverse ETF (VR).

What are the biggest companies for the metaverse?

The companies listed above are some of the top metaverse companies. These companies are already successful in an industry other than the metaverse. For example, Meta Platforms and Microsoft Corporation aren't just the biggest metaverse companies; they're two of the largest companies in the world across any industry.
Daria Uhlig and Daniela Rivera-Herrera contributed to the reporting for this article.
Data is accurate as of June 28, 2023, and is subject to change.
Editorial Note: This content is not provided by any entity covered in this article. Any opinions, analyses, reviews, ratings or recommendations expressed in this article are those of the author alone and have not been reviewed, approved or otherwise endorsed by any entity named in this article.
Our in-house research team and on-site financial experts work together to create content that's accurate, impartial, and up to date. We fact-check every single statistic, quote and fact using trusted primary resources to make sure the information we provide is correct. You can learn more about GOBankingRates' processes and standards in our editorial policy.