As Concerns of Tesla Overvaluation Pile Up, Elon Musk Receives Big Award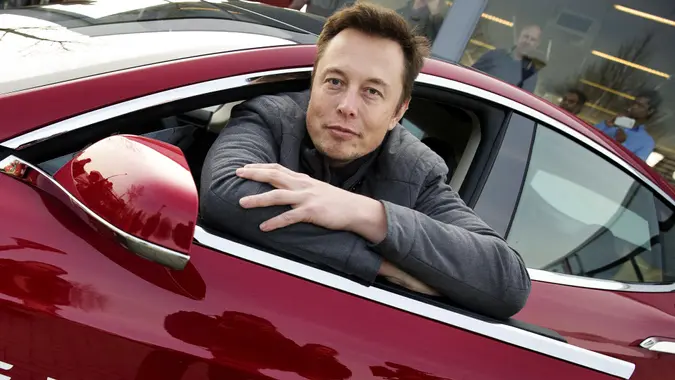 Jerry Lampen/Epa/REX / Shutterstock.com
Using a simile that might make his restaurateur brother Kimbal Musk proud, Tesla CEO Elon Musk yesterday warned Tesla (NASDAQ:TSLA) employees that the company's stock could "get crushed like a soufflé under a sledgehammer" if the electric vehicle manufacturer doesn't do a better job of controlling costs.
Fact Check: Is Tesla REALLY the World's Most Valuable Carmaker?
The news came on the heels of Musk receiving the Axel Springer Award in Berlin Germany, given to "outstanding personalities" who innovate, change markets, and influence culture while understanding — and acting on — their social responsibilities. The awards presentation, themed "An Evening for Elon Musk – -Mission to Mars," spotlighted the advancements of SpaceX. Yet even as Musk discussed the possibilities of reaching Mars with an uncrewed vehicle in two years, he also remained focused on business here on earth.
Consider It: 6 Reasons Tesla Might Be the Stock You Need To Buy
His email to Tesla employees yesterday stated that the company's profit margin is "very low," at around 1% for the year. "Investors are giving us a lot of credit for profitability," the email said. However, if margins don't rise, the stock price could plummet.
Tesla stock price is too high imo

— Elon Musk (@elonmusk)

May 1, 2020
Musk has stated in the past that Tesla stock was "too high" — and his tweet saying exactly this may have resulted in a rapid price drop, prior to a tremendous rally that saw the stock split at a rate of 5-for-1 on August 31, 2020.
Big Money: Elon Musk Passes Bill Gates To Become World's Second-Richest Person
Musk reiterated these sentiments of Tesla's overvaluation on Tuesday in an interview with Mathias Doepfner, CEO of technology and media company Axel Springer. "I even said the stock was too high. I mean what am I supposed to do," he said.
Stock Volatility 101: Why Tesla and Amazon Stock Prices Are Skyrocketing and Google and Facebook Are Nosediving
Tesla is set to join the S&P 500 on December 21. The company has also celebrated other victories in the third quarter, including the successful launch of Tesla branded tequila, which sold out in hours in early November, and rumblings of a next-generation Roadster on the horizon. Tesla Owners Online tweeted about a notification regarding a Founders Series Roadster in his Tesla Referral Program account, Teslarati reported on Cyber Monday.
Tesla is also making a strategic push to encourage customers who have pre-ordered Cybertrucks to lease models from the S3XY line until the Cybertruck ships in two to three years. However, if Tesla doesn't reduce costs and deliver on shareholders' expectations of profitability, Musk's warnings of a massive stock price drop could be realized.
Good Gambles: Elon Musk's Biggest Bets That Paid Off
Musk has said he would also entertain the possibility of a merger with another automaker. "We're definitely not going to launch a hostile takeover," he told Doepfner. "If somebody said, 'Hey, we think it'd be a good idea to merge with Tesla,' we'd certainly have that conversation."
More From GOBankingRates