DoorDash Seeks Valuation of Up to $32 Billion in IPO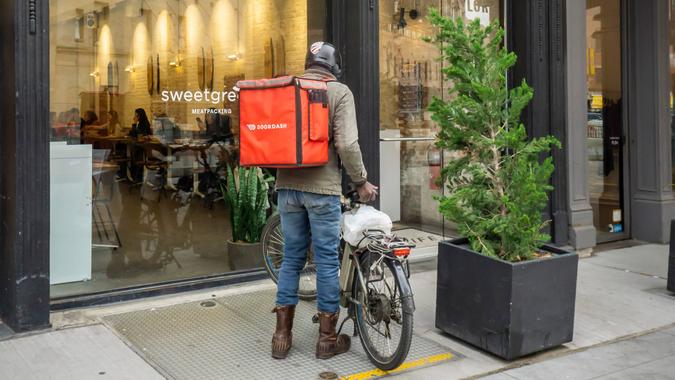 rblfmr / Shutterstock.com
Food delivery app DoorDash is looking to raise as much as $2.8 billion in its IPO — funding that would give the company a valuation of $32 billion, according to the company's filings on Monday. The company, which has seen business booming during the pandemic, proposes a minimum share price of $75 and a maximum share price of $85.
"Our journey began on January 12, 2013, when our founders launched a website displaying menus from local restaurants in Palo Alto, California," DoorDash wrote in its SEC filing's mission statement. "Today, we connect over 390,000 merchants, over 18 million consumers, and over 1 million Dashers in the United States, Canada, and Australia through our local logistics platform. With over 900 million orders completed through our platform since our founding, merchants have made additional sales, consumers have connected with the best of their neighborhoods, and Dashers have found flexible economic opportunities."
Though the pandemic and its related lockdowns have helped push DoorDash into the spotlight, the Silicon Valley startup was already gaining steam. Near the end of 2019, Morning Consult named DoorDash the fastest growing brand in the U.S. At the time, DoorDash was coming off an 18-month accelerated growth, branching out into all 50 states with beefed up advertising and a refined focus on suburban areas. Morning Consult also found DoorDash to be the fastest-growing brand across consumer generations, indicating that its demographic pull was wider than competing food delivery apps. UberEats, for instance, showed it was biggest with boomers, while Postmates was found to be most popular with younger consumers.  
In going public, DoorDash seeks to "to grow and empower local economies," according to its SEC filing. "In the near term, we expect to continue to make substantial investments to increase consumer adoption and extend our leadership. We believe that our business will be successful and sustainable in the long term as our business model becomes more efficient, through increasing scale and continual operational improvements, and as our sales and marketing and promotions investments normalize."
Take a look at these successful companies that were IPO flops.
More From GOBankingRates