Dow Surges, Hits Record on Positive Pfizer Vaccine Update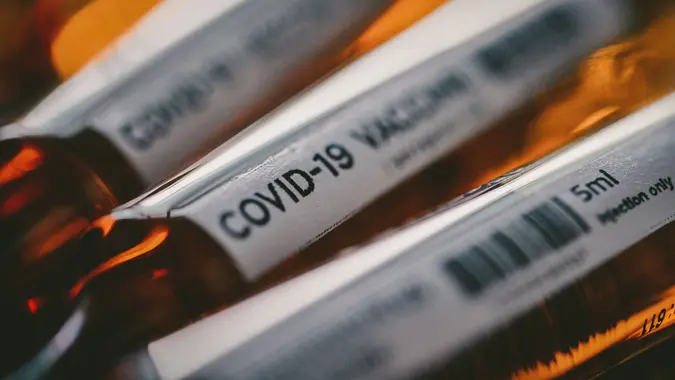 da-kuk / Getty Images/iStockphoto
On Nov. 9, Pfizer and German partner BioNTech released early study results indicating that their experimental vaccine is more than 90% effective in preventing COVID-19, USA Today reported. This is not only good news for global health, but also for investors — the vaccine update has caused the stock market to reach record highs.
The Dow Jones industrial average soared more than 1,000 points to a new intraday high of 29,933.83, beating a previous pre-pandemic record hit in mid-February. The S&P 500 index also saw a boost, climbing 2.7%. Financial markets were already on the rise following President-elect Joe Biden's win on Saturday, as the stock market had been in a limbo state during all of the election-related uncertainty.
The vaccine news has been especially fruitful for industries that are reliant on the economy reopening, including airlines, gas, casino, mall and restaurant companies, many of which have seen their stocks surge: Chevron stocks rose 12.1%, Disney stocks rose 11.3%, Carnival surged 36%, Delta Airlines surged 11% and Las Vegas Sands rose 9%.
Not all stocks are booming, however. Some tech stocks that surged during a stay-at-home economy are now falling: Zoom Video declined 14%, Netflix fell 5% and Amazon dropped 2%.
"We want to go back to work, school and socializing in business and family life, and this means a slow-down for most stay-at-home stocks," James McDonald, CEO and chief investment officer of investment manager Hercules Investments, told USA Today in a note. "Stocks like Zoom and Netflix will be long-term winners, but will lose in the short-term as their valuations ran ahead of actual earnings."
Pfizer is the first drug company to release data from a large, Phase 3 trial. Although the results are certainly promising, the data is only preliminary and does not mean a vaccine is imminent. Once a vaccine is approved, there is still the logistics of getting it to billions of people that need to be figured out — but it's certainly a step in the right direction.
VACCINE EFFICACY 101: A biostatistician's primer

Ten tweets to cover:

– How is vaccine efficacy calculated?– Distinguishing between infection, disease, & severe disease.– Measuring reduced infectiousness.– Vaccine efficacy vs. effectiveness!— Natalie E. Dean, PhD (@nataliexdean) September 28, 2020
"For the first time we can see a light at the end of the tunnel and a return to 'normalcy' seems likely within 2021," Steven Seedhouse, analyst at Raymond James, told USA Today.
As far as returning to normal, see when experts expect that to happen for the economy.
More From GOBankingRates