How to Use Yahoo Finance to Track Stocks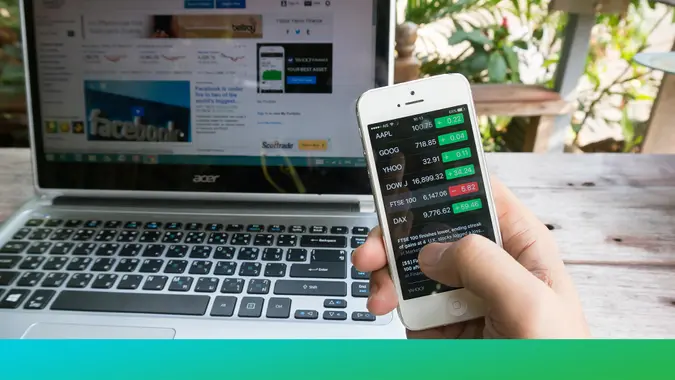 Kdonmuang / Shutterstock.com
Tracking a stock means you're following its price. If you've got an investment portfolio — or want to build one — tracking prices on websites or investment apps can help you understand how stock prices move.
Aside from listing information about finance, Yahoo Finance offers real-time stock quotes in addition to financial news, stock research and historical stock charts. You can find all of this information on the Yahoo website or with the Yahoo app. Follow these five steps to get all the stock tracking information you need from Yahoo finance and get closer to understanding the stock market game and becoming a savvy investor.
1. Visit Yahoo Finance Stocks
Yahoo offers free stock tracking but you must sign into your Yahoo account and set up a portfolio before you start tracking. Signing up for a Yahoo account is straightforward: Enter your first and last name, email address, phone number and date of birth. Once you choose a password you can log in and begin viewing Yahoo Finance stock quotes.
2. Make a Watch List
If you're just beginning to research stocks, start by making a watch list. As the name implies, a Yahoo Finance watch list will enable you to track — or watch — the stocks you choose. Here's how to set up a watch list:
Click on "My Portfolio," then "My Watchlist" then "Add Symbol."
Enter the ticker symbols of any stocks you want to track; for example, AAPL for Apple or FB for Facebook.
If you don't know the symbol, type in the company name and Yahoo Finance will find the symbol for you.
Click on the stock names as they appear in the Yahoo Finance window.
Each time you select a stock, it will appear in your watch list. In the default setting for Yahoo Finance, you'll see the following information for each stock:
Last price
Change in dollars
Percentage change
Currency; typically U.S. dollars
Market time
Volume
Shares
Average volume
Day range
52-week range
Day chart
Market capitalization
Beneath your stock quotes, Yahoo Finance will report any recent news about the companies in your portfolio. It's a helpful feature that allows you to see if anything newsworthy has happened with a company with stock you might want to buy.
3. Build a Portfolio
After you've bought some stock, you should build a portfolio. You can track your actual holdings separately under the My Portfolio section of Yahoo Finance. The steps — and the information about the stocks — are basically the same you used to create a watch list:
Click on "My Portfolio," then "Create New Portfolio."
On the pop-up screen, enter a name for your new portfolio and the appropriate currency.
Add a ticker symbol or name in the pop-up window.
Click on the company to add it to your portfolio.
4. Enter Your Trade Information
Using the Yahoo Finance "My Holding" tab, you can keep track on how your investments are performing. Enter the specifics of your trade information by clicking on "Add Lot" under the "Lot Value" column.
From there, you can enter information such as how much you paid for the stock and on what date. If you've made multiple purchases, click on "Add Another Lot" to provide additional data. After your actual trade information is in your portfolio, Yahoo Finance will report your profit and loss on a real-time basis.
5. Customize Your Settings
Once you click on the name of your portfolio or watch list, you can customize your settings through the "Custom View" link on the far right of the page. From there, you can choose from approximately 72 ways for Yahoo Finance to display your stocks. The options are divided into subcategories:
Basic
Details
Extended hours
Fundamentals
Moving averages
Estimates
Portfolios
Within these subcategories, you can choose to view other options. For instance, you can see a stock's 200-day moving average, its earnings per share and its forward price/earnings ratio.
Get More Information From Yahoo
In addition to tracking stocks, the Yahoo Finance page links you to news about everything from personal finance and technology to markets and industries. Although Yahoo Finance charts are helpful, they're much more useful when backed by financial news, which can give you ideas about what stocks to track in your watch list.
Stock Tracking Alternatives
You can get a lot of the same information Yahoo Finance provides from sites like Google Finance — or the Google Finance app. Which site you use will come down to your own preferences. If you already have a Yahoo email account — or a Gmail account — it might be convenient to stick with the universe you know. Both Yahoo and Google rank in the top four most-visited websites.