4 Reasons To Invest In PayPal Stock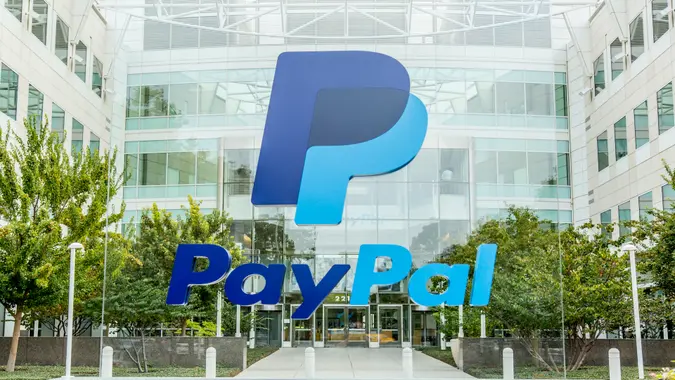 Jason Doiy / Getty Images
PayPal Holdings Inc. (Nasdaq: PYPL) was one of the first electronic payment processors to cater to small businesses and individuals. In its early days as the primary payment method for eBay and other online sellers, it quickly became one of the first companies to make it easy for online sellers to collect payments, and for online shoppers to be confident their transactions were secure.
See: 3 Things You Must Do When Your Savings Reach $50,000
Over the last few years, however, the company appeared to have squandered its first-mover advantage and looked like it was in danger of being overtaken by more nimble competitors.
The company's share price peaked at $308.53 in July 2021 and then began a two-year freefall that has it trading at $61.65 as of the close on Sept. 7, 2023. So why are investors even giving this stock a second look?
Here are four reasons to invest in PayPal stock now.
1. The Analysts Like It
In September, 44 analysts weighed in on PayPal stock. Of those, 14 rated it a strong buy, 18 said it was a buy, and 12 recommended holding it, for an average recommendation rating of 2.1, or buy. The average 12-month price target is $86.47, compared to the closing price of $61.65 on Sept. 7.
2. Its Fundamentals Are Strong
PayPal Holdings Inc., which owns PayPal and Venmo, is currently trading near its 52-week low of $57.29 (its 52-week high is $99.30). The company's price-earnings ratio is 17.54.
PayPal Holdings released its second quarter 2023 results on Aug. 2, and results came in at the high end of guidance. Net revenues were $7.3 billion, and GAAP operating income was $1.1 billion, up 48%. GAAP EPS was $0.92, compared with a loss of $0.29 per share in the same quarter a year ago.
3. It Outshines the Competition
If you think electronic payment providers are only going to increase in value — and if you don't, you haven't been paying attention — it makes sense to look at all the players in this space. Here's a look at PayPal compared to some of its competitors.
Venmo
Considered a competitor to PayPal by virtue of its status as a peer-to-peer transaction service, Venmo is owned by PayPal. So by purchasing stock in PayPal, you are also buying a bit of Venmo. Venmo has become synonymous with money transfers between individuals, leading to the use of the brand as a verb for sending money, as in, "I can Venmo you for my half of the bill."
Square
Square is a credit card payment processing service for businesses. It allows businesses large and small to take credit card payments using their point-of-sale systems, including a small card scanner that attaches to a smartphone.
Square is owned by Block Inc. (NYSE: SQ), which is trading at $56.04 as of Sept. 7. Like PayPal, its current price is near the low end of its 52-week range of $51.34-$89.97, but it is currently rated as overvalued by Yahoo Finance. Of the 31 analysts who made recommendations for Block in September, four rated it a strong buy, 13 rated it a buy and 14 recommended holding the stock. The average 12-month target price is $83.94.
Block also owns Cash App, which is a peer-to-peer money transfer app similar to Venmo. Block is probably the closest competitor to PayPal, as both companies offer payment processing for businesses as well as peer-to-peer transfers for individuals.
Shopify
Shopify (NYSE: SHOP) closed at $64.78 on Sept. 7, which is near the high end of its 52-week range of $23.63-$71.43. Shopify is overvalued according to Yahoo Finance. Twenty-nine analysts made their recommendations on Shopify in September, and of those, seven rated it a strong buy, 11 rated it a buy, 10 recommended selling and one rated it as underperforming, for an average recommendation rating of 2.5, or buy. The average 12-month price target is $66.91, just about $2 a share higher than what it's trading at as of Sept. 7.
4. Its Future Is Bright
PayPal Holdings Inc., as of year-end 2022, had 435 million active consumer and merchant accounts, $1.36 trillion in total payment volume, and 22.3 billion transactions.
PayPal expects its forward momentum to continue. Net revenues are expected to grow by approximately 8% to $7.4 billion in Q3 2023, and GAAP EPS is expected to be $0.85-$0.87 during that same period. For the fiscal year 2023, GAAP EPS is expected to be approximately $3.49, compared to $2.09 per share in fiscal year 2022. In fiscal year 2023, the company expects to repurchase a total of $5 billion worth of stock.
Since its inception in 1998, PayPal has certainly had its ups and downs, which is not unusual for companies that start a new category in technology, as PayPal has done in digital payments. And while it has certainly had more downs than ups in the past couple of years, indications are that the company may be coming out of its most recent slump and be ready for a closer look by investors again.
Information is accurate as of Sept. 7, 2023.