Top Reddit Penny Stocks To Consider for 2023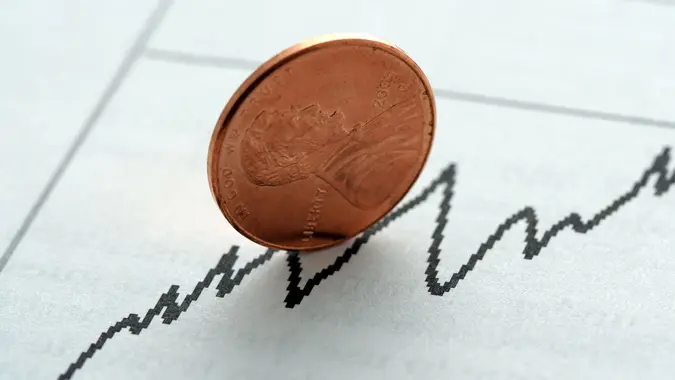 arekmalang / iStock.com
Gamestop was still a penny stock on Jan. 12, 2021, when it closed the day's trading session at $4.99 — just one cent shy of the $5 threshold under which all penny stocks exist. Thanks to renegade Redditors who led the most famous short squeeze in history, it would peak at $86.88 just 15 days later on Jan. 27.
It would be a leap of the imagination to say that Reddit is always right, but the GME saga earned the forum its status as a go-to platform for hot tips, thoughtful conversations and leads on would-be winners. 
Learn: 5 Things You Must Do When Your Savings Reach $50,000
Here's a look at eight little companies that — according to Reddit — could make big waves in 2023. Keep reading to meet the Reddit penny stocks that are causing a buzz on the front page of the internet.
What Are the Best Penny Stocks on Reddit? 
The following is a look at some of the penny stocks that many people are sweet on in the top Reddit investment communities heading into 2023.
1. Pharmagreen Biotech (PHBI)
California-based Pharmagreen provides high-quality starter plants to licensed cannabis cultivators and CBD/CBG hemp farmers — and 2022 was a breakout year for this penny stock.
In May, PHBI completed several key milestones toward the acquisition of a company called Long Valley Farms. In July, Pharmagreen announced it would expand beyond cannabis into the cultivation of other pharmaceutical plant species, including functional therapeutic fungi. In late November, the company announced that Detroit Lions' offensive tackle Tyrell Crosby agreed to serve as the sports ambassador for Pharmagreen's NutraMax Genomic Supplement product line.
On Dec. 27 in the r/pennystock subreddit, user PhilipCMS said PHBI is worth watching because it announced the launch of new a product designed to repair DNA damage.
2. Southern ITS International (SITS)
On Christmas day, Reddit user Dramatic_Investing told the r/pennystock subreddit that SITS "could be a runner for 2023" and had been "gaining some attention in recent weeks." According to Reddit, it's an acquisition company that picked up four new businesses in 2022 and is poised to make some new moves in the coming weeks.
One of the company's subdivisions, Shibue Couture, caught the eye of investors when Kylie Jenner wore one of its products during a photoshoot for CR Fashion Book.
On Dec. 16, its Pure Oil & Gas division entered into a funding agreement with ICS Energy that gives Pure overriding royalty interest in all future wells that ICS drills and completes.
3. Metalert Inc. (MLRT)
According to Reddit, Metalert might be a penny stock that's primed for growth heading into the new year. User digamymagadisg88 is touting the GPS digital tracking provider — which now has a presence in 35 countries on six continents — because it's expanding so quickly into the lucrative health care sector with anti-wandering devices for dementia patients and other innovations.
On Dec. 9, Markets Herald reported that MLRT had eliminated all of its toxic debt and Ludlow Research said its new medical devices have earned it a price target of $1.
On Reddit, r/wallstreetbets2 also picked up the Metalert chatter, as did r/smallcaps.
4. OLB Group Inc. (OLB)
The r/pennystocks subreddit included OLB in a discussion titled "Must-Have Penny Stocks to Prep for an Explosive 2023." At the time of the mid-December post, the e-commerce merchant and fintech company had made impressive consecutive gains, including an 8.28% one-day jump and a two-week gain of more than 13% that boosted its price from $0.80 to $0.92 per share. Heading into the new year, it's trading at just under a buck. 
5. Vitreous Glass (VCIGF)
Canada-based Vitreous Glass found a home on the same thread as OLB, and Redditors like this penny stock as a good option for ESG investors. Since 1995, the company has focused on recycling glass from Western Canada and turning it into cullet for manufacturing fiberglass insulation. It's lost more than 20% in 2022, roughly mirroring the losses of the larger bear stock market, but it's entering 2023 strong with gains of nearly 7% in the last month of the year.
6. Fandifi Technology (FDMSF)
During mid-December, Reddit user Temporary_Noise_4014 suggested FDMSF to the r/pennystock group. The fan engagement platform has been quietly expanding its revenue streams with new partnerships, most notably with industry leaders Esports Awards and LVL Up. According to Reddit, the company has earned a closer look by shoring up its financials and strengthening its fundamentals while expanding its NFT marketplace.
7. Swarmio Media Holdings (SWRM)
As the year wound down, Reddit user MightBeneficial3302 tipped off r/pennystocks about Swarmio Media, which enjoyed a 10% jump in the last month of 2022 — at one point in December, it was trading at $0.08. The company's technology supports millions of gamers by facilitating transactions and enabling connectivity.
Reddit likes the stock because it has attracted several new big-name partners and launched a promising new gaming communication system called Echo. 
8. Endonovo Therapeutics Inc. (ENDV)
ENDV is a commercial-stage developer of non-invasive medical devices that treat inflammatory conditions, and according to Reddit, it's well positioned for a stellar 2023.
User Grouchy-Tangerine-30 told the r/pennystocks group that the company is worth a look because of its lofty goal of reaching $100 million in sales by 2024. It hopes to achieve that milestone through a product called Sofpulse, an opioid replacement device that the FDA recently approved for post-surgery use.
What Is a Good Penny Stock to Buy Now?
Before you think about a good penny stock to buy, make sure you understand your own criteria for what makes a penny stock "good." The lure of penny stocks is that they're dirt cheap and have the potential for exponential growth, but according to Forbes, they're incredibly risky and ripe for not just loss, but fraud.
Instead of just scouring Reddit for tips on the next great penny stock, confer with Redditors about how to develop a smart strategy for picking penny stocks yourself. 
Are Reddit Penny Stocks a Good Investment?
The nature of penny stocks doesn't change whether they cause a stir in a Reddit subgroup or not. The NYSE and Nasdaq list some stocks for less than $5, but many penny stocks trade on over-the-counter (OTC) markets that don't have the same stringent requirements, rules and regulations associated with the major exchanges.
Financial reporting with penny stocks can be incomplete, inaccurate or unavailable, and since they trade in much lower volumes, they're known for erratic pricing and high volatility.
A mention on Reddit changes none of that — if you weren't considering penny stocks before you read about one in a subreddit conversation, think hard before following the crowd. Most Reddit penny stocks won't take the same ride as Gamestop.
Can You Get Rich from Penny Stocks?
It is possible to get rich from investing in penny stocks, but unlikely. They require a very small initial investment, so if the company does very well, you could end up with significant gains. However, you could just as easily lose your entire investment if the company doesn't do well.
Make sure you do your research and understand the investment you're making before you put your money into any individual company, penny stock or not.
Final Take
If you're interested in penny stocks, Reddit is a good place to start, but it shouldn't be the last place you look. The Gamestop saga created a herd mentality that saw many investors jumping on the bandwagon at the stock's peak, only to ride it all the way back down to Earth when it crashed.
Your strategy, risk tolerance and goals — not online discussion boards — should drive every investment decision you make. And remember, with fractional-share trading, every stock can be as cheap as a penny stock.
Prices are accurate as of Dec. 29, 2022.
Our in-house research team and on-site financial experts work together to create content that's accurate, impartial, and up to date. We fact-check every single statistic, quote and fact using trusted primary resources to make sure the information we provide is correct. You can learn more about GOBankingRates' processes and standards in our editorial policy.