Yellen Meets with Key Financial Regulators to Discuss GameStop Saga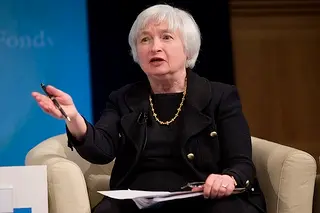 Treasury Secretary Janet Yellen has called for a meeting with key financial regulators set to take place today, to discuss the recent volatility in the markets tied to the Robinhood, GameStop and AMC saga, and to potentially take action.
See: Robinhood Faces Slew of Lawsuits over Trading FreezeFind: Is Silver the New GameStop? Thanks to Reddit, Precious Metal Hits 11-Year High
Yellen is meeting with the heads of the Securities and Exchange Commission, the Federal Reserve, the Federal Reserve Bank of New York and the Commodity Futures Trading Commission, according to Press Secretary Jen Psaki's White House briefing today.
In an interview this morning, Yellen told ABC's "Good Morning America" that "we really need to make sure that our financial markets are functioning properly, efficiently and that investors are protected."
She added that the regulators would "discuss whether or not the recent events warrant further action," adding that "we need to understand deeply what happened before we go to action, but certainly we're looking carefully at these events."
See: Meet All the Major Players in the Robinhood vs. GameStop SagaFind: Elon Musk Absolutely Grills Robinhood CEO in 'Electric' Interview
GameStop (NYSE: GME), whose stock saw a high of $483 last week, was at $60 midday today. Today, its stock fell 35%, while AMC's dropped 20%.
Trading platform app Robinhood, which says its mission is to "democratize finance for all," said last week it continuously monitors the markets and makes changes where necessary. "In light of recent volatility, we restricted transactions for certain securities to position closing only," according to a statement on its website. The company also raised margin requirements for certain securities.
Robinhood, which is facing a slew of lawsuits, halted trading last week on stocks popular on the Reddit subthread r/WallStreetBets. Retail traders, who were intent on taking down hedge-fund short sellers by buying shares of stocks that didn't seem to have much of a chance of success, were unable to trade stocks, including GameStop, AMC Entertainment and Bed Bath & Beyond.
See: Robinhood Backtracks, Says It Will Allow 'Limited Buys' of GameStop and Others – What's Really Going On?Find: Robinhood to Launch Super Bowl "We're All Investors" Ad
Last week, the Securities and Exchange Commission said in a statement that it was monitoring the situation and evaluating the extreme price volatility of certain stocks' trading prices over the past several days. "Our core market infrastructure has proven resilient under the weight of this week's extraordinary trading volumes. Nevertheless, extreme stock price volatility has the potential to expose investors to rapid and severe losses and undermine market confidence," the SEC said the statement. "As always, the Commission will work to protect investors, to maintain fair, orderly, and efficient markets, and to facilitate capital formation. The Commission is working closely with our regulatory partners, both across the government and at FINRA and other self-regulatory organizations, including the stock exchanges, to ensure that regulated entities uphold their obligations to protect investors and to identify and pursue potential wrongdoing."
More From GOBankingRates: