9 Best Index Funds for 2023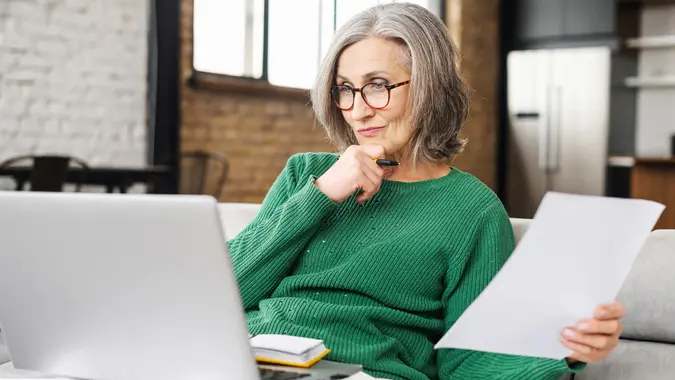 Vadym Pastukh / iStock.com
An index fund is a type of mutual fund that either buys all or a representative sample of securities in a specific index, such as the S&P 500. Instead of being actively managed by fund managers, index funds are passively managed. This style of management helps lower fees and expenses.
See: 3 Things You Must Do When Your Savings Reach $50,000
Like all mutual funds, index funds can add diversification to your portfolio because they invest in many different stocks, often across a wide range of industries.
What Are the Best Index Funds To Invest In?
Here are the best index funds for 2023:
These top index funds are ranked based on minimum investment required, five-year trailing returns as of the end of the most recent quarter, and fees — both the net expense ratio and the management fee, which is part of the expense ratio. Remember that the best index fund is the one that matches your investment objectives and risk tolerance.
1. Vanguard 500 Index Fund Admiral Shares (VFIAX)
The goal of the Vanguard 500 Index Fund is to track the performance of the S&P 500, which includes stocks with large market capitalizations. As such, it invests most of its assets in stocks that appear in the index.
2. Fidelity Nasdaq Composite Index Fund (FNCMX)
This fund tracks the performance of the Nasdaq Composite Index and includes major positions in several technology stocks. It carries a higher-than-average risk but has delivered strong returns over the years.
3. Fidelity 500 Index Fund (FXAIX)
Fidelity may be an ideal choice for those looking for the best index funds for beginners, thanks to the resources it provides customers, including tools that offer investment advice and research. Founded in 1988, its 500 Index fund is a balanced fund that invests at least 80% of its assets in S&P 500 stocks.
Expense ratio: 0.015%
Management fees: 0.02%
Five-year average return: 11.00%
4. Vanguard Total Stock Market Index Fund Admiral Shares (VTSAX)
The aim of Vanguard's Total Stock Market Index Fund is to give investors exposure to all U.S. equities, including small-, mid- and large-cap growth and value stocks. This is an excellent fund if you want a diversified investment in a broad range of companies and markets.
5. Schwab S&P 500 Index Fund (SWPPX)
Designed to compete directly with Vanguard and Fidelity index funds, the Schwab S&P 500 Index fund is a low-cost fund with no investment minimum. It invests in 500 of the leading U.S. companies and has exposure to about 80% of U.S. market capitalization.
6. Schwab Total Stock Market Index Fund (SWTSX)
The Schwab Total Stock Market Index fund tracks the total return of the U.S. stock market based on the Dow Jones U.S. Total Stock Market Index. It's a balanced fund with shares of large-cap, mid-cap and small-cap U.S. securities.
7. Schwab Fundamental US Large Company Index Fund (SFLNX)
Schwab's Fundamental US Large Company Index Fund aims to achieve results that track the Russell RAFI U.S. Large Company Index. This is a high-return fund with low expenses and a risk level that's just slightly above average.
8. USAA Nasdaq-100 Index Fund (USNQX)
The USAA Nasdaq-100 Index fund tracks the Nasdaq-100 Index, investing at least 80% of its assets in companies included in the index. The Nasdaq-100 is comprised of 100 of the largest nonfinancial domestic and international companies listed on the Nasdaq Stock Market. The fund consistently outperforms the index. It has a five-star rating from Morningstar, low fees, high returns and slightly above-average risk.
Minimum investment: $3,000
Expense ratio: 0.42%
Management fees: 0.20%
9. Fidelity Total Bond Fund (FTBFX)
Fidelity's Total Bond fund is a diversified fund that uses the Bloomberg Barclays U.S. Universal Bond Index as a guide. Its assets are invested in high-yield and emerging market classes, which increases both the risk and potential return.
Minimum investment: $0
Expense ratio: 0.45%
Management fees: 0.30%
Five-year average return: 1.63%
How To Choose an Index Fund
There are hundreds, if not thousands, of index funds from which you can choose. To pick the best option for you, consider these characteristics:
Target market: Some funds look to track the S&P 500 index, while others might replicate the performance of small-cap stocks in emerging market nations. It's essential to pick the index fund that covers the market segment you're interested in.
Investment objective: If you want to maximize your capital gains, you'll want to pick a growth index. If you're instead looking for income, you'll want an index fund that tracks some type of bond or fixed-income index.
Expense ratio: Even if a fund doesn't charge you a commission, you can be sure it takes annual fees out of your return, except in very limited instances. All things being equal, the index fund with the lower expense ratio is the better option for investors.
Performance: At the end of the day, this is the factor that investors generally prioritize. If the index you're buying doesn't give you a decent return, there's no sense in owning it.
Tracking success: The whole idea behind buying an index fund is to own an investment that gives you a return closely approximating the underlying index. The best index funds have a very low tracking error.
Additional costs: Commissions and annual expenses are not the only costs attached to index funds. Tax efficiency is another important consideration. If a fund gains 8% per year but its after-tax return is closer to 5%, it's better to buy a fund returning 7% that is tax-efficient.
Are Index Funds Really Worth It?
Index funds are among the lowest-cost investments available. Although you'll never earn an above-average return, as you'll by definition be getting a return approximating the "average" return of the underlying index, that's more than enough for most investors. A financial advisor can help you define your financial goals and decide whether index funds are right for you.
FAQ
Want to know more? Here's some additional information about index funds.
What is the safest index fund?

Strictly in terms of the risk of capital loss, the "safest" index funds are those tracking short-term government securities. However, these types of index funds still carry other types of risk, such as inflation risk and interest-rate risk.

What is better than index funds?

If you seek an above-average return, you'll want to pick individual stocks or hire a professional manager to do so for you. That way, you stand the chance to outperform an index. However, the opposite is also true, as you risk underperforming the index as well.

Is the Vanguard S&P 500 index fund a safe investment?

You can expect the Vanguard S&P 500 index fund to track both the returns and the ups and downs of the S&P 500 index. Whether or not that is "safe" to you depends on your personal risk tolerance.

Can I invest $100 in index funds?

Yes, many index funds have minimums as low as $100.
John Csiszar and Daria Uhlig contributed to the reporting for this article.
Data is accurate as of June 24, 2023, and is subject to change. Five-year trailing returns are accurate as of the end of the most recent quarter.
This article has been updated with additional reporting since its original publication.
Editorial Note: This content is not provided by any entity covered in this article. Any opinions, analyses, reviews, ratings or recommendations expressed in this article are those of the author alone and have not been reviewed, approved or otherwise endorsed by any entity named in this article.