RV Financing Made Simple: Best Loans for 2023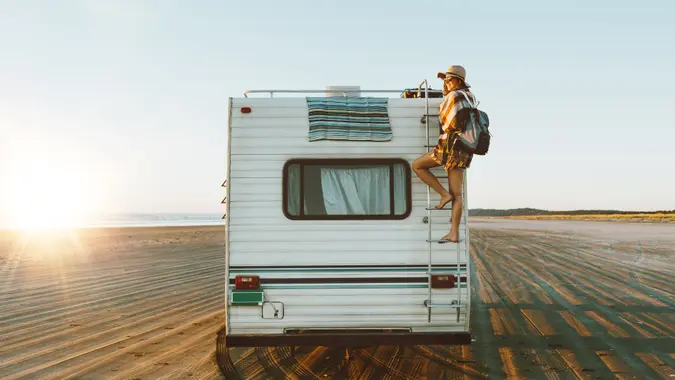 littlehenrabi / Getty Images/iStockphoto
If you like to include road trips in your travel plans, you may have considered purchasing a recreational vehicle. RVs can be a financially preferable alternative to paying for hotels during your vacation. Additionally, the freedom of using an RV can be helpful if you enjoy exploration. 
Here's everything you need to know about financing an RV and a few picks for the best RV loan providers in 2023.
Top 8 RV Loan Providers for 2023
Here are some of the best providers specializing in RV loans. These providers offer loans with long terms and competitive APRs. 
The exact credit score and income level needed to secure approval will vary — every case is considered separately. To find the exact information you need, visit the sites of the providers, some of which offer a helpful RV loan calculator.
| Provider | Loan Term in Months | Loan Amount |
| --- | --- | --- |
| My Financing USA | Up to 240 | $10,000 to $3,000,000 |
| LightStream | 24 to 144 | $5,000 to $100,000 |
| NASA Federal | Up to 180 | $5,000 to $125,000 |
| Truist | Up to 60 | $10,000 to $1,000,000 |
| Mountain America | 144 | Not specified |
| GreatRVLoan | 60 to 240 | $10,000 to $2,000,000 |
| Good Sam | Up to 240 | $10,000 to $2,000,000 |
| Southeast Financial | Up to 240 | $15,000 to $4,000,000 |
My Financing USA
My Financing USA shines in the RV loan space by offering extended loan terms of up to 240 months with a ceiling loan amount of $3,000,000. This provider caters to various consumer budgets, from modest RVs to luxury models. It also offers new and used RV financing, providing a one-stop solution for a variety of needs.
LightStream
With loan terms varying from 24 to 144 months, LightStream can accommodate you for quick, short-term payoffs or if you prefer smaller monthly payments over an extended period. 
Moreover, it doesn't restrict the loan use to specific RV models or dealerships, providing you with a wide array of choices.
NASA Federal
NASA Federal Credit Union makes RV ownership accessible to the average consumer with loans starting from $5,000 and going up to $125,000. Its longer loan term limit gives you ample time to repay, reducing the monthly financial burden. 
As a credit union, NASA Federal has a member-focused approach, which often results in competitive rates.
Truist
Truist offers RV loans with competitive interest rates and a maximum loan amount of $1,000,000. The availability of larger loan amounts makes it suitable if you are looking to finance premium RVs without compromising your financial goals.
Mountain America
Mountain America streamlines the RV financing process by offering a straightforward loan term of 144 months. This eliminates the guesswork in choosing loan terms, making it an ideal choice if you prefer simple and predictable financial plans.
GreatRVLoan
GreatRVLoan stands out by offering a substantial maximum loan limit of $2,000,000 and flexible terms between 60 to 240 months. The wide range of loan terms provides you with the ability to choose a payment plan that aligns with your financial capability and future projections.
Good Sam
Good Sam provides a holistic RV ownership experience. Beyond selling RVs, it offers competitive rates and flexible loan terms of up to 240 months, catering to diverse financing needs. Given its comprehensive RV services, Good Sam is a solid choice whether you are a new or experienced RV owner.
Southeast Financial
Southeast Financial distinguishes itself with an impressive maximum loan amount of $4,000,000 and generous loan terms that extend up to 240 months. Such provisions make it a viable option for high-ticket RV purchases, enabling you to own a luxury RV if you wish.
Getting Approved for an RV Loan
RV loan approval hinges on several factors. To secure approval from an RV loan provider, you'll need to fulfill the following requirements:
Have a good credit score. A high credit score improves the chances of securing an RV loan and demonstrates to lenders that you're responsible with credit. If your score is high, then you are more likely to receive lower interest rates.
Have a low debt-to-income ratio. Lenders prefer borrowers with a debt-to-income ratio of 40% or less. This ratio indicates how much of your income is already dedicated to paying off other debts.
Provide proof of income. You must present proof of income to show that you can afford the loan payments. Acceptable forms of proof include pay stubs, tax returns or bank statements.
Provide a down payment. A down payment reduces the total amount borrowed, which makes you a more responsible borrower. The down payment typically ranges from 10% to 20% of the RV's price.
How RV Loans Differ From Car Loans
For the most part, an RV loan works just like a regular car loan. You find a provider, get approved and make your monthly payments. 
However, an RV is often a more expensive purchase than a car. RV loans are usually secured loans, which means that your loan provider may repossess your vehicle if you do not make payments on time.
The main differences between an RV loan and a regular car loan are the loan terms and conditions. While you can buy an RV using a standard personal loan, loan providers create RV loans with longer terms to make the monthly payments more affordable. Car loans are usually between 24 and 84 months and some RV loan terms can be as long as 240 months.
Final Take
Purchasing an RV is a significant financial decision that requires thoughtful planning and consideration. It's important to choose a loan provider that offers terms that align with your financial circumstances and goals. 
Shopping around for the best rates and terms will help you get the most value out of your loan. Remember to consider the total cost of the loan over its term — not just the immediate monthly payments — to understand the full financial impact of your RV purchase.
FAQ
Here are the answers to some of the most frequently asked questions regarding RV loans.
What is the average loan term for an RV?

The average RV loan term is 10 to 15 years. RV loan terms are usually longer than car loan terms because an RV is often a more expensive purchase.

What is the minimum income for an RV loan?

The minimum income required for an RV loan depends on your loan provider, the price of the RV you would like to purchase and your credit history. However, many loan providers may require that your debt-to-income ratio is no more than 40%. Also, keep in mind that you may need to pay 10% to 20% of the RV's price upfront as a down payment.
Data is accurate as of July 17, 2023, and is subject to change.
Editorial Note: This content is not provided by any entity covered in this article. Any opinions, analyses, reviews, ratings or recommendations expressed in this article are those of the author alone and have not been reviewed, approved or otherwise endorsed by any entity named in this article.
*All loans are subject to credit approval by LightStream. If approved, your APR will be based on loan purpose, amount, term and your credit profile. Conditions and limitations apply. Advertised rates and terms are subject to change without notice.
Our in-house research team and on-site financial experts work together to create content that's accurate, impartial, and up to date. We fact-check every single statistic, quote and fact using trusted primary resources to make sure the information we provide is correct. You can learn more about GOBankingRates' processes and standards in our editorial policy.