Mortgage Rates 2023: Will They Go Down This Spring?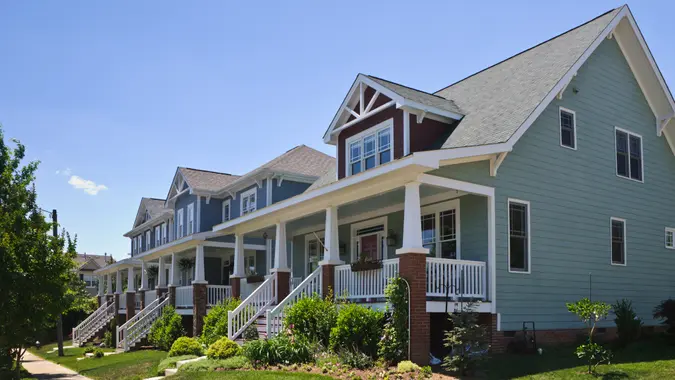 KenWiedemann / Getty Images
Homebuyers enjoyed a historical anomaly throughout most of 2020 and 2021, when mortgage rates remained below 3% for an extended period of time. Those who were quick on the draw snagged some of the lowest mortgage rates in history — but those who waited may have regretted it.
In 2022, rates began a steady and rapid rise upward and remain elevated, averaging 6.28% as of Apr. 6, according to the Federal Reserve Bank of St. Louis. The question for buyers looking to take advantage of the spring housing season is, will rates go down? No one knows for certain, but economists and industry experts have their opinions.
Here's a look at some of the factors affecting mortgage rates and how they may help predict where rates will go before summer.
What Is Keeping Mortgage Rates High?
Mortgage rates are generally a reflection of the economy as a whole, but there are a number of factors that can push rates higher or lower. During the pandemic, mortgage rates hit all-time lows due primarily to the fact that the pandemic essentially shut down the world economy.
Demand for housing — and nearly all consumer goods and discretionary expenses — plummeted, dragging both home prices and mortgage rates down with them. Rates were also artificially pushed down by the Federal Reserve cutting the federal funds interest rate down to essentially zero.
Things changed a lot, however, as we worked our way through the pandemic. Demand for nearly everything boomed, including housing, and inflation eventually reached runaway levels, peaking at over 9% in June 2022. This in turn ignited a fire under the Fed, which aggressively raised interest rates to their highest levels in at least 15 years.
Although the fed funds rate doesn't exactly correlate with mortgage rates, it does tend to push up rates across the economy. As long as the Fed signals that it will keep rates high — or even raise them more — mortgage rates are likely to remain elevated as well.
Take Our Poll: Do You Think Bankruptcy Is an Acceptable Way To Escape Student Loan Debt?
What Factors May Change the May Outlook?
Predicting short-term movements in mortgage rates is tricky business, but certain indicators can help determine the general trend. According to Orphe Divounguy, senior macroeconomist at Zillow Home Loans, "…leading economic indicators point to slowing aggregate demand and the potential for further disinflation. Combined, these signals suggest that consumer price inflation is likely to cool, and as inflation cools, the yield on longer term rates — including mortgage rates — is also expected to fall."
Overall, industry experts and economists surveyed by The Mortgage Reports generally feel that rates will moderate and possibly go down a tick in the spring, but that no major drop is in store. Part of the reason for this consensus is that inflation, while moderating, remains high, and the Fed still intends to keep rates high or even raise them throughout 2023. This will help keep mortgage rates elevated as well, with experts suggesting a range of between 6% and 6.5% at least into the summer.
What Should Homebuyers Do in the Current Environment?
Potential homebuyers looking for relief from high mortgage rates might have to wait a bit longer. If the Fed continues to raise interest rates for the rest of 2023 — or even hold them at current levels — mortgage rates are unlikely to drop much. On the other hand, if home inventory loosens up a bit as it typically does in spring and summer, you may have the chance to find your perfect home.
Waiting for rates to fall — which they may never do — as you watch your dream house come and go right in front of your eyes isn't much of a solution. Most real estate experts would advise that if you find the home you want, you should buy it, even if you have to take out a mortgage of 6% or more.
For one thing, if rates fall in the future, you can likely refinance your mortgage into a lower rate. But another thing to remember is to keep the rate debate in perspective. Although a 6% mortgage seems very high compared with the sub-3% rates seen a few years ago, on a historical basis, they are right in line with long-term averages, perhaps even a little below average. When taking that into account, you shouldn't let a 6% mortgage prevent you from buying the home you need or want.
More From GOBankingRates