Should You Get a Holiday Loan for Christmas 2022?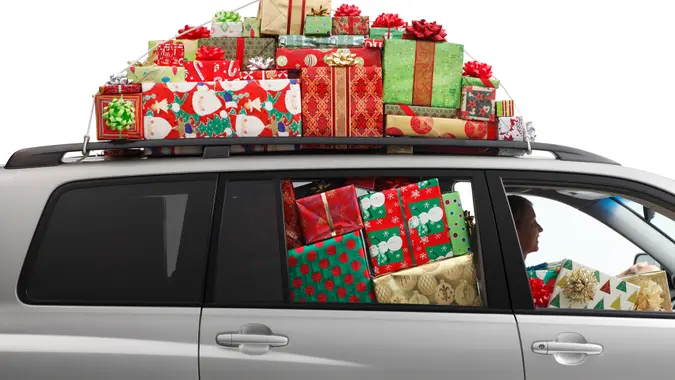 DNY59 / Getty Images
By now, you might be well into your holiday shopping and seeing either your bank balance depleted to an uncomfortable level or opening the credit card bills that you wonder how you'll pay. And you still need to do the seemingly impossible and come up with the money for that holiday trip you're planning. You ask yourself if such a thing as a holiday loan exists.
It does. But whether it's the right move for you depends on several factors — including the amount you need to borrow, the cost of the interest and your ability to pay off the loan once the payments come due early next year.
Before applying for a holiday loan, it's a good idea to educate yourself on what it involves and the alternatives you have. Keep reading to learn more.
What Kind of Loan Is a Holiday Loan?
Sometimes referred to as a Christmas loan, a holiday loan is essentially a personal loan that you use to pay off holiday expenses. They are designed to make it easier to finance the purchase of Christmas gifts, holiday parties, travel and other expenses associated with the season.
Many banks, credit unions and online lenders offer holiday loans, but they generally aren't available year-round. Most lenders offer them beginning around Halloween and stop before the end of the year, Forbes reports.
How Does a Christmas Loan Work?
Because most holiday loans do not involve huge amounts of money, they often are unsecured loans, meaning you don't need to put down any collateral. The process for applying for a holiday loan is like getting any other loan. The financial institution will check your credit history and score, review that you have steady income and evaluate your debt-to-income ratio.
Qualifications and Terms for a Holiday Loan
Is it hard to get a holiday loan? Your chances for loan approval are best if you have a credit score of at least 670, according to Forbes, though it added you'll get the best terms if you have a minimum score of 720. Interest rates range from about 7% to 30% — but they can be much higher.
Interest rates vary by lender, so shop around if your bank doesn't have terms you find to be favorable. Your creditworthiness also will help to determine the amount you'll pay to borrow money.
How Much Is a Holiday Loan?
Each financial institution sets its own caps for holiday loans, which often fall in the range of $1,500 to $2,500, though some can reach as high as $5,000, per Forbes. The amount ultimately depends on your qualification. The size of the loan — and the interest rate — are dependent on many factors, including your income, credit score and other outstanding debt.
Should You Get a Holiday Loan?
Whether it's a good idea for you to get a holiday loan depends on a number of factors, starting with your ability to repay the loan. Will you be able to afford to make the required monthly payment? Will you be able to pay it off in a reasonable period of time? You probably don't want to still be paying for Christmas 2022 when Christmas 2023 rolls around.
What do financial experts have to say about the topic? They're split.
"While not ideal, you can take out a loan to pay for these items, but it's critical to have a plan in place to pay it off," said Forrest McCall, owner of the finance site MakingMoneyandTraveling.com. "Depending on the loan, every day that goes by, you'll be paying a small amount of interest on the borrowed money — which can add up quickly. Personal loans can certainly be a stronger option than some credit cards, unless you can find a 0% intro APR card. If you can find a credit card with a promotional offer, this is likely a stronger choice for your finances."
Jay Zigmont, PhD, a certified financial planner and founder of Childfree Wealth, said borrowing money to pay for holiday gifts and other expenses isn't a good idea, no matter how you do it.
"When you take out a loan — or use credit cards — you are stealing from your future. While taking a loan or using cards might allow you to do a bit more now for the holidays, you don't know what the future holds for you," he said. "Instead of taking a loan, figure out what you can do within your budget. That may mean handmade gifts, staycations or other more reasonable holiday ideas. Growing up, we did not have money, and my mother would gift all her friends and family cookies in coffee cans she wrapped with whatever she had. The total cost was low, but the thought and love in the gift were high."
If you decide to get a loan, consider the following.
Things To Consider

Shop around for the best rates, terms and payment options.
Borrow only what you need. If you do take out a holiday loan, make sure it's to cover your holiday or Christmas expenses only. Create a budget before you apply so you know how much you need, and make sure you are comfortable with the monthly financial commitment when it comes time to pay off the loan.
What Are Some Alternatives to Holiday Loans?
You don't necessarily need to borrow money from a bank, credit union or online lender to finance purchases you make during the holidays. Here are two alternatives.
0% APR Credit Cards
These are a good alternative to a loan because you don't have to pay any interest on them — at least for a while. The 0% interest won't last forever. It is usually offered for an introductory period, maybe a year, before the full interest kicks in. If you want to use one to pay for holiday purchases, make sure you can pay the card off while the 0% interest lasts.
There are three basic types of 0% APR credit cards: those that charge 0% interest on purchases, those that charge 0% interest on balance transfers from other credit cards and those that charge 0% interest on both purchases and balance transfers.
Buy Now, Pay Later
Buying on layaway used to be a popular option for holiday shopping. The store would hold on to your item, and you'd make frequent small payments until the bill was paid. And then you'd take your purchase home with you.
The opposite is true today with "buy now, pay later" options. Under this newer and popular system, you'll make a down payment on an expensive holiday or Christmas purchase, get it today and pay off the balance over the next several weeks or months, depending on the cost and provider. Platforms that offer the service include Affirm, Sezzle, Klarna, Afterpay, and PayPal's Pay in 4 product.
Just make you have enough money to make your payments on time or you could face late fees, insufficient funds charges and interest on items you thought would be interest-free.
Takeaway
A holiday loan is one way to stretch your budget. But remember that the gift you give this holiday season could be broken, tossed aside in the toy basket or even lost by the next one. The holiday memories are ultimately more important than the gift — and sometimes, memories don't cost a dime.
Alicia Bodine and Vance Cariaga contributed to the reporting for this article.
Our in-house research team and on-site financial experts work together to create content that's accurate, impartial, and up to date. We fact-check every single statistic, quote and fact using trusted primary resources to make sure the information we provide is correct. You can learn more about GOBankingRates' processes and standards in our editorial policy.