How To Get Out of Defaulted Loans With the Fresh Start Program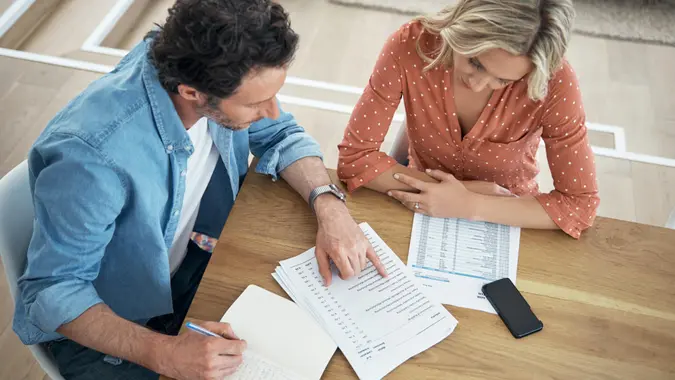 shapecharge / Getty Images
The federal student loan repayment pause is ending in October 2023. For borrowers whose loans were previously in default, the Fresh Start program offers an opportunity to move forward. If you defaulted on your federal student loans before the pandemic, this program could present a solution to getting your repayment back on track.
What Is the Fresh Start Program?
The Fresh Start program is a temporary relief program designed to help borrowers with defaulted student loans get back on track. Through the program, you can access a suite of benefits, which include:
The negative default marks on your credit report will be removed.

You will have access to federal student aid and other government loan programs.
You will regain access to flexible repayment plans.
You will have access to short-term relief options, like forbearance or deferment.
Collection efforts will be suspended.
The ultimate goal of the Fresh Start program is to help borrowers in default get back on their feet. If you qualify for the program, you can tap into a reset that will allow you to continue on with your student loan repayment plan.
Fresh Start Benefits
The Fresh Start program offers many benefits. Some of these benefits are automatically applied to eligible loans currently in default. But other benefits require a specific application from the borrower.
Here's the breakdown of automatic benefits, which don't require an application:
Access to Federal Student Aid: This includes loans and grants, which can help you go back to school.
Stopped collections: You don't have to worry about the relentless collections process. Stopped collections means no more calls, an end to wage garnishment and federal payments, like tax refunds and Social Security payments.
Eligibility for other government loans: The program means your default status will be removed from the government credit reporting system. This could open the door to government-backed mortgages.
Ability to rehabilitate loans: You can hang on to another chance at rehabilitating your loans. The Fresh Start program won't count as your one-time chance at loan rehabilitation.
Credit reporting changes: The loans in question will now be listed as current on your credit report.
Here's a breakdown of the benefits you must apply for:
Income-driven repayment plans: An income-driven repayment plan adjusts your monthly payment to what you can afford based on your income and family size. You must apply for this benefit.
Student loan forgiveness programs: Once your loans are out of default status, you can apply for forgiveness programs. For example, you might apply for the Public Service Loan Forgiveness program.
Short-term relief options: If you need a reprieve, you can apply for forbearance or deferment.
How To Get Out of Default With the Fresh Start Program
If you have loans that qualify for the Fresh Start program, it's important to follow through on this opportunity sooner rather than later. Access to the benefits will end in September 2024. How does the Fresh Start program work? Here's a look:
Online: Log into your account. You can sign up for the program through this website.
By phone: If you don't have your login information or prefer a phone call, call the Default Resolution Group at 1-800-621-3115. Come prepared with the income on your most recent federal tax return. Expect to work with a representative to get out of default and sign up for an IDR plan. The Department of Education says this process should take about 10 minutes.
By mail: You also have the option to send a letter to P.O. Box 5609, Greenville, TX 75403. The letter should include your Social Security number, birthday, name and the sentence, "I would like to use Fresh Start to bring my loans back into good standing."
After you pursue any of these options, your defaulted loans should revert to an "in repayment" status. When you go through the process, the record of default should actually vanish from your credit report.
Who Qualifies for the Fresh Start Program?
The Fresh Start program is only available to borrowers with federal student loans. This includes direct loans, government-held Perkins loans, government-held FFELP loans and privately held FFELP loans.
If you are a federal student loan borrower whose loans have gone into default, you aren't alone. Millions of borrowers with federal student loans enter default each year. Borrowers seeking the Fresh Start program must have defaulted on their loans before the payment pause commenced in March 2020.
Other loans that aren't eligible for the Fresh Start program include:
Private student loans
School-held Perkins Loans
Health Education Assistance Loan Program loans
Loans undergoing litigation with the U.S. Department of Justice
Loans that went into default during the COVID-19 payment pause. These loans will be automatically taken out of default as part of COVID-19 relief.
Final Take
The Fresh Start offers a pathway to restored federal student loans. For some borrowers, the program is exactly what they need to get their student loans and overall financial picture back on track. If you qualify for the program, don't hesitate to apply.
FAQ
Here are answers to some commonly asked questions about the Fresh Start program.
How does the Fresh Start program work?

The Fresh Start program involves giving federal student loan borrowers with defaulted loans a clean slate. The program pulls your loans out of default and puts them into "in repayment" status. It also opens the door to federal student loan benefits.

How long will the Fresh Start program be available?

The Fresh Start program is open for enrollment until September 2024. That gives borrowers approximately one year to sign up for the program.

Will Fresh Start lower my credit score?

It's possible to see your credit score decline after enrolling in the Fresh Start program. However, the long-term results of the Fresh Start program should lead to a higher credit score, if you consistently make on-time payments to your resurrected loan.
Information is accurate as of Sept. 22, 2023. 
Our in-house research team and on-site financial experts work together to create content that's accurate, impartial, and up to date. We fact-check every single statistic, quote and fact using trusted primary resources to make sure the information we provide is correct. You can learn more about GOBankingRates' processes and standards in our editorial policy.