Student Loans 2023: 5 Money Missteps To Avoid When Payments Resume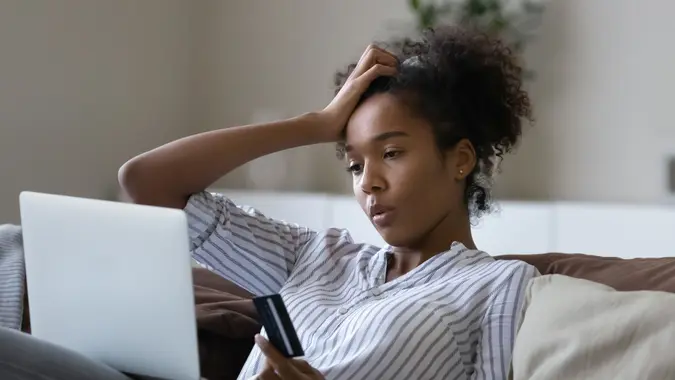 fizkes / Getty Images/iStockphoto
Federal student loan borrowers will soon have to do something they haven't had to do since March 2020 — make their monthly loan payments. Beginning in October 2023, payments will resume following a pause that began early in the COVID-19 pandemic.
A lot of money will be changing hands when payments resume. Total student loan debt in the U.S. exceeds $1.7 trillion, according to Federal Reserve data cited by the Education Loan Finance (ELFI) website. Borrowers carry an average federal student loan debt balance of $37,667.
Although the Biden administration continues to pursue debt relief options after its federal student loan forgiveness plan was struck down by the U.S. Supreme Court, your best move right now is to prepare to resume payments. There's a right way and a wrong way to go about this.
Here's a look at five common money missteps to avoid when you start paying your loans again:
1. Missing Payments
This is the most obvious mistake to avoid — missing payments or failing to make them on time when they resume. You not only face late fees and other penalties, but your credit score will get dinged as well. Double-check with your loan servicer so you know exactly when payments are due and sign up for email alerts notifying you when that due date approaches.
2. Draining Retirement Accounts To Pay Student Loans
After such a long payment pause, you'll have to reset your budget to account for student loan debt. This might be a challenge if your budget has changed dramatically since the payment pause went into effect. Even so, you should avoid touching your 401(k) or other retirement accounts to pay student loan debt. Instead of tapping into your nest egg, ELFI recommends looking into refinancing options that can lower your monthly loan payment.
3. Not Updating Contact Information
One thing you need to do as soon as possible is make sure your loan servicer has your current contact information. This will help ensure you get all the information you need — including your monthly loan statements — to avoid making late payments.
4. Paying Only the Minimum
As with any type of loan, there's nothing technically wrong with paying the minimum amount of your student loan each month. This will help you avoid late fees and keep your account in good standing. But you will also pay a lot more in interest over the course of the loan vs. paying more than the minimum each month. Paying above the minimum also helps you pay the loan off sooner.
5. Extending Payment Terms
You might be tempted to contact your loan servicer to extend your loan over a longer term in order to lower your monthly payment, but this can be an expensive misstep. As ELFI noted, doubling the repayment term from 10 to 20 years and paying the minimum monthly payment could double the interest that you pay back over the life of your student loan.
More From GOBankingRates