Barack Obama and Other Presidents Cashing in Post-Politics
Barack Obama isn't the only former president to orate his way to a bigger bank account.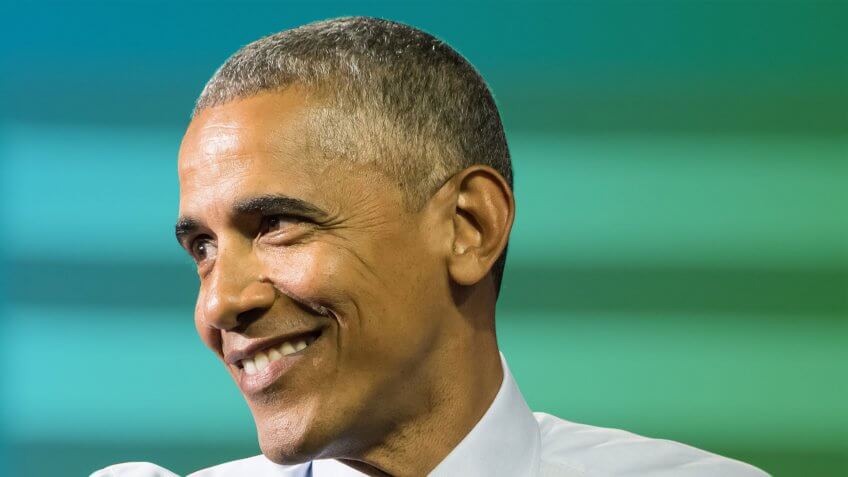 Barack Obama is officially a part of the elite club of former presidents who demand dizzyingly high speaking fees.
Obama has agreed to give a speech at a conference run by Wall Street trading and investment firm Cantor Fitzgerald in September for a whopping $400,000. The fee is equivalent to the annual salary paid to the commander-in-chief.
Criticism has been swift in reaction to the news. Senator Elizabeth Warren (D-Mass.) said she was "troubled" by the announcement, while Senator Bernie Sanders (I-Vt.) called the news "unfortunate."
A little more than a month out of office, news broke that Obama and former first lady Michelle Obama had signed a book deal with Penguin Random House that likely stretched well into eight figures. According to CelebrityNetWorth.com, Obama's net worth has jumped from $12.2 million in March to $40 million today.
In accepting the speaking fee and book deal, Obama joins a number of presidents and other noteworthy politicians monetizing their time in office by earning hefty sums from speeches, corporate directorships and other private interests.
Check out these other former presidents who have cashed in post-politics.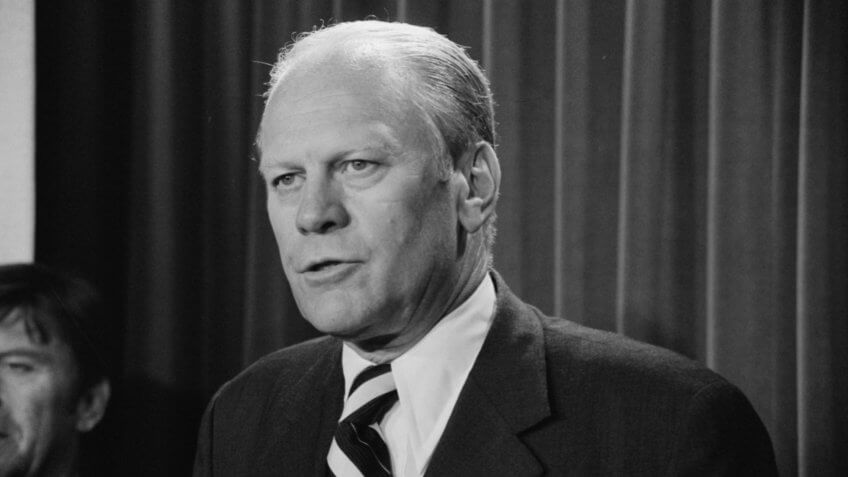 Thomas J. O'Halloran / Wikimedia Commons Public Domain
Gerald Ford
Gerald Ford accepted memberships on corporate boards of companies like 20th Century Fox and American Express after leaving office in 1977, according to The New York Times.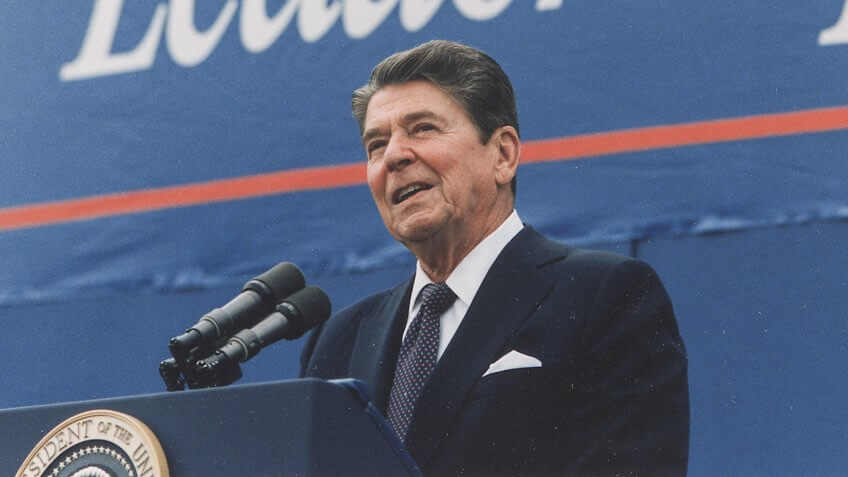 U.S. National Archives and Records Administration / Wikimedia Commons Public Domain
Ronald Reagan
In 1989, Ronald Reagan served as the main attraction at a Tokyo symposium sponsored by Japanese media conglomerate Fujisankei Communications Group. His fee for a pair of speeches totaled $2 million, according to The New York Times.
Don't Miss: Here's How Much President Donald Trump is Worth Today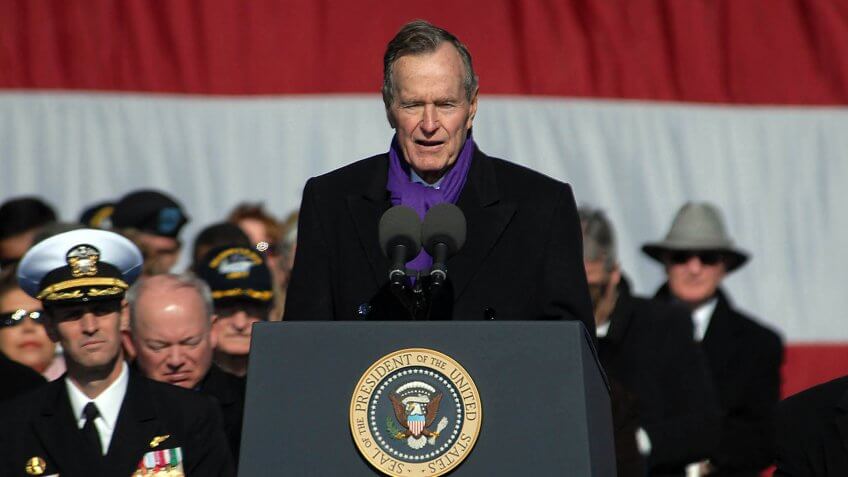 Micah P. Blechner / Wikimedia Commons Public Domain
George H.W. Bush
Toward the end of his presidency, George W. Bush told Robert Draper, author of "Dead Certain," that his father, 41st president George H.W. Bush, commanded more than $50,000 or $75,000 per speech.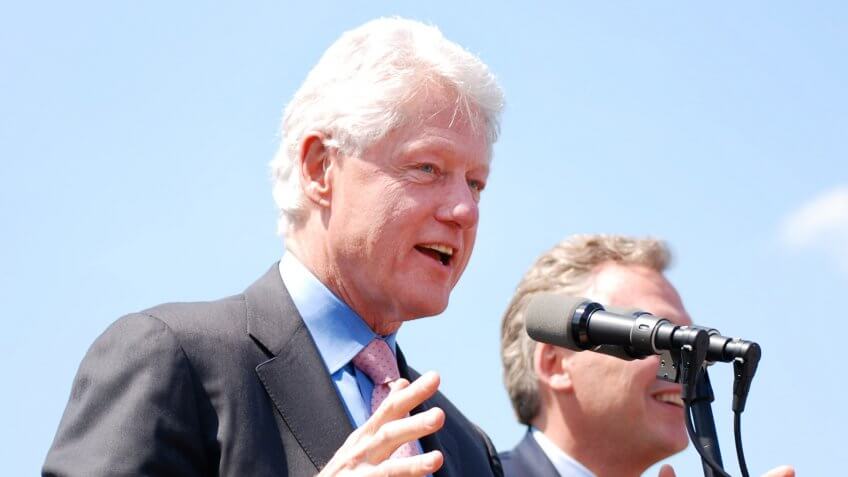 Kate Wellington / Flickr.com
Bill Clinton
According to CNN, former president Bill Clinton — along with his wife, 2016 democratic presidential nominee Hillary Clinton — have earned an average of $210,795 per speech since they exited the White House in 2001. The couple gave 729 speeches from February 2001 until May 2015, which equals a payday of more than $153 million.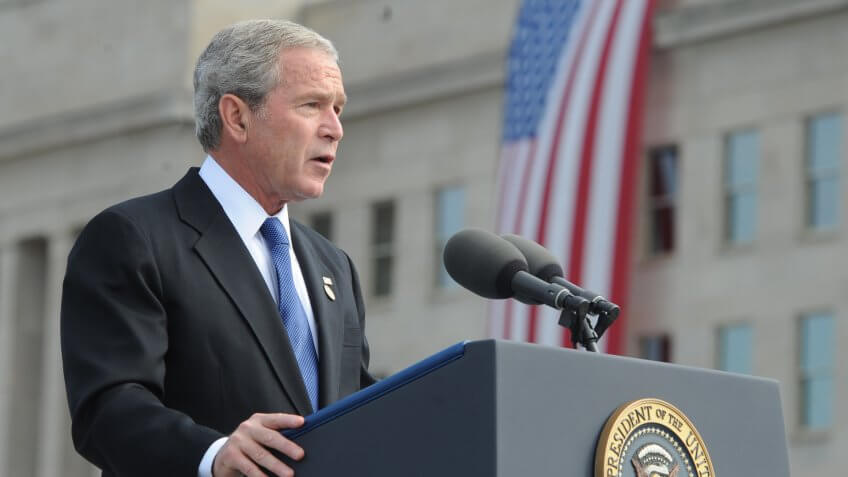 The U.S. Army / Flickr.com
George W. Bush
In 2015, Politico found that George W. Bush was paid anywhere between $100,000 and $175,000 per speech, earning him tens of millions of dollars in just a few years after leaving political office.
Up Next: 15 Crazy Perks of Being President