When Can You Get The COVID Vaccine? Here's What We Know So Far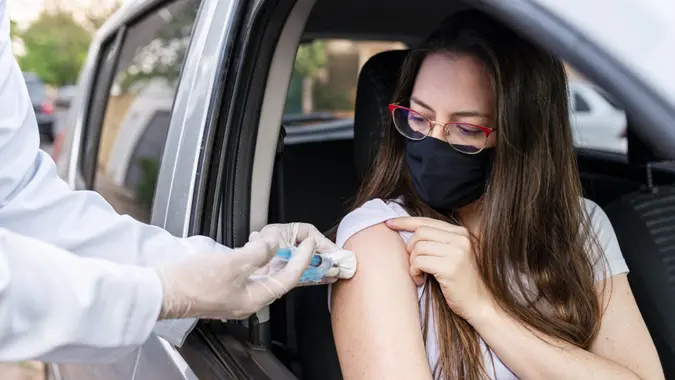 Studio CJ / Getty Images
After months of hope and anticipation, COVID-19 vaccines are finally available: one from Pfizer-BioNTech and the other from Moderna. These desperately needed vaccines arrived just in time for the New Year, but things aren't exactly going as planned, and if you're asking when you'll be offered inoculation against the virus that is claiming as many as 4,000 lives a day in the U.S., we're sorry to say that there is no simple answer to your perfectly simple question.
See: How Much Will COVID-19 Vaccines Cost Taxpayers?Find: Will Medicare Cover the Coronavirus Vaccine?
"The information [on the COVID-19 vaccine] is being disseminated state-by-state," said Anjali Kataria, founder and CEO of Mytonomy and a former consultant and senior advisor for the FDA. "Each has a different approach, but all are likely to vaccinate in phases."
At this time, most states have rolled out the first phase, which sees vaccines administered to "healthcare workers, first responders and the elderly at highest risk — like those in nursing homes," said Kataria. The next phase is likely to include individuals ages 75 and up and those with high risk conditions, per the CDC guidelines. But, as Kataria stressed, criteria will be different from state-to-state. "The CDC has some general information on its website with guidelines on who should be vaccinated first." Phase 1a will be healthcare workers, followed by Phase 1b, which covers essential workers such as police, firefighters, food workers, teachers and grocery store employees, as well as people ages 75 and older. Phase 1c includes people 65 to 74, people 16 to 64 with high-risk medical conditions and other essential workers.
Make Your Money Work Better for You
While this staggered state-by-state approach may look disorganized, particularly in light of the fact that some states are further along in the phases than others (you can see your state's progress via microsites from The Washington Post and The New York Times that are tracking vaccinations), this is what the federal government signed us up for.
See: How Coronavirus Exposed America's Mistreatment of the ElderlyFind: How Coronavirus Revealed America Is Failing Children — and Parents
"This is how distribution was set up by the current federal government leadership," said Kataria. "They have taken a per capita approach per state. They have left it to the states to determine the order of vaccination and distribution."
There have been some significant disparities between the states' rollouts. On Dec. 31, 2020, The New York Times reported that in Florida, less than one-quarter of delivered coronavirus vaccines had been used, despite a crowd of older people gathered waiting for injection. At that time, Georgia had distributed less than 14% of its doses; Kansas less than 11%; But West Virginia had given out 48 percent of its doses, and South Dakota led with 48 percent of its doses doled out. To their credit, distribution is, as Kataria calls it, "a Herculean effort."
"There are limited amounts of each vaccine available and more are being produced," said Kataria. "While we hear 2 to 3 million doses, we are a country of 300 million people, so it is coming in large waves. Then there is the challenge of getting it into the arms of patients, and this requires coordination and planning."
Make Your Money Work Better for You
See: This New COVID Drug Might Not Even Work — So Why Does It Cost Hospitals a Fortune?Find: 25 Experts' Predictions on When We Will Bounce Back from COVID-19
Making the vaccine as widely available as it needs to be will "take patience, organization and participation," Kataria said. "At this point, experts do not know what percentage of people would need to get vaccinated to achieve herd immunity to COVID-19."
What's most important to know right now is that the vaccines we have available (however limited that availability is, at present), is that they are safe and effective.
"I feel very lucky to have at least two vaccines above 50% efficacy so far that are approved for use," Kataria said. "In fact, the first two are well above 90% efficacy. The results at large scale trials showed a lot of effectiveness. So that's great."
See: Should You Invest in Vaccine Stocks Right Now?Find: 15 Coronavirus Scams to Avoid at All Costs
Also important right now is to steer away from the "fake news" about the vaccine that is seeping out of so many corners of the internet.
"There is quite a bit of false information starting to pop up," said Kataria. "If people are concerned or want to understand more information, there are a number of trusted sources and one of them is the Mytonomy content we typically create for hospitals, but have released this to the public." The video, "Fact Check: Answers to COVID-19 Questions," is available for free in English and in Spanish on Vimeo and YouTube. The video explains how the vaccines work, why they're safe and what to discuss with your doctor before your vaccine is administered.
Make Your Money Work Better for You
More From GOBankingRates: