Here's How Much the Average Entrepreneur Makes in 2023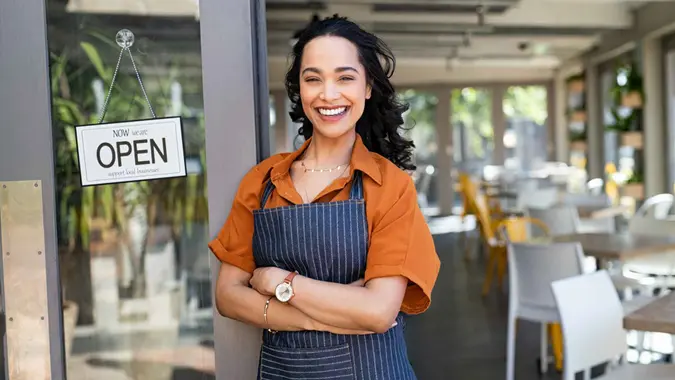 Ridofranz / Getty Images
For most people, the word entrepreneur probably conjures images of Silicon Valley, scrappy tech startups and venture capitalists — but entrepreneurs come in a million varieties. An entrepreneur is anyone who takes on the risk of starting a new business venture.
That could mean raising millions for your world-changing new technology, but it can also mean opening a new fast food franchise, starting a plumbing business or even getting a stand at the neighborhood farmer's market to sell the homemade pickles that your friends and coworkers go crazy for.
Whatever your reason for being an entrepreneur — side hustle, being your own boss, financial independence or dreams of being the next Steve Jobs — there can be no doubt that money is part of the equation. So how does being an entrepreneur stack up against being a good old fashioned salaried employee?
How Much the Average American Makes in 2023
The average salary in the United States is $61,900 a year. Not bad, but of course, in reality, there's a range that starts much lower and goes much higher, and it varies significantly based on demographic factors like age, gender, race, occupation and geographic location.
For example, the annual mean salary is over $120,000 for those in the legal profession, but only around $32,000 for those employed in food preparation and serving. As location goes, the average rises and falls based mostly on cost of living, as you might expect — California and New York are among the highest — but not always. The District of Columbia tops the chart by a wide margin at an average of $102,060 per year.
Make Your Money Work Better for You
How Much the Average Entrepreneur Makes in 2023
If you are the founder and CEO of a unicorn startup, sure, you won't have to worry about money ever again, but that's hardly the average entrepreneur. According to research from Payscale, the average base salary for small business owners is $69,147 per year — not that much higher than workers, although similar caveats apply about the range.
In addition, business owners have the opportunity to take distributions from their profits, assuming their business is successful enough to generate excess profits.
In reality, though, there are no theoretical limits to how much you can make as an entrepreneur, but unlike those drawing a paycheck, there is also the risk of earning nothing — or even losing money, if you have invested your own savings as capital.
Financial Benefits of Owning Your Own Business
Income potential isn't the sole benefit of being an entrepreneur. There are a number of other financial pluses that come with owning a business.
"Owning my own company gave me a better sense of control in my life and motivated me to work harder. Having full ownership means more stability compared to freelancing, which can often mean taking jobs here and there without any real long term plan in place," said Doug Ash, owner of Doug Ash Photography.
Business strategist Dawna Jarvis said, "The little perks, like being able to deduct home office costs, vehicle use and business travel from taxes, are sweet bonuses. What I truly love, though, is that sense of control. Your earning potential isn't dictated by a boss or a corporation — it's in your hands."
Make Your Money Work Better for You
Financial Drawbacks of Entrepreneurship
By definition, entrepreneurship comes with some risk. Obviously, if you invest your own money in your business, you could lose it — but that's not all.
"The business might not make it, or the entrepreneur could go a long stretch without an income. Yet still, the entrepreneur might spend years building an enterprise only to see a competing company or technology gut its market share and sale value," said Paul Peeler, financial advisor at Integrated Financial Group.
"The demands of entrepreneurship can be overwhelming. Long working hours, irregular cash flow and the constant risk of business failure can take a toll on your financial stability and personal well-being," said Margaret Pattillo, owner of MZP Digital.
How To Make More Money as an Entrepreneur
In order for owning a business to be viable, it has to scale to the point that it provides you with enough income for a living, at minimum — but what about beyond that? You might be able to grow your business to the point that you can hire others to run it for you, or maybe even sell it and retire early.
"To make more money as an entrepreneur, you need to sell what the market wants, rather than what you want to sell. You'll see a lot of chatter out there about selling a course or a membership or coaching or an app. In those conversations, the focus is on what's convenient for the entrepreneur to sell. Instead, remember that the customer just wants a problem solved," said Morgan Gist MacDonald, founder of Paper Raven Books. "Ask your potential customers to describe the problem in their own words, and seek to solve that problem in the most streamlined way possible."
Make Your Money Work Better for You
"It's about strategic planning and always being ready to learn something new. But one golden rule I stand by is reinvesting profits back into the business. It's fuel for growth and a foundation for long-term success. And believe me, nothing is quite as rewarding as watching something you've built grow and thrive," MacDonald said.
More From GOBankingRates