How Did Inflation Affect Target Shoppers in 2022?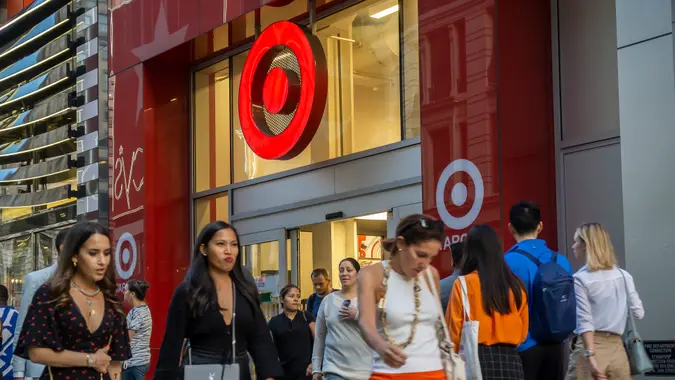 rblfmr / Shutterstock.com
Like any retailer, Target saw some changes in their business due to inflation. The value of the retailer's stock is decreasing, and their third-quarter earnings were disappointing. 
Target is considered a store for higher-income shoppers than say Walmart, for example, so in the wake of inflation, many shoppers switched from Target to Walmart for their needs. "Amid high inflation, shoppers are opting to trade down to cheaper retailers, brands, and products. Walmart has noted how it has been seeing shoppers with a household income of $100,000+ devote a greater share of their wallet to Walmart, boosting their results," Tim Campbell, Director of Insights at CommerceIQ, said. 
But, how has this impacted Target shoppers? GOBankingRates talked to experts to see how Target consumers were affected, and what they can expect to see in 2023.
Excess Inventory Leads to Big Discounts
Excess inventory was a huge problem for Target this year, however, that translated to good news for consumers. If you saw incredible deals–especially for the holidays, that's due to a surplus of inventory the retailer had. Because of the extra inventory, customers might have seen more mess in terms of aisle organization, but Campbell says that's probably going to be cleaned up next year. "The inventory glut at Target caused by overly optimistic forecasts for growth in discretionary goods in 2022 will likely be fully resolved in 2023, so shoppers can expect to see more orderly stores with better merchandising."
Make Your Money Work Better for You
As for low prices, Campbell says consumers will still benefit from those in 2023, especially from Target's brands. Look for big deals from all 45 of Target's private label brands including A New Day, Market Pantry, Cat & Jack, Room Essentials, Everspring, Good & Gather, up & up, and Universal Thread, to name a few.
Don't Expect Discounts on Food 
Though consumers can look forward to Target reducing the cost of clothing and electronics, if you're shopping for groceries, you won't see much of a price reduction. During times of inflation, consumers tend to cut out discretionary spending, but they still need groceries. Target reported that their food and beverage sales surpassed every other category of spending in 2022. Needless to say, they don't have to slash prices for customers to buy, so there probably won't be any major sales. 
Paper Coupons Aren't Always Accepted Anymore
If you were relying on coupons to shop at Target, you might want to switch to digital ones only, as it will be a bit more difficult to use your paper ones. Recently, due to an increase in fraudulent coupons, Target now only accepts coupons that can be validated through their master file of barcodes. Because of this, customers have reported that their paper coupons are getting rejected more frequently than before. 
Your best bet is to use Target coupons you find in the Target app, as those are automatically valid, and don't have to be checked against the database of barcodes. 
More In-Store Displays Elevate Shopping Experience 
In spite of the rising cost of goods, Target made it a point to stand out among the competition with engaging in-store displays. "Despite recessionary trends, Target remains committed to remodels that upgrade the look and feel of their in-store experience," Campbell said, citing Target's partnership with Ulta as an example. Customers looking to try before they buy will find a lot of opportunity to do so inside the Target stores. 
Make Your Money Work Better for You
Target Expected To Continue To Appeal to High-Income Shoppers
As Campbell discussed, Target caters to a customer within a certain income bracket. Surprisingly, even after a lackluster year, the retailer has no plans to try and rebrand who they appeal to. Though there will continue to be a lot of sales, Target will still offer goods that other retailers just won't. ​​For example, the company recently announced a partnership with British retailer Marks & Spencer to sell a limited-time assortment of gourmet premium food and chocolates. It's items like those that will continue to set Target apart as the retailer hopes to hold onto its spot as a store for higher income shoppers. Technology Industry Analyst Jeff Kagan says if they can do that, they'll survive. "Target wants and needs a strong economy and low inflation to flourish and grow as a whole. However, they are more insulated from tough economic times compared to some of their competitors who have [lower income] shoppers."
Going into 2023, keep an eye out for the best sales by using the Target app, and expect prices on clothing and electronics to stay lower for a while. 
More From GOBankingRates