How Much Does Amazon Make Around the Holidays?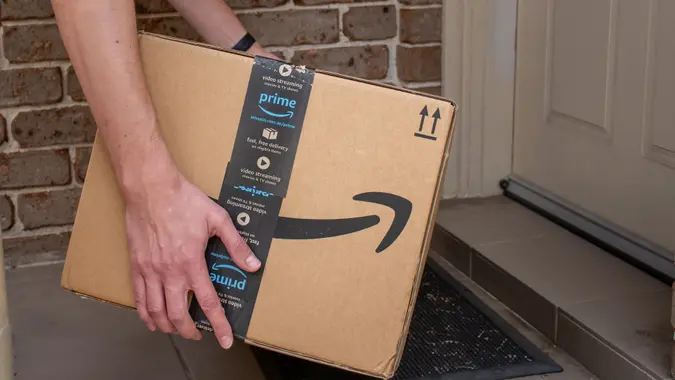 Daria Nipot / iStock.com
On Nov. 14, Jeff Bezos — the notoriously stingy founder of Amazon — declared to CNN that he planned to give away the bulk of his $124 billion fortune to charity during his lifetime. For a guy who has always seemed far more attracted to the mega-yacht lifestyle of the industry titans of old than the philanthropic leanings of his charitable ex-wife MacKenzie Scott, it was a pleasant surprise.
Here It Is: Our 2022 Small Business Spotlight
Next: 5 Things You Must Do When Your Savings Reach $50,000
But the cynics couldn't help but notice the timing of the announcement. That very same day, the New York Times reported that Amazon would be laying off 10,000 workers just in time for the holidays as part of a broader cost-cutting initiative.
Bezos might seem like a Grinch this holiday season, but his company is Santa's entire workshop plus the reindeer that run shipping and logistics. No matter how much the company's boss donates or how many workers he lays off, for Amazon, winter is the season of earning.
Make Your Money Work Better for You
Amazon Started the Season By Breaking the Wrong Kind of Record
To understand the logic behind Amazon's pre-Christmas firing spree, just rewind to five days before Bezos announced the layoffs. On Nov. 9, Bloomberg reported that Amazon became the first company in history to lose $1 trillion in value when its market cap dropped to $879 billion from $1.88 trillion in July.
It was part of a trend that saw other pandemic-era darlings shedding value and cutting costs, including Meta (Facebook), Alphabet (Google), Microsoft, Netflix and several video-game industry heavies.
Take Our Poll: Do You Believe in Quiet Quitting?
Less than one month before Amazon completed its trillion-dollar nosedive, the company's stock cratered by 14% when the king of e-commerce forecasted that its holiday-quarter sales would fall short of analyst expectations. It predicted its fourth-quarter Christmastime revenue would total just $140 billion to $148 billion instead of the $155 billion that Wall Street had projected. 
"Just" $148 billion in revenue in three months' time is a difficult concept for the average person to comprehend. For perspective on just how big the holiday season is for Amazon, the company raked in $127.1 billion in the third quarter, a 15% increase over the year before — but even that fell short of analyst expectations. 
Make Your Money Work Better for You
As Amazon Goes, So Go the Holidays
According to Business Insider, Amazon's revised fourth-quarter earnings estimate was the harbinger of doom that the retail world was hoping to avoid heading into its most important season of the year. Despite months of high inflation and household belt-tightening, the industry remained optimistic that shoppers would dig deep and spend big during the holidays.
Amazon's Q4 bombshell threw cold water on those hopes.
The report projected that Amazon would grow by between 2% and 8% in the last three months of the year, which would be great news for an ordinary company — but Amazon is no ordinary company.
In 2021, it grew by 9% in the year's closing quarter. In 2020, Amazon grew by an incredible 38% in Q4. In 2022, however, the holidays are poised to witness the company's slowest fourth-quarter growth on record. That does not bode well for the retail industry as a whole, which is bracing for a gloomy finale to 2022 — after all, if Amazon is struggling, what will become of them? 
Make Your Money Work Better for You
Don't Forget, Amazon Is No One-Trick Pony
Other retailers might live and die by the holiday season, but Amazon has its many eggs spread out across a whole bunch of different baskets.
The same late-October report that outlined Amazon's dire Q4 projections, which sent investors into a -14% selling frenzy, showed that it wasn't all gloom and doom. Sales in its Amazon Web Services segment grew by 27% year-over-year to $20.5 billion — but even that wasn't enough to satisfy Wall Street's lofty expectations for the world's largest online retailer. 
Its cloud computing division was good for $2.9 billion in profit during the same three months.
The fact that Amazon's massive projected Q4 sales, revenues and growth fell well below expectations is all the context needed to show just how dominant the online juggernaut remains in the market that it pioneered. The retail industry as a whole is bracing for a cold and dark holiday season, but for Amazon, a ray of sunshine is never far away. 
On Nov. 15 — after all the bad news had already hit the headlines — Barron's reported that MoffettNathanson analyst Michael Morton advised investors to buy, adding that "the stock is still the best play on e-commerce."
More From GOBankingRates
Make Your Money Work Better for You