How Much Is TD Bank Worth?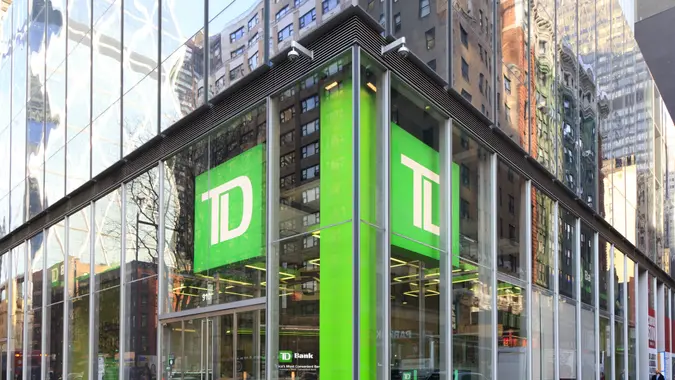 Osugi / Shutterstock.com
TD Bank is a subsidiary of the Canada-based Toronto-Dominion Bank and one of the 10 largest banks in America. TD Bank is also one of Canada's top banking stocks. Here's what that might mean for investors interested in TD Bank.
About TD Bank
Headquarters
Cherry Hill, N.J.
Year Founded
2008
CEO Bharat Masrani's Total Annual Compensation (2021)
$13,491,306
What TD Bank Is Worth
Share Price, 52-Week Range
$62.82-$86.02
2021 Revenue
$38.85B
2021 Profit
$11.5B
GOBankingRates' Evaluation of TD Bank's Net Worth
$150.29B
Information on 52-week range is accurate as of March 11, 2022.
TD Bank's Market Cap: $140.814B
Market capitalization considers all of a company's stock in order to gauge its worth — the higher the cap, the more value investors associate with the company. It's calculated by multiplying the share price, currently $76.96, by the number of shares outstanding.
TD Bank's Net Worth: $150.29B
Although market cap can give you an idea of what the market values a company at, it's based on market sentiment, which, in turn, is based on a multitude of consumer variables and market players. The GOBankingRates Evaluation of a company's net worth, however, considers assets and revenue, taking into account the company's revenue and profits from the last three years, along with its assets and debts.
Make Your Money Work Better for You
Based on TD Bank's revenue and profits from the last three years, it is worth $150.29 billion.
Steady Growth Makes for Attractive Stock
A variety of business analysts have sung praises about TD stock. Shares began trading on the New York Stock Exchange in 1996 at around $5 per share. Although the stock has seen some volatility, especially during the 2008-2009 financial crisis and the pandemic shutdowns in early 2020, share prices have trended upward overall. In fact, $10,000 in TD Bank shares purchased 10 years ago would be valued at more than $18,000 today.
Furthermore, the bank has produced consistent results with dividends — even prior to its rebrand as TD Bank in 2008 — having doled them out to shareholders for about 160 years. TD Bank recently increased its dividend 13%, to 89 cents per share, for the quarter ended Jan. 31, 2022.
TD Bank in 2022
TD Bank's stock has been one of the top-performing among Canada's five largest banks, and now TD could become the sixth-largest bank in America. In what would be its largest acquisition ever, TD announced plans to purchase First Horizon Corp., a regional bank with a presence in the Southeast. While analysts warn the deal is not without risks — shares fell after the deal was announced — TD Bank CEO Bharat Masrani called the purchase a "terrific strategic fit," commenting in the first-quarter 2022 earning release that the sale represents "a bold acceleration of our U.S. strategy to acquire a premier regional bank, with a strong presence in highly attractive markets across the U.S. Southeast."
Make Your Money Work Better for You
In the release, TD reported that revenue grew 14% in the first quarter, to CA$3.7 billion, year over year, and adjusted earnings were up 13%. Canadian retail profits rose 11% compared to the first quarter of 2021, and revenue increased 6%.
U.S. retail net income grew 30% (27% in Canadian dollars), driven by TD's investment in The Charles Schwab Corp. That investment earned TD 24% (21% in Canadian dollars) year over year. U.S. retail banking profits, which do not include the Schwab investment, grew 31% (29% in Canadian dollars) and revenue increased 6% (4% in Canadian dollars), due to higher deposit volumes and margins, increased returns on investments and higher income from fees. TD added 98,000 credit card accounts and 44,000 Essential Banking deposit accounts last quarter.
Analysts currently rate TD Bank stock a "hold." As for share prices, analysts' average target is $89.56, down only slightly from last quarter's $90.50 target and 16% above its closing price of $76.96 on March 11. The average is based on an unusually tight range — a low of $88.58 and a high of $91.03 — which might indicate a high degree of confidence in the prediction.
Make Your Money Work Better for You
Sean Dennison contributed to the reporting for this article.
Data is accurate as of March 11, 2022, and subject to change.
Methodology: The GOBankingRates Evaluation assesses a company's net worth based on the company's total assets, total liabilities, and revenue and net income from the last three years. Base value is established by subtracting total liabilities from total assets from the company's last full fiscal year. Income value is established by taking the average of the revenue from the last three full fiscal years, plus 10 times the average of the net profits from the last three full fiscal years, and then calculating the average of those two figures. The final GOBankingRates Evaluation number is the sum of the base value and the income value.
Our in-house research team and on-site financial experts work together to create content that's accurate, impartial, and up to date. We fact-check every single statistic, quote and fact using trusted primary resources to make sure the information we provide is correct. You can learn more about GOBankingRates' processes and standards in our editorial policy.
Make Your Money Work Better for You