How Small-Business Owners Are Coping With Worker Shortage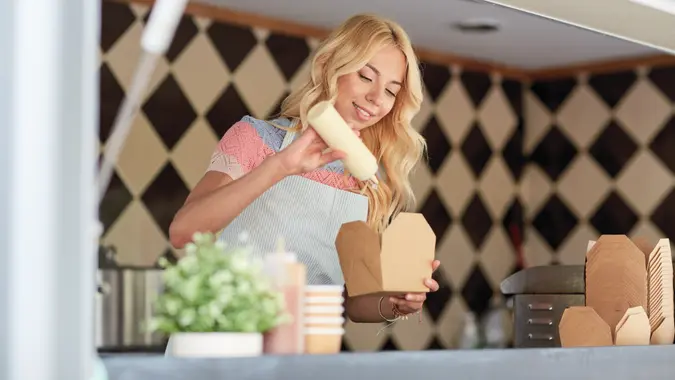 Syda Productions / Shutterstock.com
There seems to be a disconnect between workers and employers lately. The number of employees who've voluntarily quit their jobs reached a record high of 4.4 million — or 3% of all Americans — in September. Yet businesses can't seem to hire anyone; there were more than 10 million job openings during the same period.
The "Great Resignation" has been hitting certain industries harder than others, especially lower-paying ones such as arts and entertainment, restaurants, hotels, trade, transportation and utilities, professional services and retail. It's a sign that workers are feeling under-compensated and burnt out. They're willing to hold out for more fulfilling and lucrative work.
So what does that mean for businesses? Those that are struggling to fill roles will have to change the way they retain current employees and attract new ones. Below is a look at how five small-business owners and executives have been coping with the worker shortage.
More: Creative Ways Small Businesses Stayed Open During the Pandemic
Increase Pay
Paul Sherman, chief marketing officer of Olive, believes one of the main culprits of the current worker shortage is that people are sick and tired of working full time while receiving salaries that are below the living wage. And he's right: Today's real average wage (which accounts for inflation) has about the same purchasing power as it did 40 years ago, according to the Pew Research Center. Any wage increases that have occurred have mostly gone to the highest-paid tier of workers.
Make Your Money Work Better for You
The simple solution, he said, is paying employees better. "We're providing better wages and overall compensation packages to our employees and asking them what they need to be the best versions of themselves at work."
Offer Bonuses
Gregory Herrman, managing partner with Herrman and Herrman PLLC, said that during a single week, five staff members had quit the same department at his firm. Fortunately, they were able to convince one to return to their position. It was a learning experience that helped develop new policies for retaining employees and motivating them in their roles. 
"We have added new policies…like offering bonuses for team members who refer new hires and sign-on bonuses for new hires," he said. "We also provide team members bonuses for exceeding expectations at their position or volunteering at our community events." 
Read: Small-Business Industries Hurt Most by the Pandemic
Invest In Training and Development
Gregory Yong, chief experience officer at Convincely, said he's found the best way to deal with the worker shortage is through the training and development of his existing workforce. "If you can't acquire talented new onboards, then your second best option is upskilling the workers you currently have."
Make Your Money Work Better for You
Yong recommends speaking with your team and getting a feel for where they could improve. "Use their feedback to construct a tailored training and development program that directly helps your team with their responsibilities in the workplace," he said. "By the end, your team will be skilled, adaptable and resourceful enough to take on further responsibility and ease the burden your organization is facing."
See: How Small-Business Struggles Hurt All Americans
Promote Work-Life Balance
Workers are not only tired of being underpaid, they're stressed and burnt out. "As a business owner, I noticed some of my employees in the past who were prone to quitting. Even higher pay cannot compensate because of the heavy workload," said Jake Smith, owner of Absolute Reg. So he's working on retaining his current staff with non-cash incentives that promote work-life balance.
For example, employees earn an additional flex day off every month they can use outside of vacation or sick leave for any reason. "We don't require them to request it ahead of time or show any proof of absence once they go back to work," Smith said. And the extra day off doesn't impact their pay or performance bonuses. "In return, we keep their loyalty intact and make them more productive in accomplishing their tasks at work."
Find Out: How Work-Life Balance Can Make You a Better Employee
Make Your Money Work Better for You
Foster Mentorship
Minesh J. Patel, founder of The Patel Firm, said that instead of spending time trying to recruit hard-to-find, highly experienced candidates, he's working to encourage more lateral moves within the company through a formal mentoring program. "Mentoring allows us to identify team members ready to take on more, and work with us to create an employee development program to upskill them."
Patel said this also helps promote better employee engagement. "When teammates know that there is plenty of opportunity for promotion, they work harder and stay at the company longer instead of pursuing opportunities elsewhere." 
More From GOBankingRates