How To Start a Food Truck Business: 9 Pieces of Advice To Follow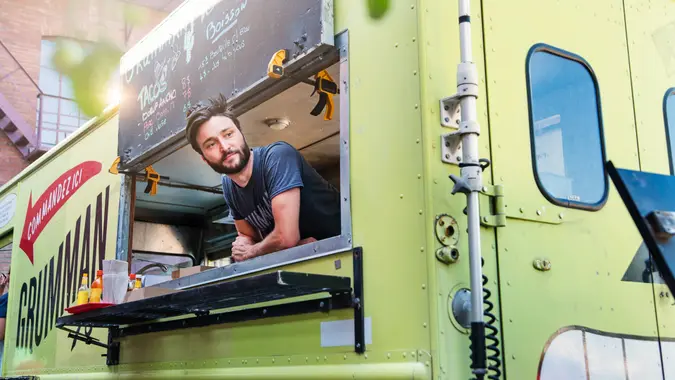 martinedoucet / Getty Images
Though it may appear simply as an inexpensive place to eat, the food truck near your home or business is a part of a billion-dollar industry. Food trucks have been increasing in number across the U.S., growing at an impressive 7.9% rate per year.
Food truck sales increased from $660.5 million to a whopping $1.2 billion between 2012 and 2017 — a 79% increase. These figures may look attractive to someone wanting to start a small-scale food operation, along with the low startup costs and mobility that allow food truck businesses to come together quickly and operate in a variety of locations.
9 Steps To Starting a Food Truck Business
Starting a food truck business isn't as easy as you may imagine. Here are the steps on how to begin.
1. Plan the Costs
When starting a food truck business, you need to consider the costs of the following items:
Gas
The truck itself
Ingredients for the food
Insurance
Permit application fees
Technology to operate the mobile POS
Advertising and marketing
Salary for employees, if any
Make Your Money Work Better for You
When planning your finances, separate one-time startup costs from recurring expenditures. For instance, the following expenses are one-time:
The truck and equipment
Website design
Legal consult
P.R. and advertising
Point of sale system
Meanwhile, gas, ingredients, repairs and maintenance are recurring costs.
A new truck can cost anywhere from $15,000 to $100,000, depending on the layout and the options you select. Here are some additional costs of running a food truck:
Permits: $100 – $500
Payment Processing: $200 – $1,000
Product Inventory: $1,000 – $2,000
Insurance: $2,000 – $4,000 annually
All in all, the total cost for starting your food truck business could be between $28,000 and $114,000. But on average, these costs hover around $50,000 to $60,000 if you're not going out of your way with lots of travel expenses.
2. Get a Truck
When looking for your food truck, consider the following options:
Online Classifieds: If you want to save a few bucks, think about getting a used truck. Note, however, that many food truck owners advise against buying the cheapest possible equipment, as it can lead to more expenditures for repair and upkeep later.
New Trucks: Depending on your budget, you can opt for a new and customized truck. Just make sure it meets the health standards and codes of your state.
Leasing: Alternatively, you can lease a food truck from a truck leasing company.
Make Your Money Work Better for You
3. Get Board of Health Approval
Next, you must determine which codes and regulations you need to follow as per your state.
For example, in the state of Oregon, when health inspectors come to check your truck businesses, they verify things like these:
Proof of ownership
Vehicle's license
Proper food storage equipment
Food purchase records
Compliance with fire codes and health regulations
4. Get Your Permits and Licenses
The permit and licensing requirements for a food truck business differ across states. Therefore, you should check your state's specific permit requirements. Often, food trucks are required to have the following documents:
Seller's Permit: A seller's permit allows you to buy electronic equipment and food without sales tax at wholesale prices.
Business Name: You must register your business name so the state can identify your business. Having a business name also ensures uniqueness and communicates your goods and services to potential customers.
Vehicle License: Since your business is based in a truck, you need to have a license for that truck. You'll have to get a commercial driver's license to drive and operate the truck in most states.
Employee Identification Number: If you want to hire employees, you must get an Employee Identification Number from the IRS. It's a federal tax I.D. that serves as identification for a business entity. With an EIN, you can also make a new business bank account and establish a credit history.
Business Permit: Like with any business, you must have a business license and, depending on your state, a sales tax permit. These licenses and permits are low-priced and relatively straightforward to get.
5. Decide What To Cook
Ideally, your food will set you apart from other food trucks and entice customers to keep coming back for more. But it's not just the cuisine that you have to master — your space and practices will also determine the success of your food truck business.
Keep in mind that food trucks have limited spaces, both inside and out, so you can't have as extensive of a menu as a brick-and-mortar restaurant. For example, think about where you're going to prep, cook and store your ingredients inside the truck, and how easy it will be for your customers to take the food away and eat it on the go.
Make Your Money Work Better for You
Whatever you decide to serve, make sure to look up local health codes and ensure your employees have the proper training and certification in safe food-handling practices.
6. Decide Where To Park
Some cities allow mobile vendors in designated areas –with approval from the city office — while others ban them entirely. Check with local authorities to make sure starting your business is even possible before you invest any capital into it.
If your region does allow food trucks, you need to determine from local authorities where you can park your vehicle. Finding the best place to park might be difficult due to strict regulations and increasing competition if you're in a larger city. A highly visible and accessible location will lure in more curious customers and hook regulars who know where to find you.
7. Advertising and Promotion
Market your food truck to attract customers. Food trucks compete with many food establishment options such as diners, fast-food restaurants, drive-ups and takeout-only restaurants.
Create a marketing plan that will stand out amongst your competition. Many food trucks use social media platforms like Twitter and Instagram to update their location and menu on any given day so repeat customers can find them.
Also, consider pitching to local companies and vending at local events. Getting involved in your community will spread the word and get folks familiar with your business.
8. Choose a Point of Sale System
Though you can work with cash and a cash drawer, a POS system allows you to take credit cards and prevents you from turning away business. POS systems can also email receipts to customers and keep track of inventory, orders and data such as busiest hours or most popular items.
Good To Know

Some point of sale systems may require a subscription fee, therefore increasing your monthly costs. Make sure to research the best type of POS system for your business, and only opt for it if it's worth the additional expenditure.
9. Create a Full-Day Plan
Envision how your day running the food truck will look and what you'll need to achieve your goals. Since there's no right way to do this, you can wing it the way that works for you. For instance, if you like to get to your parking spot at 7 a.m., you might want to start prepping in the kitchen by 5 a.m.
Make sure to reserve some time in the day to clean the dishes and take a lunch break for yourself.
This forethought will save you time and money by streamlining your processes and increasing your efficiency.
Final Take
Starting a food truck business can be lucrative since the average revenue stream is $290,000. And there's no denying that food truck businesses seem to be doing better than the commercial restaurant industry today, growing at a rate of about 6.6% annually.
However, these figures are not uniform across all states and cities. Therefore, you need to research the market well and follow all the steps discussed above before you start making any income from your small business. Once you're in the know, take the leap and watch your business grow.
Our in-house research team and on-site financial experts work together to create content that's accurate, impartial, and up to date. We fact-check every single statistic, quote and fact using trusted primary resources to make sure the information we provide is correct. You can learn more about GOBankingRates' processes and standards in our editorial policy.
Make Your Money Work Better for You