Inflation 2022: How Costco Shoppers Were Affected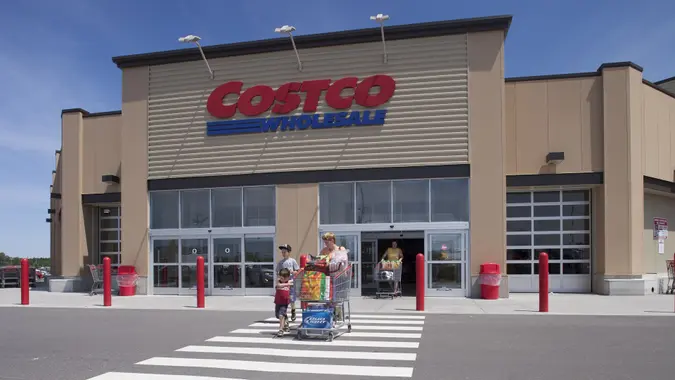 YvanDube / iStock.com
The inflation rate is the highest it has been in 40 years. The consumer price index has increased by more than 7.7% in the past year, going up 0.4% in a single month. The price of housing, food and energy were the biggest contributors to rising inflation rates in October of 2022.
Dollar Tree: 5 High-Quality Items To Buy Now
Also: 5 Things You Must Do When Your Savings Reach $50,000
Warehouse retailers like Costco were not spared when it came to the effects of inflation. From price hikes to the price of stock, customers saw big changes at Costco over the past year. Here's how Costco navigated inflation in 2022.
The Value of Costco Stock Decreased 
If you were a truly devoted Costco shopper, perhaps you're also a stockholder. Unfortunately, it hasn't been a good year for the market in general, let alone Costco. The stock dropped 7% in December amid news of layoffs. The stock is currently at $480 a share, but a year ago, it was at $530.11 a share. That's a pretty dramatic drop, and experts predict it's going to continue to go down in 2023.
Make Your Money Work Better for You
The Price of Eggs Increased 
If you are doing the majority of your grocery shopping at Costco, you no doubt saw a huge price hike for eggs. The cost of eggs went up 47% in July of 2022 resulting in a full dollar increase for eggs at Costco. Costco also imposed a 2-carton limit for customers due to a shortage of eggs, due to a bird flu outbreak.
Food Court Items Went Up
Though the beloved hot dog and soda combo has stayed at $1.50 since 1985, other food items sold at the Costco food court did experience price changes. The chicken bake (a breaded chicken stuffed with bacon, cheese, onion and Caesar dressing) went up $1 in price during 2022, bringing it to $3.99.
If you were thirsty, you probably also noticed a price increase in soda. A 20 oz drink went up $0.10 in price, bringing it to $0.69. Still not bad for a cup of soda. In fact, compared to fast food restaurants, Costco still has the lowest price for sodas of that size. 
Take Our Poll: How Do You Typically Split the Restaurant Bill?
Bottled Water Prices are Up
Costco was always a great spot to stock up on bottled water for events. However, inflation caused the price to increase, much to customers' chagrin. Right now, 40 bottles of Kirkland bottled water sells for $5.34. A year ago, the same package was selling for $3.19. That's a pretty significant price hike. Walmart sells 40 bottles of water through their house brand Great Value for $5.36, which is very close to Costco's price. Typically, Costco would have an advantage over stores like Walmart, but inflation has caused some items to be pretty competitively priced with them. 
Make Your Money Work Better for You
Kirkland Bacon Cost Is On the Rise
The popularity of Costco's bacon went up during the pandemic, and many customers had to have it in their kitchens. But, the rising popularity and inflation drove up the price. In 2021, Kirkland Signature Bacon sold for under $4 a pound. Now, it's selling for $4.28 a pound.
Avocado Prices Are Way Up
If you've stopped by Costco to pick up some avocados to make guacamole recently, you've probably been astounded by the major price increase. A year ago, a bag of six avocados cost $4.99. Now, that same bag is going for $7.45. The price nearly doubled in just a year's time. To compare, at Ralphs, six medium avocados will cost you $1 each, so you can get six for less than the price Costco is offering. Since avocados are known for going bad fairly quickly, it might be best to buy them individually anyway. 
Rolls Will Cost You More
Consumers were disappointed to see a cost increase on Costco's famous artisan rolls. Last year, a pack of 12 would cost $5.99, but now, the same bag will cost you $7.45. Unfortunately, Costco had to raise prices even on their in-house brands in order to keep pace with inflation.
Bottom Line: Costco Caters to a High-Income Consumer
The truth is, even if prices go up, Costco is depending on customer loyalty to get them through–not low prices. As Technology Industry Analyst Jeff Kagan points out Costco doesn't rely on deal seekers. "Costco shoppers are typically higher income families. That means their spending habits are more insulated. That's good news for Costco. They are more insulated than regular retail stores from the economy." Kagan goes on to say that even when Costco makes it harder for shoppers, like by only taking Visa credit cards and not offering self-checkout, the warehouse store will still prevail. "Costco's business model is different from typical retail. It's better in some ways and worse in others. They promise discounts if you pay to join their club and be a member. That does not always happen. Nevertheless, Costco continues to be a leader in this warehouse shopping sector."
Make Your Money Work Better for You
More From GOBankingRates
Make Your Money Work Better for You