Accelerated Hiring, More Remote Work and 3 Other Major Changes Experts Predict for the Job Market in 2022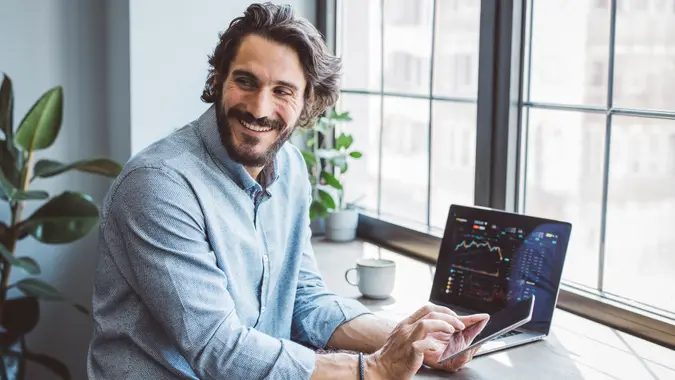 svetikd / iStock.com
The 2021 job market brought a lot of change. The rate of employees quitting reached an all-time high of 2.9 percent in August equalling 4.3 million resignations. Quitting was especially rampant in the food industry, totaling about 157,000 employees.
This trend isn't just affecting the younger generations. The baby boomer generation is choosing to retire earlier. Almost 3.2 million retired in the third quarter of 2020 alone. As a result, many industries are looking to hire in large numbers next year, including the film industry, hospitality, manufacturing, transportation and warehousing. Wages are also going up due to there being fewer people on the job. Will these trends persist through 2022? GOBankingRates spoke with financial experts and entrepreneurs about what's on the horizon for the job market in the new year.
Find Out: How To Write a Good Resume With No Experience
Jobs: 20 Jobs Where You Can Make $60,000 Out of College
Expect an Accelerated Hiring Process
Since there is a lack of workers after so many have resigned, hiring processes with five rounds of interviews just aren't smart for businesses anymore. And, because it's a job seekers' market, companies want to speed up the evaluation process so they can make you an offer faster than the competition. Danny Trichter. founder of Accessibility Checker, says fast hiring has become a competitive advantage, and will likely continue in 2022. As a job seeker, Trichter said you have the upper hand, and to not be afraid to pass back on the swift hiring process. "You can tell prospective employers that you've had other job offers and need some time to decide which one is the best fit for you." Saying you have multiple offers might also push the hiring team to offer you more money or benefits to sweeten their offer. 
Make Your Money Work Better for You
Preparation: Smart Ways You Can Prepare For Job Loss While You're Still Employed
Companies Will Prioritize Employee Happiness & Diversity
Many people left their jobs due to a poor workplace culture, or a feeling that employees weren't seen as people, but as cogs in a money-making machine. Now, experts say the tables will turn, and organizations will go out of their way to adjust how they treat their employees to attract more talent and keep the talent they currently have. "For the first time in history, companies are making it a point to guarantee that their employees are happy, have a feeling of belonging, and feel satisfied at work," said Travis Lindemoen, Managing Director at Nexus IT Group.
Lindemoen went on to say that this extends to diversity efforts as well. "Today employees prefer to work for a company that supports diversity and inclusion. Every aspect of a company's culture, including its values, rules, procedures, and performance expectations must be aligned with the principles of diversity, equality and inclusion." 
Work Worth Considering: 28 Genius Side Hustles You Never Knew Existed
Remote Work Will Become More and More Common
Obviously during the pandemic, everyone was either working remotely or not working at all. Many of those working remotely developed a preference for it. There was no commute, so you could save money and be with your family more. Plus, working from bed is a pretty sweet option. Companies are taking note that many people now want a job that is remote, or at least offers remote work as an option part of the time. Robert Johansson is the CEO at Imgkits and said if companies don't offer remote work, they're in danger of missing out on talent. "Companies that hire locally next year will almost certainly encounter significant competition from companies that list remote-friendly jobs."
Make Your Money Work Better for You
Going remote also has its advantages for the company. Alex Alexakis, Founder of PixelChefs, said remote work can save a lot of cash for a business owner. "By having a remote position, there is no need for an office or space for someone. Employees can work from home and not cost you any more office rent space."
Read: 20 Ways To Improve Your Chances of Getting a Job
Wages Will Rise
It's truly a matter of supply and demand. The supply of workers is low, so the demand is high. That means those doing the hiring are willing to pay higher wages to get employees as soon as they can, and to keep those working at their company satisfied. Founder of Sip Coffee House Ahmed Mir said it's a great time to negotiate for a raise or increase your rates as a freelancer. "Professionals now have realized how much their experiences and talents are worth and it's more than what they are usually paid for in an 8-hour day job. Figuring out that they can finish certain tasks in a shorter period of time made them reassess their value as professionals, urging them to charge higher than their usual rates."
Mir said that this sort of sea change from employees will demand that wages go up. "The wage increase might not be prescribed by the government or the labor and employment but if it's a personal choice, then not even employers can contest it."
Discover: Why You Should Consider Putting 'Mother' on Your Resume
"Human" Skills Will Become Even More Valuable 
As algorithms and AI are responsible for more output, possessing skills that are unique to humans and cannot be replicated by robots is crucial. "By 2022, most professions will require drastically different abilities," said Andrew Priobrazhenskyi, CEO of Discount Reactor.
Make Your Money Work Better for You
Priobrazhenskyi added that though technology skills are valuable, interpersonal skills are going to be what's in demand in the future. "Skills like creativity, inventiveness, initiative, critical thinking, persuasion, negotiation, attention to detail, resilience, flexibility, and complicated problem-solving will keep or increase in value. Emotional intelligence, leadership, social impact, and service orientation will all be in high demand in the future," Priobrazhenskyi said. 
More From GOBankingRates
Make Your Money Work Better for You