2020 Democratic Primary Debates: Everything You Need To Know for Round 3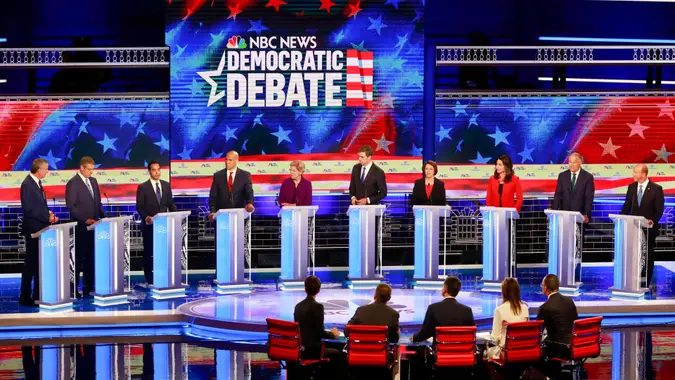 Wilfredo Lee/AP / Shutterstock.com
The 2020 Democratic primary process moves forward with the third round of debates scheduled for Sept. 12. Due to more stringent fundraising and poll-based criteria, only 10 candidates will debate this time, down from 20 in the previous rounds. 
Table of Contents 
Democratic Debate: Event Details
Like the first two rounds of debates, the third should have its share of memorable moments. Here is everything you need to know about the next debate. 
When will the event take place?
The next debate takes places on Thursday, Sept. 12, at 8 p.m. EST, 5 p.m. PST.
Who will moderate the Democratic debate?
George Stephanopoulos, David Muir, Linsey Davis and Jorge Ramos will moderate the debate.
Where will the debate be held?
The debate will take place in Houston, Texas, at Texas Southern University.
What are the rules of the debate?
During the debate, the candidates will have one minute and 15 seconds to respond to questions from the moderators. They will also receive 45 seconds to respond to both follow-up questions and rebuttals from other candidates.
Make Your Money Work for You
How do candidates qualify for the debate?
The candidates had to meet more stringent requirements to participate in this debate than the first two rounds. To qualify, candidates had to attract a minimum of 2% support in four national polls. Alternatively, they had to meet the same requirement in state polls in the early-voting states of Iowa, New Hampshire, South Carolina and Nevada. These polls had to be released between June 28 and August 28 to qualify. The surveys must also be performed by four different organizations, or, if performed by the same entity, they must take place in different regions.
Additionally, candidates must attract donations from 130,000 unique donors. Moreover, they must receive donations from a minimum of 400 donors in at least 20 different states.
How To Watch the Democratic Debate on TV and Online
It's 2019, folks. Not surprisingly, there are many options available to both cable watchers and streamers alike. Here's where you can tune in or link up to the debate. 
Which channels are airing the debate?
The debate will air on ABC and Univision, who will offer a Spanish translation. ABC News Live, and Houston's local ABC affiliate KTRK will also broadcast the debate.
Where will the debate be available for streaming?
The audience can stream the presidential debate on ABC News Live and ABCNews.com. It will also stream on Hulu Live, Roku Channel, Facebook Watch, Apple TV, Amazon Fire TV, YouTube, Apple News and Twitter.
Make Your Money Work for You
The Lineup for the Democratic Debate
The third Democratic debate will mark the first time all the qualifying candidates will be featured together on a single night and should make for lively debate among the front-runners. Here are some things to watch for when the Democratic candidates debate on Thursday.
Which candidates will debate?
The fact that the Democratic debate will place all top-tier 2020 election candidates on the same stage changes the dynamic. For Democratic Primary 2020, Vice President Biden remains the front-runner, leading Sen. Elizabeth Warren by 11.7 percentage points and Sen. Bernie Sanders by 12.2 percentage points, according to RealClearPolitics. Although Biden's main competition in the previous two debates was Sen. Kamala Harris, it looks like he will have to contend with continuing strong pushes from both Sens. Warren and Sanders for round three.  
Voters should also look for the competition to heat up between Warren and Sanders themselves. The Massachusetts Senator leads Sanders in the RealClearPolitics average by 0.5 percentage points. Although some polls have the two jumping ahead of the other by a few points (and even to within a few points of leader Biden), it looks like Warren and Sanders will be running neck and neck right up to debate day. 
A battle for fourth place has also emerged. Harris still leads Mayor Pete Buttigieg in the polls. However, Buttigieg has caught up with her in some of the recent polls. 
The pressure will also mount for the remaining five candidates. Businessman Andrew Yang has won enough support to make the debate, but little else from his so-called "freedom dividend." Senator Cory Booker has drawn more attention for alleged mismanagement of the water department while he was mayor of Newark, New Jersey. Beto O'Rourke's campaign has sputtered, but time will tell if a passionate stance on gun control improves his poll numbers. Julián Castro was praised for his debate performance in the first round, but that has failed to translate into support. Sen. Amy Klobuchar has also struggled to resonate with voters. A high-profile supporter, former Vice President Walter Mondale, conceded she would need to do "something different" to salvage her campaign.
Make Your Money Work for You
The Round 3 Debaters
Candidate
Current or Last Position Held
Joe Biden
Former Vice President
of the U.S.
Cory Booker
U.S. Senator
from New Jersey
Pete Buttigieg
Mayor of
South Bend, Indiana
Julián Castro
Former Secretary of
Housing and Urban
Development
Kamala Harris
U.S. Senator
from California
Amy Klobuchar
U.S. Senator
from Minnesota
Beto O'Rourke
Former U.S. Representative
from Texas
Bernie Sanders
U.S. Senator
from Vermont
Elizabeth Warren
U.S. Senator
from Massachusetts
Andrew Yang
Entrepreneur,
Attorney,
Philanthropist
Where the Candidates Stand on Key Issues
Despite membership in the same party, voters will see sometimes vast differences between the candidates on key issues, especially when it comes to finances. Though all Democrats want to improve the lives of working Americans, the candidates have taken varying steps to achieve these goals. Voters will have to evaluate the candidates and their approaches and then attempt to determine the ones who will serve their personal and financial needs — along with the needs of the country — better.
Joe Biden

Former Vice President Biden wants to "restore the basic bargain" for American workers. He believes proposals such as a $15 per hour minimum wage, removal of unnecessary occupational license requirements and fighting wage-suppression strategies will return many workers to the middle class. He also favors an expansion of the Affordable Care Act.
Cory Booker


Sen. Booker supports an economy built around the "success of everyday workers." This includes "debt-free" college, as well as tuition-free community colleges. Other proposals include making healthcare a "right" and providing access to safe, affordable housing. He believes a "massive expansion" of the earned income tax credit and a cap on rental costs for working and middle-class families at 30% of income will help achieve these goals.
Make Your Money Work for You
Pete Buttigieg

"Mayor Pete," as he likes to be called, emphasizes workplace protections. He would entail proposals such as access to fair wages, equal pay and opportunities for promotion.
He also opposes what he calls the "Reagan consensus" on tax cuts and wealth inequality. He wants to consider increased taxes for the wealthy. This could extend to the middle class, assuming that revenue is "returned" in the form of healthcare and improved infrastructure.
Julián Castro


Mr. Castro wants a country that "works for working people." This would entail additional taxation on the rich. It would also introduce a "working families first credit" to benefit the middle class. He would also implement a $15 minimum wage, universal child care and tuition and debt-free college. In addition, he would offer help to make housing more affordable.
Kamala Harris

Sen. Harris supports "Medicare for All," although she has also defended the Affordable Care Act in the past. Like many of her opponents, she also wants a $15 per hour minimum wage, middle-class tax cuts and tuition-free higher education for most Americans. Moreover, as the senator from California, she has expressed a desire to make housing more affordable.
Amy Klobuchar


Sen. Klobuchar wants to bring the country "shared prosperity." Affordable child care, housing policy reforms and a higher minimum wage are among the proposals which would bring this prosperity. She also supports universal healthcare and lower drug prices, but stopped short of supporting Medicare for All. Additionally, Klobuchar supports tuition-free community college and lower student loan rates.
Make Your Money Work for You
Beto O'Rourke


Rep. O'Rourke wants what he calls a "universal" healthcare plan that includes affordable prescription drugs, lower premiums and a greater focus on affordable mental health. He also wants to create a "world-class" public education system, "debt-free" college and proposals to foster small-business entrepreneurship.
Bernie Sanders

Sen. Sanders, unlike most of his competitors, embraces the description of a "democratic socialist." Bolstered by active fundraising, his campaign has centered on a Medicare for All healthcare plan. He also backs a "jobs for all" policy which would guarantee a $15 per hour and minimum wage, equal wages for men and women and universal child care. Additionally, he plans to implement a "college for all" plan and would cancel all student debt.
Elizabeth Warren

"Warren has a plan for that," so says a T-shirt on Sen. Warren's campaign website. She wants to end what she calls "Wall Street's stranglehold" on the economy. The senator wants to prevent the next financial crisis and reduce student loan balances by up to $50,000. Warren backs Medicare for All and has also said she would abolish private health insurance. She would pay for her plans through an "ultra-millionaire" tax on households with more than $50 million in net worth.
Andrew Yang


Mr. Yang has centered his campaign on what he calls a "freedom dividend." This is a universal basic income proposal that pays every adult U.S. citizen $1,000 per month. He also supports Medicare for All and lower costs for higher education. Among his more interesting proposals are free financial counseling for all and opt-in retirement accounts to make saving easier.
Make Your Money Work for You
Candidates Who Did Not Qualify
The stricter criteria required to make the third round Democratic debate reduced the field considerably. Due to the smaller size, this round of debates will take place on one night instead of two. 
Candidates Who Have Dropped Out
Although the 10 candidates discussed above guaranteed their spots onstage in Houston on the Thursday by meeting both debate qualification thresholds, the stricter criteria requirements set by the DNC gave the rest of the field pause for thought. Of the candidates who did not qualify for the third Democratic debate, some have vowed to continue their campaigns while others have decided to cut their losses and take themselves out of the running for the Democratic leadership. These are the Democratic candidates who have dropped out of the 2020 presidential race — so far.
Sen. Kirsten Gillibrand: Despite spending $10 million in campaign funds, Gillibrand registered above the 2% support threshold in only one poll, failing to qualify for the debate.
Sen. Mike Gravel: At 89 years old, he ran not to win, but to promote anti-war views. He met one of the two qualifications for the first two debate rounds but failed to make the cut.
Former Gov. John Hickenlooper: Hickenlooper campaigned on a centrist message, but failed to gain more than 1% in any poll. He recently entered the U.S. Senate race in Colorado.
Gov. Jay Inslee: Inslee ran on a platform focused on tackling climate change. Although he met the fundraising requirement, he failed to meet the 2% polling threshold.
Rep. Seth Moulton: Moulton was one of the few candidates not to make the first and second rounds of debates. He will now run for reelection for his House seat in Massachusetts.
Candidates Who Did Not Qualify and Why
While they can still qualify for October's debate (billionaire Tom Steyer has just qualified for the October Democratic primary debate, becoming the 11th candidate to do so), the following candidates will be on the outside looking in on this week's debate, and here are the reasons why they did not qualify.
Candidates Who Did Not Make the Debate
Candidate
Reason(s) For Not Qualifying
Gov. Steve Bullock
Met zero of the necessary four polls and fell short of the donor threshold
Sen. Michael Bennet
Met zero of the necessary four polls and fell short of the donor threshold
Mayor Bill de Blasio
Met zero of the necessary four polls and fell short of the donor threshold
Former Rep. John Delaney
Met zero of the necessary four polls and fell short of the donor threshold
Rep. Tulsi Gabbard
Qualified in only two of the four required polls
Mayor Wayne Messam
Met zero of the necessary four polls and fell short of the donor threshold
Rep. Tim Ryan
Met zero of the necessary four polls and fell short of the donor threshold
Former Rep. Joe Sestak
Met zero of the necessary four polls and fell short of the donor threshold
Tom Steyer
Qualified in three of the four required polls
Marianne Williamson
Qualified in only one of the four required polls
Photo credits (top to bottom): Photo by Charlie Neibergall/AP/Shutterstock; Photo by Wilfredo Lee/AP/Shutterstock; Photo by Larry Marano/Shutterstock; JStone/Shutterstock.com; Photo by Michael Brochstein/SOPA Images/Shutterstock; Photo by David J Phillip/AP/Shutterstock; Photo by Charlie Neibergall/AP/Shutterstock; Photo by Charlie Neibergall/AP/Shutterstock; Photo by Wilfredo Lee/AP/Shutterstock
More on Presidential Candidates
Will Healy is a freelance business and financial writer based in the Dallas area. He holds degrees in journalism and business and has covered a variety of topics, such as stocks, real estate, insurance, personal finance, politics and macroeconomics.