How Much Is Charity Work Really Worth?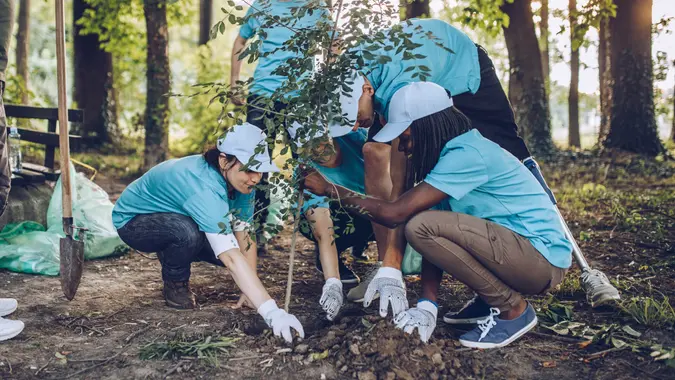 South_agency / Getty Images
At the beginning of 2020 on Jan. 10, Independent Sector reported that both volunteering and philanthropic giving were down and had been wavering for years. The trend was startling to anyone who knows just how many people depend on the support and service of donors and volunteers.
Follow Along: 31 Days of Living Richer
2021 Small Business Spotlight: Check Out Our Small Business Stories, Plus the Nominated Businesses Near You
Then, the pandemic came and people across the country and the world re-evaluated their lives and their contributions to their communities. By August of 2020, TheNonProfitTimes was reporting on LinkedIn data that showed a huge uptick in volunteering, particularly in areas of health care and social justice.
That was good news for advocates and activists who count on community support. But it was also good news for people who want to donate, but can't afford to give money to charity. By donating your time as a volunteer, after all, you are donating money. 
See: How Do You Turn Down Supporting a Charity?
Volunteering Is Priceless, But If It Had a Price, It Would Be $28.54
When it comes to putting a dollar amount on the value of volunteerism, Independent Sector has been the gold standard for decades. A national coalition of charities, foundations and other nonprofits, Independent Sector uses wage data from the Current Employment Statistics (CES) database to quantify the value of volunteer time.
In April, Independent Sector updated its annual Value of Volunteer Time report, which estimates the current value of one volunteer hour to be $28.54.
That's the national average. Independent Sector offers state-by-state values, as well. It estimates the value of volunteer time by gathering wage data from across all sectors of the economy to represent the broad variety of services that volunteers perform every day. It also adds 15.7% to adjust for benefits and other non-salary compensation that volunteers don't receive. 
Find Out: How To Maximize Your Charitable Giving
By Volunteering, You're Probably Giving More Than You Would Have Donated
According to Statista, the average volunteer contributes about 137 hours per year or about 2.63 hours per week. Totaled on the year, those couple of weekly hours add up to a hefty philanthropic donation. When multiplied by the national average value of one volunteer hour, the average volunteer contributes almost $4,000 a year — $3,909.98, to be exact. 
For context, even relatively well-off households making up to $100,000 a year claim average deductions for charitable cash contributions of only $3,505, according to the Tax Policy Center. That makes the cash equivalent of 2.63 volunteer hours per week an exceedingly generous gift.
That's because, unlike cash donations, volunteerism has a compounding effect. As the economic nonprofit Marketplace points out, the real economic benefit of volunteering can be measured not in the service that a volunteer performs, but in the paid employee that didn't have to be hired to do the same work.
So, what can you do? According to volunteer-tracking service Track it Forward, the most common type of volunteer work is fundraising, followed by tutoring/teaching. Other common volunteer services include: 
Collecting, preparing, distributing or serving food

General labor or transportation

Professional or management assistance

Coach, referee or supervise sports teams

Mentoring

Environmental cleanup

Emergency response
Discover: 25 Secrets Every Rich Person Knows

Women, Parents, Gen Xers Tend To Give the Most
Depending on things like gender and generation, different groups have a much larger economic impact through their volunteer work than others. According to the 2021 AmeriCorps Volunteering in America report:
44,614,636 women — 33.8% — volunteer a collective 3.9 billion hours of service for an economic contribution of $94.5 billion.

32,772,431 men — just 26.5% — volunteer a collective 3 billion hours of service for an economic contribution of $72.4 billion.

36.4% of Gen Xers perform a service, which makes them the most likely to volunteer of any age group. 21,720,574 of them perform 1.8 billion hours of service for an economic contribution of $45.2 billion.

A smaller percentage of baby boomers — 30.7% — volunteer their time, but their massive numbers put more boomer volunteers into communities. 22,631,756 of them perform a collective 2.2 billion hours of service for an economic contribution of $54.3 billion.

When they become parents, both men and women become more likely to volunteer.
Read: 30 Money Moves That Could Set You Up for Life
See: The Top Money Moves To Make for Each Generation
Ironically Enough, Volunteering Creates a Lot of Paid Jobs
With more than 77 million Americans performing nearly 7 billion hours of volunteer work a year, that's just shy of $200 billion in economic contribution from America's volunteers. But the nonprofit sector (sometimes called the volunteer sector or third sector) also provides about 12.5 million paying jobs, according to the most recent data from the Bureau of Labor Statistics (BLS). In fact, nonprofits account for more than 166,000 firms paying more than $670 million in wages. That's more than 10% of the entire U.S. workforce.
Directly, the nonprofit sector contributes nearly $9.06 billion to the economy and holds assets greater than $5.17 trillion, according to Learning to Give.
Volunteerism contributes to America's private-sector health indirectly, as well. According to Track it Forward, charitable service is good for both employers and employees — job hunters with a history of volunteer work have a 27% advantage over the same candidate who doesn't volunteer.
In short, volunteering is good for business, good for the economy and most importantly, good for volunteers.
More From GOBankingRates
Last updated: July 30, 2021