1 in 5 Americans Are Working This Labor Day 2014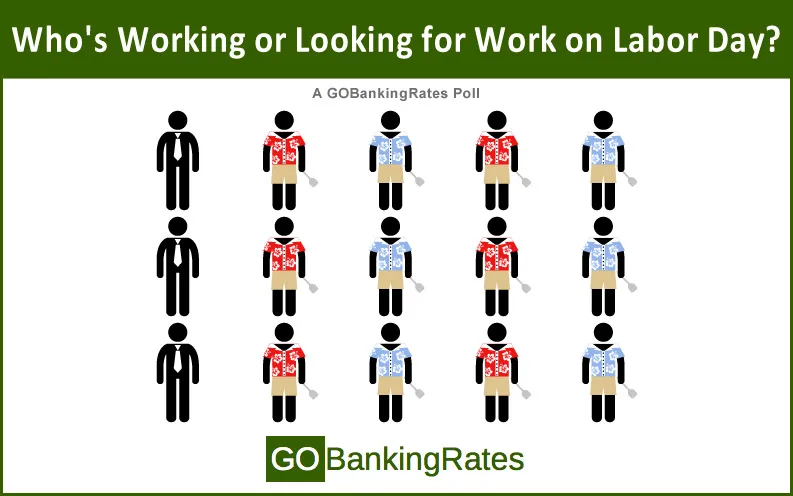 Labor Day is supposed to offer beleaguered workers a day of reprieve from the daily grind. Most schools, from primary through college, also celebrate the holiday with a day off from classes, and most banks will be closed. However, not everyone gets to enjoy a day off the job. With stores, retail chains, cinemas and restaurants all still open, a significant portion of the American workforce won't be partaking in the federal holiday.
What's more, even though the national employment rate has consistently improved month over month since March of 2012, there is a whole other subset of Americans who will be spending the holiday doing an activity that has become all too common in the last several years: job searching.
A new GOBankingRates poll found that 13.2 percent of people will be searching for employment on Labor Day, while nearly one-fifth of responders, 17.7 percent, will be working on the holiday. Of these this group, Gen Y will be taking the brunt of it: We found that millennials are three times more likely to be working or looking for work on the holiday than baby boomers.
Make Your Money Work Better for You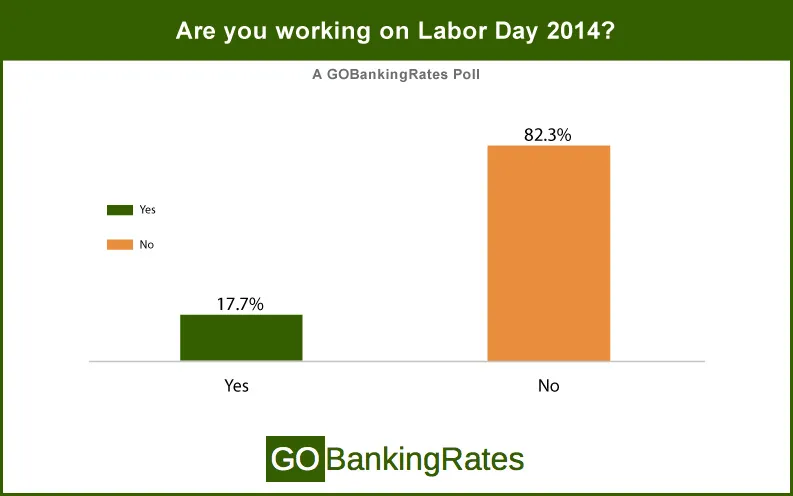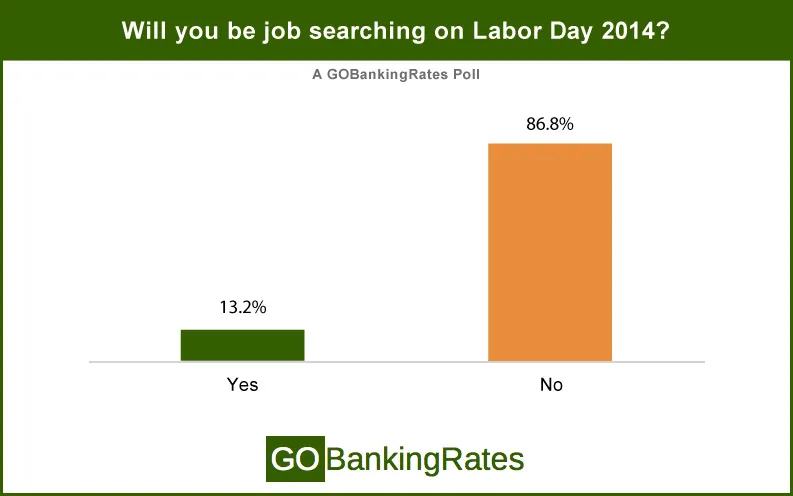 Job Searching by Gender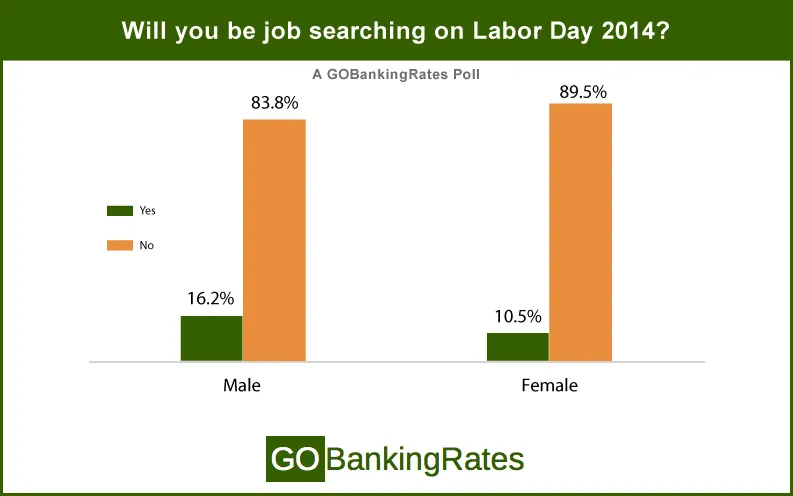 According to the poll, men are 1.5 times more likely to be searching for a job on Labor Day 2014 than women, at 16.2 percent and 10.5 percent of respondents, respectively.
Working by Gender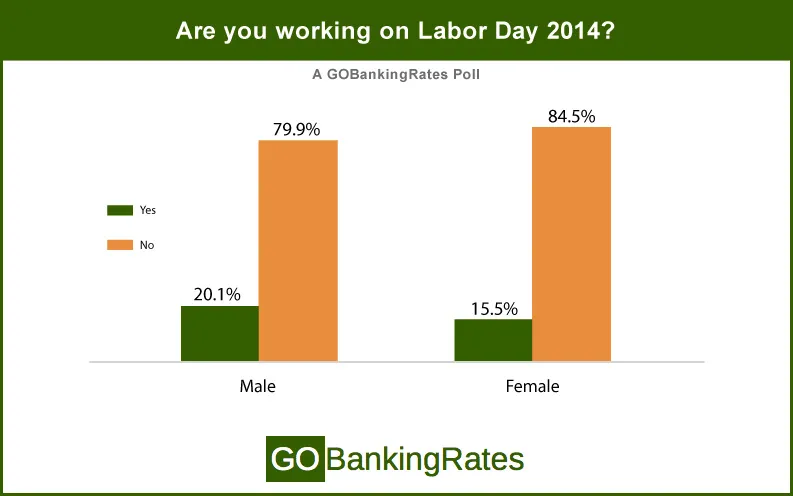 Men are also 1.3 times more likely to be working this Labor Day than women. One in five men will be working this Labor Day, or 20.1 percent of male respondents, while just 15.5 percent of women said they would be working.
Job Searching by Age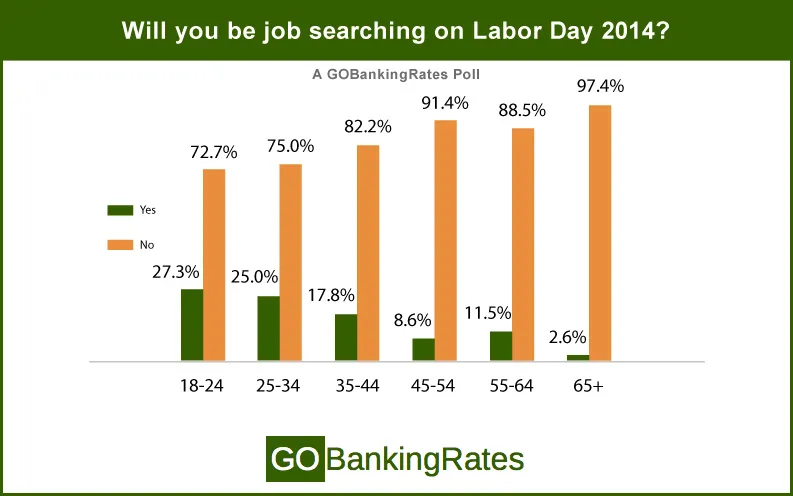 Over one-quarter, 27.3 percent, of respondents age 18 to 24 will be using Labor Day to look for a job — compared to respondents age 45 to 54, at 8.6 percent, 55 to 64, at 11.5 percent, and 65-plus, at just 2.6 percent. Of course, as baby boomers reach retirement age, the percentage of individuals seeking new employment will be much smaller, especially when compared to those just entering the workforce from college.
The high percentage of those ages 18 to 24 looking for a new job can be attributed to a tough job market for new and recent graduates. According to the Bureau of Labor Statistics, the unemployment rate for Americans age 20 to 24 is 11.3 percent  — almost twice the national average.
Make Your Money Work Better for You
Respondents age 25 to 34 had the second highest percentage of respondents looking for work on Labor Day, at 25 percent.
Working by Age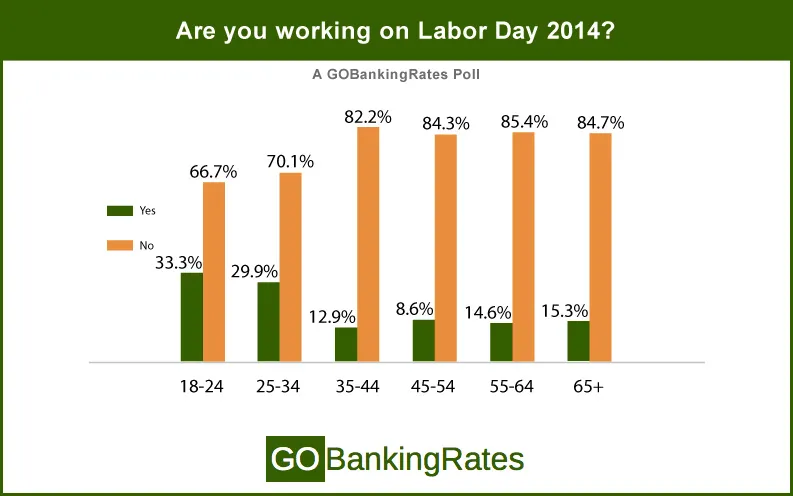 Younger respondents (age 18 to 24) are 2.6 times more likely to be working this Labor Day than older respondents (ages 35 to 44). This can likely be attributed to the fact that retail and restaurant employment — a significant portion of those who will have to come in on the holiday — is largely held by young adults, while older employees tend to work for 9-t0-5 companies.
Job Searching by Geography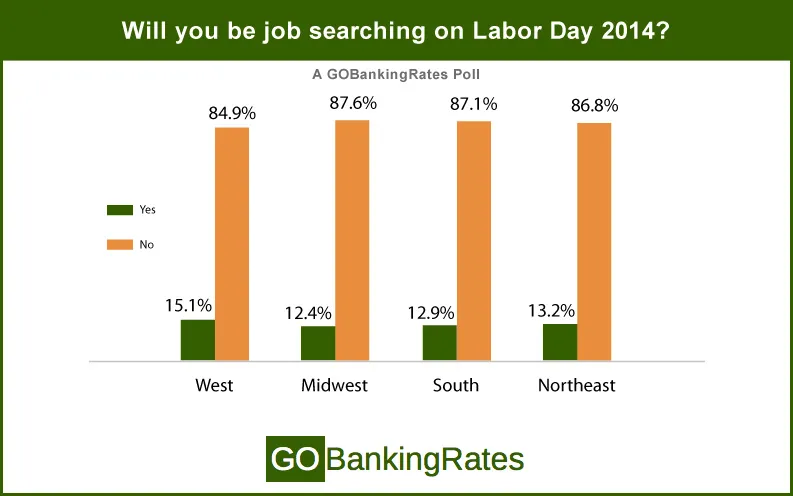 Although numbers didn't vary widely based on geography, the highest percentage of job seekers on Labor Day is seen in the West, with 15.1 percent of respondents reporting they'll be job hunting during the holiday. This is mirrored by higher-than-average unemployment in many Western states, such as California (7.4 percent), Nevada (7.7 percent), Arizona (7.0 percent) and Oregon (6.9 percent).
The Midwest had the fewest respondents report they'll be job searching this Labor Day, at just 12.4 percent. This, too, coincides with low unemployment rates in the region, such as 3.7 percent in South Dakota and 2.8 percent in North Dakota.
Make Your Money Work Better for You
Working by Geography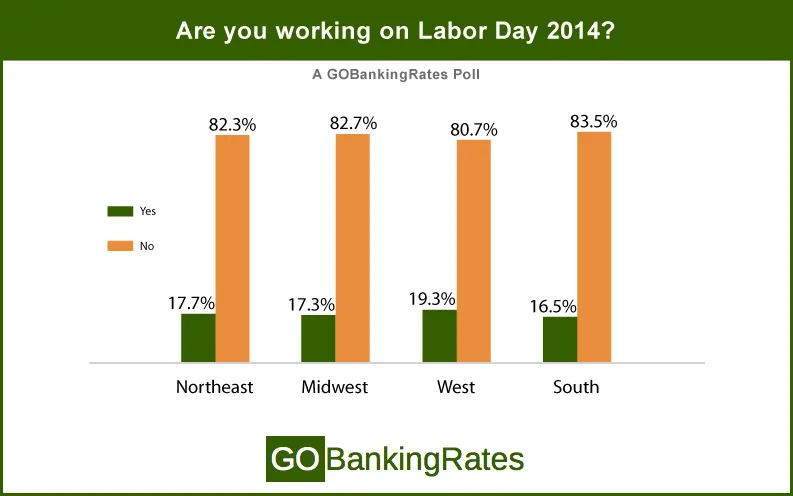 Respondents in the Northeast are most likely to be working during Labor Day, at 19.3 percent, while those in the West are least likely to be working, at 16.5 percent.
The Midwest, which has low unemployment rates, had almost the exact same percentage of people working during Labor Day as the national average, at 17.3 percent.
Job Searching by Urban Density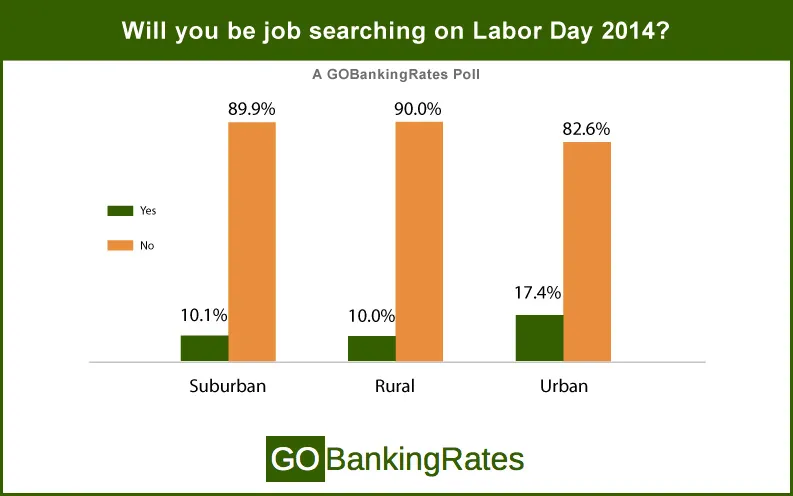 Urban dwellers are 1.7 times more likely to be job hunting this Labor Day than their suburban and rural counterparts. This can be attributed to the higher population concentrations in urban areas, in which demand for jobs often outpaces supply of available positions.
Working by Urban Density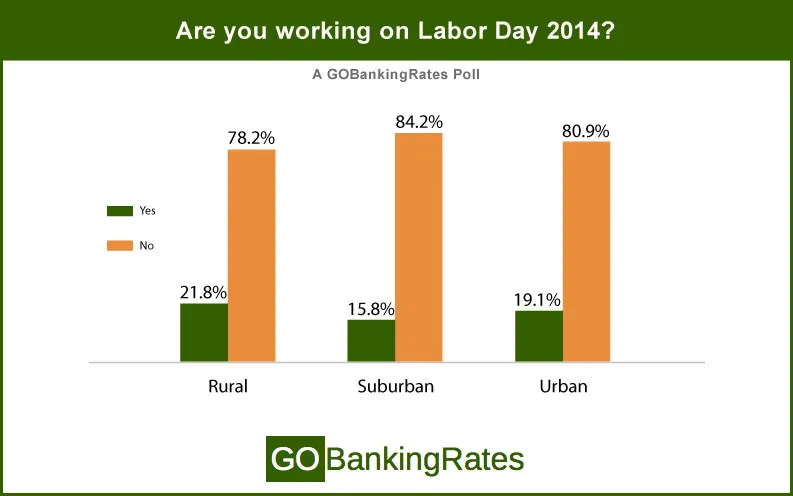 Suburban residents are the least likely to be working on Labor Day, at just 15.8 percent of respondents. Rural workers responded at the highest rate, with 21.8 percent.
Job Searching by Income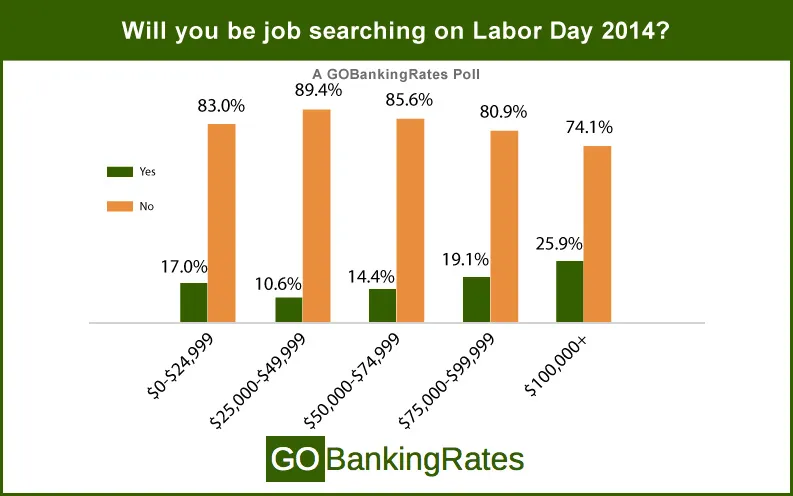 Those at the bottom and top of the income spectrum were most likely to say that they would be seeking new employment this Labor Day when compared to those with incomes between $25,000 and $74,999. The most people looking for a new job, at 25.9 percent of respondents, also earn the most, in the $100,000+ category. This rate is a whole 2.4 times higher than those earning $25,000 to $49,999 annually.
Working by Income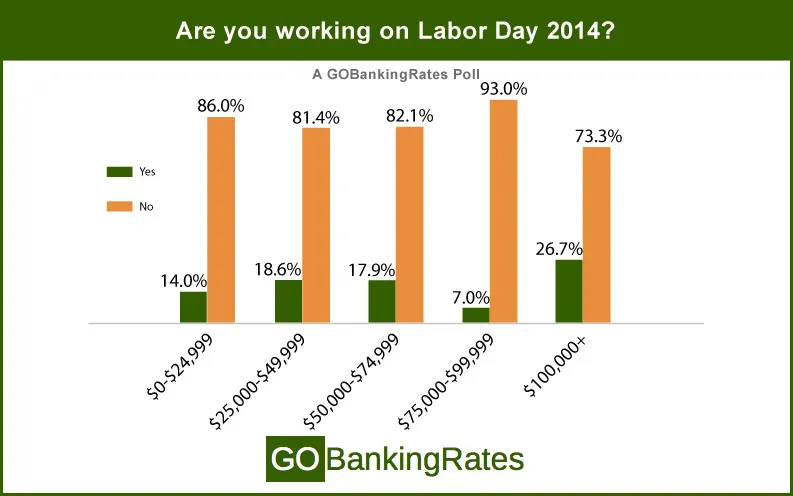 Respondents in the $75,000 to $99,999 income range were the least likely to be working, with 93 percent of respondents saying they will be taking the day off. However, the next income bracket up, of $100,000 and up, had the highest rate of people working on Labor Day based on income level, at 26.7 percent — more than 50 percent higher than the overall study result.
This is likely due to the fact that those making $100,000 and up are more likely in upper management positions that would require clocking in on a day off.
Methodology: 
GOBankingRates surveyed 1,526 respondents through Google Consumer Surveys. Results were gathered July 31, 2014.