9 Unexpected Companies Hiring Remote Workers Right Now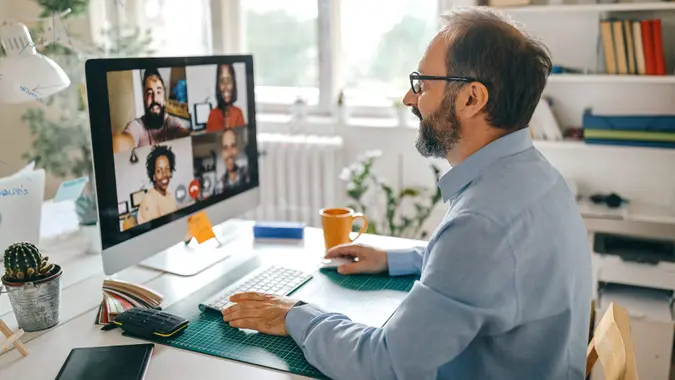 mixetto / Getty Images
As many of us are all too aware by now, the COVID-19 pandemic has fundamentally changed the way both employers and employees think about work. Gone are the days where everyone must be in the office. In fact, Remote.co reported that an estimated 1 in 4 employees (26.7%) would work remotely in 2021.
Did You Know: 22 Side Gigs That Can Make You Richer Than a Full-Time Job
Related: 5 Things To Negotiate at Your Job Other Than Salary
For some people, remote work is nothing new. Remote.co and other remote job sites have been packed to the brim with programmer jobs for years now. These people often work for tech startups and other high-tech companies.
But it's not just tech startups that hire remote workers. Computers, with help from always-on internet connections, allow nearly any type of job that doesn't require manual labor to be done remotely.
From human resources to customer service, nearly every large company has a need for this type of work. Thus, below you will find a list of jobs from companies you may not consider being remote.
See: 11 Best Lucrative Side Hustle Ideas: Earn More

Walmart: Coordinator II
Most of us only ever see Walmart employees in stores sporting their signature blue vests. But Walmart is a massive company and it takes more than just those who work in stores to run the company. Hence, the company also hires remote workers to do some of the work that goes on behind the scenes.
This particular posting, coordinator II, is a customer service position. The II you see in the job title indicates that you will handle tier 2 customer queries. It also means you will advise entry-level contact center agents on lower-level queries. This position requires just one year of computer/data entry experience.
Make Your Money Work Better for You
Discover: 20 Hot Jobs That Pay More Than $150,000
DISH: Human Resource Operations Supervisor
DISH has been around since 1980, and the core of its business remains its satellite TV services. However, there's more to its business than just the technicians who install and service the satellite dish at customers' homes. Behind the scenes, there is plenty going on. That includes human resources, and DISH has the option of working in HR remotely.
This position also has an exact salary posted (as opposed to a range) of $64,800. As a manager, the successful hire will be responsible for training and making hiring recommendations for new HR operations associates and senior associates.
Carnival Cruises: Personal Vacation Planner
If planning dream vacations sounds like your dream job, Carnival Cruises has something for you. And you don't even have to leave your couch to do it thanks to this job posting. Or maybe you'd rather do so while onboard a Carnival cruise — with a remote job, anything is possible.
One thing to note is that this job has a sales focus. It involves calling sales leads/prospects and making travel recommendations. In addition, those who work as personal vacation planners have to maintain a customer contact database of new and existing customers to close sales.
Make Your Money Work Better for You
ChowNow: Senior Data Scientist
If you aren't familiar with ChowNow, it's based in Los Angeles and is similar to DoorDash and Uber eats. The one difference with ChowNow is that it puts emphasis on supporting local restaurants. However, you don't have to be local to any particular area to work for ChowNow. Indeed, it hires plenty of remote workers, including this senior data scientist position.
"Data scientist" might sound like a job involving forensics or something that requires you to wear a lab coat. Instead, this position is about gathering and analyzing data for the company. Then, you will use that data to help the company optimize its processes and strategy.
Northwestern Mutual: Senior User Experience (UX) Researcher
You may know Northwestern Mutual, the company providing consultation on wealth and asset income protection. What you may not realize is that there is no need to physically be in the office if you are interested in working for this company. Several jobs, including the senior U.S. researcher, have gone completely remote these days.
User experience can be a bit of a vague concept and may vary depending on the role and company. In this case, the position involves planning and executing quantitative and qualitative user research. The next step is to take those findings to partners and advocate for the end-user. In addition, the role involves developing proposals, guides and research reports.
Make Your Money Work Better for You
Read: Should Employers Require Workers To Take Time Off?
Institute of Coaching, McLean/Harvard Medical School: Content Specialist
Arguably the most sought-after university in the U.S., Harvard is regularly featured in movies like "Legally Blonde" due to its rigorous curriculum. If you want to be a part of the Harvard universe but don't want to move to Boston (and are past your college years), all hope is not lost.
This position, content specialist, is essentially a marketing position that will have you packaging and posting content to social media, email and other mediums. If you have experience creating online content such as blog posts and videos, this might be the position for you. Note: The content management system (CMS) that Harvard uses is Drupal 7 and the posting emphasizes a preference for experience in this system.
Adobe: Senior Product Marketing Manager
Adobe is based in Silicon Valley, but you don't have to contend with sky-high California real estate to work for the company. In fact, a search for remote jobs at Adobe on LinkedIn yields well over 500 results. While Adobe hires a large number of remote employees in general, the job we're highlighting here is a senior product manager posting. In particular, the successful hire will work on engagement and retention strategy for Acrobat.
The requirements for this job are what one might expect — five-plus years of marketing experience, knowledge of SEO and knowledge of services as a product.
Discover: 30 Best Jobs If You Want To Retire Early
Facebook: Product Experience Analyst
We are all familiar with Facebook by now; after all, the social media platform has nearly 3 billion users today. What started as a "hot or not" site for Harvard students has grown into a worldwide phenomenon and one of the most successful companies ever created. These days, the company is based in Silicon Valley, but it hires people all over the world with both satellite offices and completely remote employees.
Make Your Money Work Better for You
This particular job gives you the opportunity to shape the way things work on Facebook. It's also a fairly technical position, requiring the successful hire to perform quantitative analysis and data mining to improve the user experience.
Twitter: CX Content & Editorial Lead
Want to work for a social media company but don't want to work for Facebook? No problem as Twitter also hires plenty of remote employees. The site that allows people to follow their favorite celebrities (and friends, too) in real-time has a wealth of remote positions performing a variety of roles.
This particular position, the CX (customer experience) content and editorial lead will have you managing customer-facing content for Twitter. That involves editing articles, Tweets and other material, as well as providing feedback to writers. The position requires five-seven years' content strategy and/or knowledge management experience.
More From GOBankingRates
Last updated: Sept. 29, 2021