Want To Avoid a Layoff? Cut out 3 Industries Poised To Eliminate Jobs in 2023 and Beyond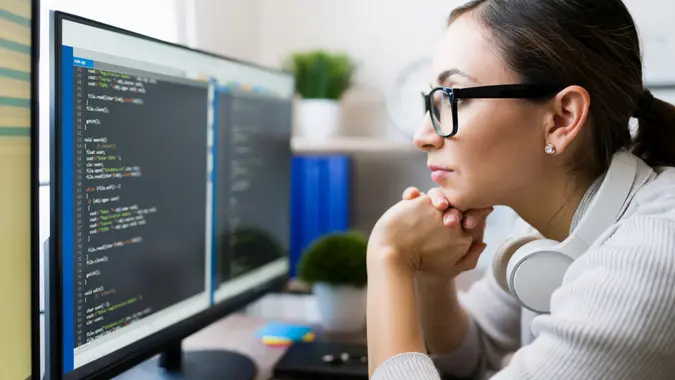 Antonio_Diaz / Getty Images/iStockphoto
Throughout 2023, the labor market has remained hot, though not every industry has been growing at the same rate. In fact, some industries have been shedding jobs and could continue to do so going forward.
While it's hard to predict what will happen in the future, you might feel more comfortable in your job search by avoiding industries that are expected to shrink, according to projections through 2032 from the Bureau of Labor Statistics (BLS).
That said, even growth industries have their share of companies that go through layoffs, so it's important to consider more than just the business sector before applying. Still, you might think twice before joining industries such as the following:
1. Mining 
The mining industry has had some challenges recently, such as with coal mining and metal ore mining jobs falling slightly over the past few months, according to BLS data. Going forward, the industry is expected to have a -0.3% compound annual growth rate through 2032.
2. Utilities
Like mining, the utilities industry is also expected to decline by a 0.3% compound annual growth rate through 2032, although it has grown over the past few months.
If you want to work in utilities, consider whether your skills match the changing landscape, such as strong data or technology skills.
"In the energy and utilities sector specifically, automation has led to a dual effect – the elimination of certain job roles and the creation of new ones," notes a Huron Consulting Group article published in Utility Dive.
Make Your Money Work Better for You
3. Retail Trade
The retail trade industry also has a -0.3% compound annual growth rate projection through 2032. Even with the expected increase in seasonal hiring for retailers, the pace is expected to be the lowest of any Q4 since 2008, according to Challenger, Gray & Christmas.
Bonus Tip
Lastly, if you're considering starting your own job as self-employed in the agriculture, forestry, fishing, and hunting sectors, that doesn't necessarily keep you safe. While you might not face a layoff in the traditional sense, consider that the sector has a -1.0% compound annual growth rate projection through 2032. That's not to say that you can't make it on your own in this business, but know that the sector has some challenges, like price pressures on the revenue and expense sides of the equation.
Overall, when looking for jobs, you might take these projections into account to reduce your risk. However, much still depends on your skills and the financial health and practices of the companies you're applying to.
More From GOBankingRates