How AI Is Already Causing Layoffs in the Tech Industry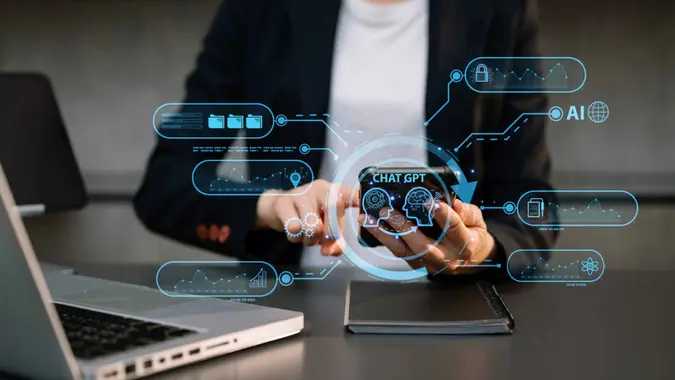 nuttapong punna / Getty Images
Artificial intelligence's rapid surge is revolutionizing every aspect of our lives and offers many opportunities to make work more efficient. Yet, one of the most talked-about negative aspects of the technology is the toll it's taking on jobs.
One industry in particular is facing AI challenges — the tech sector. CNN reported that an increasing number of tech firms have cited AI as a reason for conducting layoffs.
For instance, education technology company Chegg said it was cutting 4% of the current workforce "to better position the Company to execute against its AI strategy and to create long-term, sustainable value for its students and investors," according to a regulatory filing.
So far this year, there have been 837 tech companies conducting layoffs (with a total of 216,328 jobs lost), per layoffs.fyi.
In April, Dropbox also said it was laying off 16% of its workforce — 500 employees — citing AI as the cause. The company claimed it now needed "a different mix of skill sets, particularly in AI and early-stage product development," according to a blog post.
Make Money With AI and ChatGPT: How To Earn $1,000 a Month
There's Still Hope for Those Who Know How To Work With AI
Yet, as CNN reported: "Rather than render entire skill sets obsolete overnight, as some might fear, the more immediate impact of a new crop of AI tools appears to be forcing companies to shift resources to better take advantage of the technology — and placing a premium on workers with AI expertise."
Make Your Money Work Better for You
This demonstrates that despite mass layoffs due to the emergence of AI tools, tech companies are also heavily investing not only in the technology itself, but in people who have related skills.
Some experts now note that companies' demand for employees with AI experience is surging — and that people looking for lucrative roles should keep a keen eye on the technology.
James Neave, head of data science at job search engine Adzuna, said that in the U.S., markets are still powered by Al hype. He added that the country has consistently produced more jobs in AI than any other country month-over-month since last year, according to the company's data.
Commenting on the June jobs report released July 7, he noted that, despite a slowdown in hiring, the AI sector is still hot.
"Despite all the hype about layoffs in tech and media, in reality jobs are plentiful compared to the supply of available workers," said Neave. "People looking for high paying roles should keep an eye on AI in the second half of the year."
Neave added that, based on Adzuna research, the average advertised salary of jobs citing AI skills as a requirement is $146,244.
"We expect businesses will continue posting more job ads for roles working with Generative AI, ChatGPT and chatbots as this year goes on," he added.
Roger Lee, founder of layoffs.fyi and comprehensive.io, told CNN a recent analysis of data from comprehensive.io found that salaries for senior software engineers specializing in AI or machine learning are 12% higher than for those who don't specialize in that area — something he termed "the AI premium."
Make Your Money Work Better for You
More From GOBankingRates