What Are the Best Middle-Class Jobs of 2022? Experts Weigh In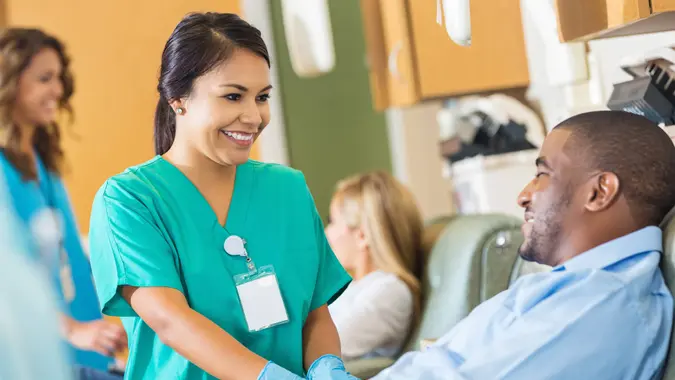 SDI Productions / Getty Images
The Great Resignation was a quasi-protest staged mostly by lower-wage workers — and it's all but certain that many more would have followed the herd if they thought they could land a job that would punch their ticket to the middle class.
What are the ingredients of a great middle-class job, though? According to USA Today, a household, generally speaking, is considered middle class if its annual income ranges between $50,641 and $135,042. But income isn't the only factor — certainly not in a post-pandemic economy that continues to evolve so rapidly.
In 2022, for example, it's not surprising that middle-class earners place a premium on the ability to work remotely. According to LinkedIn's annual Jobs on the Rise study, 24 out of the 25 fastest-growing positions in America offer some remote work and 40% have at least 25% remote work availability.
Other factors — like low barriers to entry, the potential for career mobility, and good benefits of course — are all part of what separates the good middle-class jobs from the great ones. GOBankingRates asked the experts where job hunters should start their searches while pursuing the middle-class dream. Take a look.
Talent Acquisition Specialist
The LinkedIn study revealed that many of the best middle-class jobs are among those that are in the highest demand. The No. 12 fastest-growing job in America is talent acquisition specialist — and it's not hard to understand why. 
The Great Resignation emboldened workers across the economy to demand more from their bosses, and to take those demands to other employers if necessary. Finding, securing and retaining talent is a talent in and of itself — and one that pays well in the 2022 economy.
Make Your Money Work Better for You
"One of the best areas to get a job in at the moment is recruiting," said Michele Mavi, career strategist and co-founder of Monumental Me. "There is such a demand for talent that recruiters are in high demand — and the most important skill sets are soft skills like communication. If you're a people person with excellent written and verbal skills, it's an incredibly rewarding field to be in and can come with upward mobility." 
LinkedIn states the salary range as $41,900-$92,000.
Chief Human Resources Officer
Also on the LinkedIn list is the role of chief human resources officer, and it's a field in high demand for many of the same reasons that good recruiters can charge a premium in 2022. The virus changed everything about the workplace, and even those businesses that aren't transitioning to remote work will find security in a rock-solid HR chief to oversee an ever-shifting labor landscape.
"Human Resources administration is a key role in any organization, but especially post-pandemic," said Maria Alfano, who spent 30 years in senior management in human resources and finance before founding the retirement lifestyle blog The Silver Diaries. "People need to know there is someone at the organization they can talk to that is unbiased and who can be trusted."
Like talent acquisition specialists, the position is dominated by women — but it pays even better. With a salary of $99,700-$284,000, those who land the role of chief human resources officer can quickly sail from the middle class to the upper-middle class.
Social Media Manager/Planner
Several experts GOBankingRates interviewed named social media management as one of the hottest middle-class jobs. Most quoted salaries averaging around $60,000. Here too, the events of the last two years are in play. Demand for good social media pros has risen as businesses grow increasingly reliant on a growing number of networks to communicate with customers and employees who are all over the place.
Make Your Money Work Better for You
"A social media specialist's primary responsibilities include representing a company on social media," said Sherry Morgan, a career expert who runs HR for Petsolino, which she founded. "They create content, respond to comments, plan campaigns, and design a social media strategy that is in line with the company's overall goals and objectives. Specialists in social media marketing can also manage a social media advertising budget and produce ads that appeal to a specific demographic."
Nurse
It's not hard to understand why four of the jobs on the LinkedIn list — the most of any industry — had to do with healthcare. Within the industry of healthcare, the field of nursing is an especially hot career for 2022, and it continues to provide a ticket to the middle class.
"A nurse with a nursing degree makes $80,000 on average," said Dorothea Hudson, a career expert with InsuranceProviders.com. "A nurse's salary starts at $50,000, and there is much upward mobility if you stay with an employer long enough. Many nurses make over $100,000 if they stay with their employer for around 10 years. As a nurse, you can expect a pension, paid vacation, and in many cases, gym membership access. Health insurance is also available and cheap, and paid sick leave is available."
The specialties that LinkedIn profiled specifically on its hot jobs list are surgical intensive care nurse and postpartum nurse.
More From GOBankingRates
Make Your Money Work Better for You