The Biden Policy That's Scaring Freelancers Across America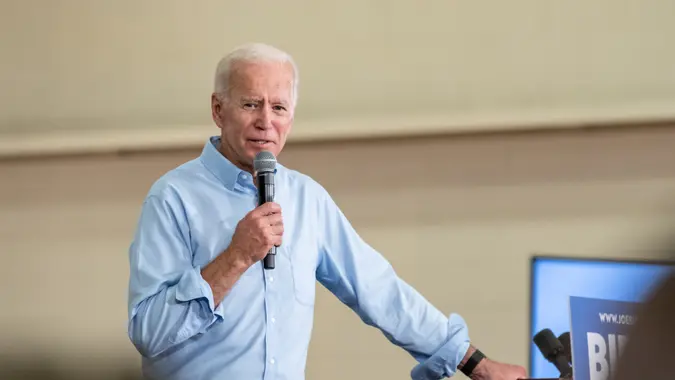 Crush Rush / Shutterstock.com
Who wouldn't like employee benefits such as expense reimbursements and ensured minimum wage? Don't you want the guaranteed rest time and sick days and everything else that salaried workers have? You've chosen to be an independent contractor, but what you actually want to be is a "real" employee, right?
These are the types of patronizing questions that were implied for California freelancers such as myself when the union-backed Assembly Bill 5 (AB5), also known as the "gig worker bill," was signed by Gov. Gavin Newsom in September 2019 and enacted on Jan. 1, 2020. These questions are being implied again now on a national level, by former Vice President Joe Biden, who has declared his support for AB5 and his intentions to expand it via the Protecting the Right to Organize Act (PRO Act). If this happens, as many as 59 million people — the number of people working freelance — could be impacted.
After living through the nightmare that is AB5 — a bill that meant well, much like a wildfire means well for the ecosystem as it wipes out millions of homes — I'm concerned. Rather than prompting corporations to reclassify me as W-2 (something I didn't even want for tax purposes, but that's another matter), AB5 served to slap a giant "Caution!" sticker on the résumés of California freelance writers and other professionals. Instead of dealing with the financial and legal headache of reclassifying us, plenty of companies — many already navigating shrinking budgets — opted to hire writers from other states instead.
Make Your Money Work Better for You
AB5 was such a train wreck that much of the bill was amended in spring to offer exemptions to writers and other industries, but for many, the damage was already done. I have more than a couple of friends who actually moved out of California to maintain their freedom and prosperity as freelancers. Could the PRO Act and other ostensibly pro-work measures by Biden be a new nail in the coffin for freelancers? That's a valid concern, and while this issue didn't hinder my mail-in vote, it does make me wonder how the heck this is going to work not in utopia, for which these bills seem to be dreamt up, but in the real world.
If freelancing interests you, consider all the ways you could make money this way.
More From GOBankingRates
Make Your Money Work Better for You