California Big Tech Salaries Revealed: State Law Exposes How Much These Jobs Really Pay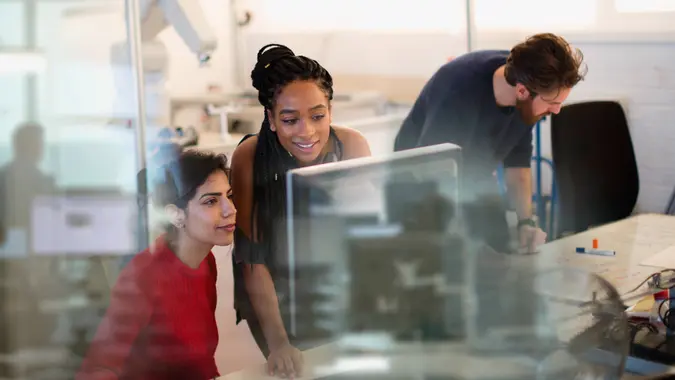 Django / Getty Images
California's law about salary transparency took effect on Jan.1, requiring an employer with 15 or more employees to include the pay scale for a position in any job posting, according to the law.
Explore: Americans Turn to Freelance Work Amid Struggle To Find Workers
Learn: 10 In-Demand Jobs To Consider in 2023
In addition, employees will also be able to ask for the pay range for their own position, and larger companies will have to provide more detailed pay data to California's Civil Rights Department than previously required, according to CalMatters.
Data from Comprehensive.io — a new pay transparency tool that tracks layoffs in the tech industry — shows that only 39% of tracked California tech companies disclosed a salary range in their job posts, as required by new pay transparency laws.
According to the website, "new and noteworthy" pay ranges include the very wide salary range for a software engineer at Google, which is from $90,000 to $900,000. The same goes for a Tesla software engineer, whose range is between $83,000 and $418,000.
Make Your Money Work Better for You
In terms of the top paying companies, they include Snowflake, where a  senior software engineer at Snowflake will make between $214,000 and $328,000. Meanwhile, at Stubhub, a senior software engineer will make between $200,000 and $300,000 while the same position at Reddit offers between $184,000 and $275,000.
According to CNBC, other tech jobs, such as program manager in Apple's augmented reality group will receive base pay between $121,000 and $230,000 per year, while a director of software engineering at Meta leading teams building network infrastructure will make between $253,000 and $327,000.
California joins other states, including Colorado and New York. Axios reported that as of Dec. 4, 61% of NYC listings on Indeed included salary information, up from just 27% a month before the law change.
A survey from job search engine Adzuna showed that an appetite for salary transparency is growing, with 22% of job seekers believing it should be employers' number one priority on their job postings, and 28% feeling no salary or a lack of salary clarity on job ads is their biggest frustration. In addition, 54% of job seekers said they declined a job offer after they found out the salary, while 33% say they would not attend a job interview before knowing the salary an employer is willing to offer.
Make Your Money Work Better for You
Career Planning: Pursue These 10 Bustling Jobs in the Next Decade
Goodbye Non-Compete Clause? FTC Reveals Plans to Shut Down Practice
"Our research has confirmed what we have thought for a long time — job seekers are fed up with the job application process and the lack of salary transparency on job ads is one of the main issues," Doug Monro, co-founder & CEO at Adzuna said in the survey. "We're campaigning to make salary transparency a federal law in the U.S. and calling on all companies to join our mission. We want employees to know their worth and waste less time on applications, but we also want to bring value to employers who will be able to attract the right candidates for their open roles."
More From GOBankingRates
Make Your Money Work Better for You