Top 12 Highest-Paying Jobs in the World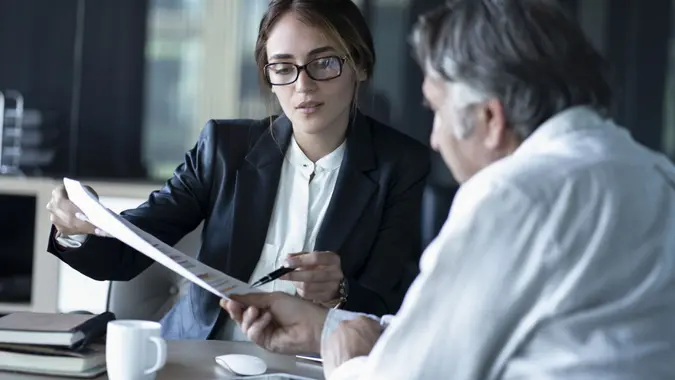 seb_ra / Getty Images/iStockphoto
Compensation is one of the major deciding factors that people consider when they are searching for a job. When it comes to the highest-paying jobs in the world, the amounts may seem staggering, but they come with challenges and consequences as well.
Top 12 Highest-Paying Jobs in the World
Whether you are looking for a change or are about to start your path to higher education, this list may inspire you to take the big leap toward a new career. Here are 12 of the highest-paying jobs in the world:
Chief executive officer
Neurosurgeon
Cardiologist
Data scientist
Senior software developer
Corporate lawyer
Investment banker
Petroleum engineer
Anesthesiologist
Psychiatrist
Airline pilot
Senior marketing manager
1. Chief Executive Officer
Chief executive officers, or CEOs, are executives who have the highest ranking in a company, business or firm. Their role is to ensure that the business is meeting its goals, forecast trends, make impactful decisions regarding the company's future and oversee executive decisions.
CEOs are among the highest-paid employees in a company. Some of the highest CEO salaries worldwide include:
Steven Shwarzman, CEO of Blackstone: $253 million
Salil Parekh, CEO of Infosys: $6.7 million
Ulrich Koerner, CEO of Credit Suisse: $2.7 million
Skills You Need
To be a CEO, you must have a wide range of skills that enable you to fulfill your role successfully. Your decisions affect the lives of employees, executives, stockholders, and, in some cases, the public. To be a successful CEO, you must have the following:
Exceptional leadership and management skills
Emotional intelligence and assertive communication
Decision-making and risk assessment   
Crisis and risk management
Make Your Money Work Better for You
You do not need a college degree to be the CEO of a successful company. However, with a degree and experience, you are more likely to find a better-paying opportunity.
2. Neurosurgeon
Neurosurgeons are medical professionals who diagnose, treat and perform surgery on the nervous system. They use surgical and nonsurgical means to inspect and work on the brain, spinal cord and nerves.
Below are average neurosurgeon salaries in some countries around the world:
USA: $666,401 per year
China: $188,560 per year
Germany

: $140,075 per year

South Africa: $172,244 per year
Skills You Need
Stamina and dexterity
Communication and emotional intelligence
Excellent motor skills and precision
Emotional resilience and intelligence
Neurology
Critical care
Trauma care
Besides these skills, training as a neurosurgeon takes multiple years. It takes 14-16 years to complete your medical school education and training programs, internship and residency.
3. Cardiologist
Cardiologists are medical professionals who treat and diagnose diseases in the cardiovascular system. This complex role involves performing numerous procedures, prescribing medication and diagnosing and treating conditions of the heart, arteries, veins and capillaries. Cardiologists make among the highest salaries globally, such as in:
United States: $465,246
Japan: $224,674
Finland: $214,404
South Korea: $139,428
Skills You Need
To be a successful cardiologist, you must have numerous soft skills that help you communicate with patients and medical teams. They include:
Strong communication and interpersonal skills
Emotional intelligence and empathy
Attention to detail and organization skills
Stamina and adaptability
Cardiologists spend years learning and training to become medical professionals due to the delicate nature of their expertise. With their experience and dedication, they provide life-saving medical services to patients worldwide.
Make Your Money Work Better for You
4. Data Scientist
Data scientists are responsible for extracting and analyzing information from unstructured data. They take these bulks of information and translate and interpret it to others. To extract this information, they use software and statistical methods and interpret the data to help companies make predictions, recognize trends and develop business strategies.
Some data scientist salaries around the world:
USA: $143,657
Ireland: $116,989
Australia: $74,336
Canada: $65,142
Skills You Need
Deep understanding of machine learning
Programming and big data technologies
Problem-solving and critical thinking
Collaboration and teamwork
Ability to work with multiple software programs
Data scientists must have technical proficiency and soft skills to work in organizations that rely on their analysis. Their goal is to ensure that data insights align with business objectives and keep the company on the correct trajectory.
5. Senior Software Developer
Senior software engineers oversee complex software development projects and take on complex coding tasks. They oversee software development projects, provide technical leadership, and design, test and implement new code.
Examples of global averages for senior software developer salaries:
USA: $144,857
Austria: $79,280
Japan: $51,447
France: $66,212
Skills You Need
Being a senior software developer requires multiple hard and soft skills, including plenty of education and training. These include:
Reviewing code and problem-solving
Collaborating with team members and engineers
Mentoring and training
Project management and cloud computing
Technical proficiency and system architecture
Senior software developers often have undergraduate and graduate degrees to work with engineers and other specialists in their fields. They are master collaborators and often spend long hours solving complex coding problems and outlining what to implement in future phases of the development process.
Make Your Money Work Better for You
6. Corporate Lawyer
Corporate lawyers work with corporations and multinational companies to advise these businesses on legalities and business affairs. These lawyers have degrees in corporate law and have specialized knowledge of risks and liabilities.
Corporate Lawyer salaries in some countries:
USA: $148,653
Belgium: $44,386
UK: $110,529
Australia: $95,767
Skills You Need
Strong knowledge of corporate law
Excellent communication and negotiation skills
Legal and business ethics
Research and analytics skills
Business acumen and ethical judgment
It takes years of study and completion of tests to become a proficient and successful corporate lawyer. However, the financial gain is well worth the years of study and leads to success when done correctly.
7. Investment Banker
Investment bankers help people, companies and governments raise their capital by acting as their advisors and agents. They perform multiple financial services such as mergers and acquisitions, providing financial advice for entities to make the best decisions regarding their capital.
Some investment banking salaries worldwide include:
USA: $128,615
UK: $64,077
Japan

: $73,326
Skills You Need
To become a successful investment banker, you must have financial acumen and interpersonal skills, as the role involves a great deal of collaboration. These include:
Underwriting and research
Asset management
Analytical and quantitative skills
Communication and attention to detail  
Strong negotiation skills and teamwork
If you enjoy the fast-paced world of finance and have what it takes to handle the stress and pressure of this industry, investment banking can be a dream job for the right fit.
8. Petroleum Engineer
Petroleum engineers are specialists who work with the production and extraction of oil and gas from oil deposits located throughout the world below the earth's surface. These professionals help develop methods to extract these materials safely and effectively.
Make Your Money Work Better for You
The average salary of petroleum engineers in some countries:
USA: $104,866
UAE: $58,062
China

: $66,557
Skills You Need
Being a petroleum engineer involves multiple skills like reservoir engineering, drilling, production and enhanced oil recovery. Some of the soft skills they need include:
Analytical and problem-solving skills
Technical proficiency
Communication and project management
Adaptability and physical stamina
Petroleum engineers play a vital role in the industry by implementing safe and sustainable ways to extract oil and gas reserves that keep industries going worldwide.
9. Anesthesiologist
Anesthesiologists are critical components of medical teams worldwide. They administer anesthesia and monitor and control a patient's life functions and vitals, such as heart rate, blood pressure, body temperature and breathing rate. Anesthesiologists can be medical doctors or doctors of osteopathy.
Some examples of anesthesiologist salaries across the world include:
USA: $424,600
Germany: $79,264
Romania

: $87,722
Skills You Need
As an anesthesiologist, the central part of the management and care of patients under anesthesia is in your hands. You must have a wide array of skills to take on this role, including:
Critical care management and pain control
Postoperative care and monitoring
Medical knowledge and technical proficiency
Physical stamina
Attention to detail and decision-making skills
Anesthesiologists provide essential care during surgeries and other medical procedures that involve pain. They ease the fears and anxieties of patients and make critical decisions when emergencies arise. This role takes dedication and long study time, making it essential to plan before delving into the career.
Make Your Money Work Better for You
10. Psychiatrist
Psychiatrists are medical professionals who specialize in the psychiatry branch. They diagnose, treat and study psychological disorders. Psychiatrists can also prescribe medication to patients and significantly improve their quality of life through their care and monitoring.
Average psychiatrist salaries worldwide include:
USA: $249,524
Ireland

: $187,046

Sweden: $133,500
Skills You Need
To become a psychiatrist, you must have hard and soft skills that work in tangent with your training to give the best quality of care. These include:
Deep understanding of human biology, medical knowledge and pharmacology
Strong communication and interpersonal skills
Emotional intelligence and empathy
Strong analytical and problem-solving skills
Compassion and cultural competency
With their critical interventions and life-saving medical expertise, they offer comprehensive and compassionate approaches to treatment for those who suffer from mental disorders.
11. Airline Pilot
Airplane pilots are certified, trained professionals who have the skills and authority to fly passenger airplanes. They can work for commercial airlines and private corporations and can also be self-employed. Being an airplane pilot is no easy feat — you must endure long hours in flight and are responsible for the lives of passengers en route to their destination.
Airplane pilot salaries around the world are:
USA: $186,001
UAE: $81,677
Canada: $75,903
Netherlands: $121,513
Skills You Need
To become an airplane pilot, you need multiple physical and psychological qualities. Some of these include:
Situational awareness and problem-solving skills
Technical proficiency in maneuvering complex systems
Communication and decision-making skills
Emotional and physical stamina
Airplane pilots have exciting careers that allow them to go distances few can achieve. However, there are prices to pay when it comes to their schedule and how much they are away from home.
Make Your Money Work Better for You
12. Senior Marketing Manager
Senior marketing managers are the movers and shakers when it comes to gaining and retaining clients. They engage in strategy development, leadership, budgeting and guiding marketing strategies to drive interest.
Some senior marketing manager salaries worldwide include:
USA: $155,221
Mexico

: $53,356

Denmark: $60,102
Skills You Need
As a senior marketing manager, you must combine hard and soft skills to adapt to the constant fluctuations in the market. These include:
Negotiation and communication skills
Leadership and project management
Software proficiency and adaptability
Budget management and creativity
Senior Marketing Managers drive sales to their companies by creating marketing strategies that appeal to — and shape — public opinion. This role requires that you stay updated on the latest market trends and adjust your strategy based on these changing dynamics.
Takeaway
The highest-paying jobs in the world come with a great deal of responsibility and have the power to change public opinion or a person's quality of life. Although these roles also come with their challenges, they promise significant financial returns in the long run.
Before embarking on one of these careers, try to understand what the role truly entails and if you have the skills and genuine desire to work in these fields. While the financial returns are tempting — they come with caveats and mandatory experience that takes years to build.
FAQ
Here are the answers to some of the most frequently asked questions regarding the highest-paying jobs in the world.
What is the highest-paying job in the world?

The highest paying job in the world is a chief executive officer or CEO. CEO pay ranges are quite different depending on their roles and responsibilities.

Do the highest-paying jobs in the world need specialized education?

Most of the highest-paying jobs in the world need some form of higher or specialized education. The more responsibilities and positions of public trust there are, the greater the salary.

Do the highest-paying jobs in the world pay similarly in all countries?

Since each country has a different budget based on its GDP, not all countries offer similar payments in local currencies. However, these roles remain high-paying compared to other jobs in countries with lower GDPs.
Pay data is accurate as of Oct. 25, 2023, and was sourced from Glassdoor, Salary.com, Payscale, ZipRecruiter, SalaryExpert and Indeed.
Our in-house research team and on-site financial experts work together to create content that's accurate, impartial, and up to date. We fact-check every single statistic, quote and fact using trusted primary resources to make sure the information we provide is correct. You can learn more about GOBankingRates' processes and standards in our editorial policy.