10 Best Hospitality Jobs That Make the Most in Tips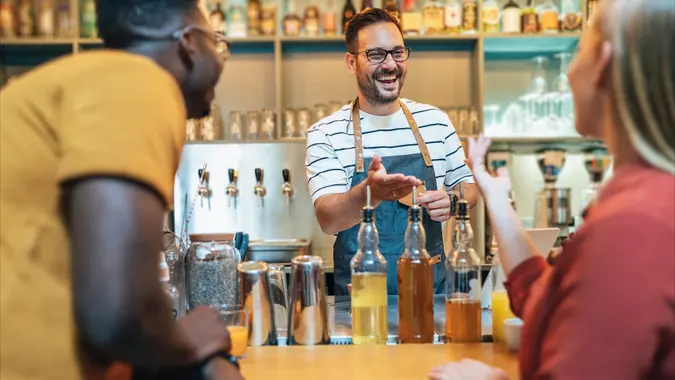 filadendron / iStock.com
The hospitality industry offers plenty of career opportunities for individuals who excel at providing services to guests. Tips can significantly enhance the income of those working in hospitality. Keep reading to learn which hospitality jobs are the best for raking in substantial tips.
10 Best Hospitality Jobs That Make the Most in Tips
If you are looking for a full-time job or just want a side hustle to add more funds to your bank account, these 10 best hospitality jobs are worth a look.
1. Bartender
Bartenders are often on the front line of hospitality, serving drinks and engaging with customers. They craft drinks, serve them and sometimes even entertain customers with their skills and charisma. Tips are a significant part of a bartender's earnings. Exceptional bartenders who create a fun atmosphere and make unique cocktails can earn hefty tips.
2. Sommelier
A sommelier is essentially a wine steward. They are experts in wine and help guests select the perfect wine to accompany their meals. They need to have extensive knowledge of how different wines interact with different foods. Sommeliers usually work in high-end restaurants. With their specialized knowledge and sophisticated clientele, they commonly get generous tips. They also often get a certain percentage of the price of the wine bottle, which can be quite high in elite establishments.
3. Concierge
The concierge's role in luxury hotels involves providing guests with information and services. Common tasks include:
Booking theater tickets
Restaurant reservations
Arranging spa services
Recommending nightlife hot spots
Booking transportation
An effective concierge becomes an indispensable resource for guests during their stay at a hotel. Because they play such an integral role in the guest experience, they may often receive generous tips.
Make Your Money Work Better for You
What Is the Highest-Paying Job in the Hospitality Industry?

Executive positions such as general managers of luxury hotels and executive chefs at high-end restaurants are among the highest-paying jobs in the hospitality industry. Including tips and bonuses, some professionals in these positions earn six-figure salaries.
4. Casino Dealer
A casino dealer is one of the best hospitality jobs as they have the potential to earn substantial tips. They interact with guests at gaming tables, and in an environment where money flows freely, tips can be substantial, especially when players are winning. Building a rapport with regular customers can also lead to consistent tips. However, this job requires extensive knowledge of casino games and excellent customer service.
5. Delivery Driver
Delivery drivers within the hospitality sector have many opportunities to earn decent tips. As the demand for food delivery services increases, so do the opportunities for drivers to make extra income through tips. Delivery drivers may be employed by the restaurant they deliver for or be freelancers through an app like Uber Eats or Postmates. Customers often tip delivery drivers for prompt and courteous service.  
It's essential for delivery drivers to be professional and ensure that the food is delivered in good condition, as this can significantly affect the amount of tip they receive.
6. Fine Dining Server
Working as a server in a fine dining restaurant is a bit different than working in a casual dining establishment. Fine dining servers are expected to provide a high level of attention to detail and impeccable customer service. They should also be knowledgeable about the menu, ingredients and wine pairings. Because the bills at fine dining restaurants can be quite high, even a standard tip percentage can result in substantial earnings.
Make Your Money Work Better for You
7. Cruise Ship Worker
There's a broad range of positions on cruise ships that have the potential to earn a lot of tips. These positions include bartenders, servers and room stewards. The captive audience and extended interaction with guests lead to ample tipping opportunities. Additionally, cruise ship workers often have their room and board covered. This allows them to save most of the money they make while they are on the job.
8. Golf Caddy
Being a golf caddy at high-end golf courses can be quite lucrative. This job involves not only carrying golf equipment but also providing insights and advice. A good caddy knows the course, provides club selection advice and may even offer moral support. Golfers often tip well for a caddy's helpful contributions to their game.
9. Tour Guide
Tour guides can earn a substantial amount in tips, especially when they can provide an engaging and informative experience. They work in various settings, such as historical sites, tourist attractions and adventure tours. An ability to connect with people, share information in an interesting way and cater to the needs of tourists can lead to generous tips.
10. Ski Instructor
Ski instructors can make a good amount of tips, especially in high-end ski resorts. These professionals teach individuals and groups the techniques of skiing. They need to ensure not only that their clients are learning but also that they are having a great time. Ski instructors usually receive tips from their clients at the end of skiing lessons. Offering personalized advice, taking photos for clients and ensuring their safety can result in higher tips. 
Make Your Money Work Better for You
It's important to note that during the ski season, instructors might work long hours. In the off-season, they may have no work at all or may need to find another job.
Takeaways
The hospitality industry is full of opportunities for workers to make money through tips. The key to maximizing tips lies in providing exceptional service, possessing extensive knowledge in your field and building a strong rapport with guests. Since tips are usually calculated as a percentage of the total bill, opting for roles in high-end establishments can be one of the best ways to increase tip earnings.
FAQ
Here are the answers to some of the most frequently asked questions regarding the best hospitality jobs.
What are five careers in hospitality?

Five common careers in hospitality include:

Hotel manager
Executive chef
Event planner
Travel agent
Concierge

Can you make six figures in hospitality?

Yes, it's possible to make six figures in the hospitality industry. High-ranking positions such as hotel general managers, directors of sales or executive chefs in upscale establishments can earn six-figure salaries, especially when bonuses and tips are factored in.

What are the best jobs in hospitality management?

Some of the best jobs in hospitality management are positions where leadership skills are crucial. These include:

Hotel general manager
Food and beverage director
Event manager
Chief concierge