How Companies Can Use the Great Resignation To Transform the Workplace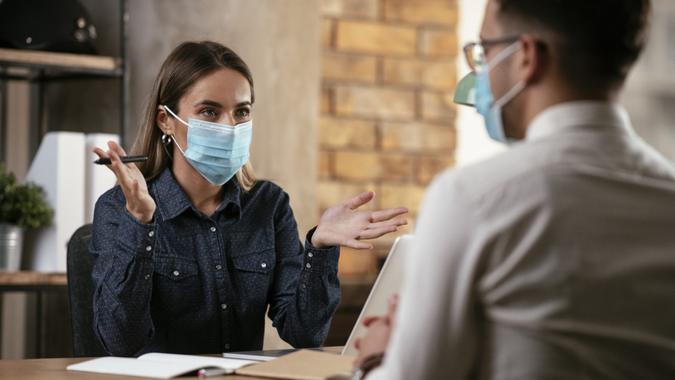 Boris Jovanovic / Getty Images/iStockphoto
Businesses large and small are scrambling to fill open positions as the holidays loom large on the horizon, but they're also struggling to process a revolution in employee demands and expectations. Today's workers have shown a willingness to quit jobs that the country hasn't seen in decades — and they're quitting because their jobs aren't fulfilling, don't pay well or take them for granted. According to the Atlantic, they're largely being rewarded for their restlessness as companies boost wages and benefits to try to convince them to stay.
Find Out: 5 Alternatives To Quitting in the Post-Pandemic Great Resignation
Dream of Living Abroad? These 8 Countries Make It Easy To Work Remote
But employees aren't the only ones who stand to benefit. The most adaptive and forward-thinking companies can use this extraordinary moment to revolutionize the workplace and position themselves at the forefront of the movement. The Great Resignation, it seems, is not going anywhere.
Make Your Money Work Better for You
The Wage-Disparity Chickens Are Coming Home To Roost
The pandemic might have been the catalyst for the Great Resignation, but the frustration that fueled it has been building for generations. Since 1978, top CEO compensation has grown by 1,322%, according to the Economic Policy Institute (EPI), but wages for the common worker have grown by just 18%. Last year, as the pandemic raged, the CEOs of America's 350 biggest companies took home an average salary of $24.2 million — more than 350 times that of the typical worker.
"It's basic economics," said Andrew Spearing, co-founder of Homevisor.com. "When wages on the lower end of the income scale haven't kept pace with inflation for decades, are we surprised that millions of workers are seeking out greener pastures? If you run a corporation with a 100:1 income disparity between management and labor, it's time to give a labor a raise."
Make Your Money Work Better for You
Check Out: 10 Unexpected Jobs You Can Do From Home
Winning HR Models Will Be Based on Creative Benefits
As the EPI study pointed out, much of the wage disparity that defines American labor is concentrated in the biggest corporations. Small-business owners, on the other hand, are rarely making hundreds of times what they pay their workers. In fact, they're often the lowest-paid employee in the company. If they can't compete on salary, which so few can, then they have to get crafty with benefits.
"Smaller employers competing with larger companies are having to find ways to be creative," said Marty Haynes, CEO of HFC Insurance. "An example of this is in our office. Separate from vacation time, one employee is off every Friday with pay. We schedule those at the end of the year for the coming new year. You always know when your time is coming up. It's a great way to add a benefit at no additional cost. Our employees love it."
Make Your Money Work Better for You
In terms of imaginative benefits, much has been written about the importance of catering to the needs of new parents — but what about those taking care of their own parents?
"While childcare gets the headlines, millions of employees are trying to balance their work with caregiving for elder and sick family members," said startup entrepreneur Julia Cohen Sébastien, co-founder and CEO of Grayce, which advises businesses on enhanced HR benefits. "Employers will need to pay new attention to the needs of employees dealing with aging boomers and seniors to keep them productive and not seeking work opportunities elsewhere."
There Will Have To Be a Reimagining of Remote Work
One of the biggest no-brainer benefits has become the option of working remotely, at least part of the time. But so many businesses stumbled early on in the pandemic by sending their staff home, giving them login info for Zoom and leaving it at that.
Many of those undersupported telecommuters felt bored and abandoned and joined the Great Resignation.
"Remote shouldn't have to mean lonely," said Valentin Hinov, CEO of Thankbox, a service for remote teams. "There's been an explosion of tools targeting remote work culture — from virtual team events to team recognition and individual employee rewards — all of which are at the disposal of these forward-thinking businesses. The smart ones will figure out how to use them in order to keep employees engaged and connected while still having that key advantage of offering their staff full flexibility."
See: 24 Tips To Change Your Career and Land Your Dream Job

Hoping To Survive the Great Resignation? Give Your Workers a Voice
If higher salaries and better benefits aren't doing the trick, then what, exactly, do workers want in 2021 and beyond? To find out, the smart employers are going straight to the horse's mouth. 
"Now is the time for businesses to get to the heart of why people are leaving by providing employees with more opportunities to speak openly about issues they face in the workplace," said Jared Pobre, co-founder of Caldera + Lab, a luxury skin care brand for men.
That, of course, is easier said than done. Workers will be hesitant to speak their minds if they think saying the wrong thing could get them in trouble with the brass. The good news is, there's an app for that.
"Suggestion box apps like Vetter and DirectSuggest create a direct line of communication between employees, teams, and management," Pobre said. "And the anonymity of these apps also allows team members to feel more comfortable voicing any concerns they may have been hesitant to bring up in a meeting."
Just the act of soliciting opinions can go a long way in convincing top talent to stick around.
"When employees feel heard, they feel validated, and this boosts their morale, improves the team's productivity, and helps keep team members around longer," Pobre said. "Furthermore, when employees are happy, they tend to be more empathetic and helpful with customers, leaving everyone more satisfied with their experience."
Find: How Much You're Saving Still Working From Home

But Soliciting Feedback Only Works If You Act on It
Mike Funkhouser, CEO of Small Business Mentor, agrees that the Great Resignation will generate a flood of employer-solicited feedback — and that's a good thing.
"The only way to truly know how to improve a workplace for your employees is to ask them," he said.
But it will never work if the gesture is mere window dressing.
"One of the worst things a company can do during this time is to ask their employees how to improve the workplace culture and then not take action," Funkhouser said. "We saw a lot of this happen during the pandemic and the Black Lives Matter movement in 2020. Simply talking about doing things differently and not putting in the work to make the change will only increase frustration and accelerate resignations."
Find Out: 22 Side Gigs That Can Make You Richer Than a Full-Time Job

If You Can't Beat the Great Resignation, Find Opportunity in the Exodus
For the businesses that are losing workers despite their best efforts to keep them happy, the walkout itself can be an opportunity.
"Businesses can use the Great Resignation as a research tool to examine the reasons why employees are moving on in order to make adjustments to their employee benefits," said Michelle Enjoli Beato, career development coach and keynote speaker. "I recommend obtaining feedback from employees who are resigning to determine the causes. Once the business has determined the core factors behind the resignations in their company, they can address the issues and make the necessary changes that make sense."
M&A entrepreneur Jameson Sharp takes that approach one step further and urges businesses to make the transition out as easy as possible for those employees who are set on leaving.
"A friend and Fortune 500 founder who is my business partner always likes to share this wisdom," Sharp said. "If you want to leave us, let's plan your exit and keep the door open for you later. I want you to live your life on your terms, not ours."
More From GOBankingRates
Make Your Money Work Better for You