How Much Do Medical Assistants Make?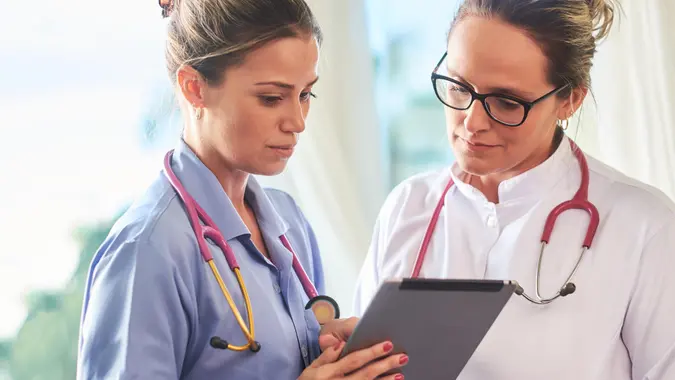 wmiami / iStock.com
The medical assistant career is quickly becoming one of the fastest growing in the United States. Medical assistants primarily work with physicians in medical offices, clinics, outpatient facilities or ambulatory care units. Medical assistants perform various clinical and administrative duties, such as administrating laboratory tests, assisting physicians with patient examinations and administering prescription medications and refills.
Here's a look at what medical assistants do and how much they can expect to earn.
Medical Assistant Occupation at a Glance
Here are some quick facts about medical assistants' requirements, pay and job outlook as reported by the U.S. Bureau of Labor Statistics in 2021.
Median pay: $37,190 annually — $17.88 per hour
Entry-level education requirement: post-secondary nondegree certificate
Prior required related work experience or training: None
Number of positions available nationwide: 743,500
Job outlook: 16% growth with a 117,800 projected jobs increase
How Much Do Medical Assistants Make Annually?
According to the U.S. Bureau of Labor Statistics, in May 2021, the median annual salary for medical assistants was $37,190. In the same period, the lowest 10% of medical assistants earned less than $29,070, and the highest 10% made over $48,170.
Medical assistants earn a little less than most other occupations. Earning a median annual wage of $37,190, medical assistants trailed others in different healthcare support occupations who earned $37,370. All other occupations averaged $45,760 annually.
Make Your Money Work Better for You
Which Industry Areas Pay Medical Assistants the Most?
In May of last year, medical assistants earned the most in these top U.S. medical industry areas:
| Industry Area | Annual Salary | Percent of Medical Assistant Workers |
| --- | --- | --- |
| Physicians' offices | $37,150 | 58% |
| State, local and private hospitals | $37,800 | 15% |
| Outpatient care centers | $38,270 | 9% |
| Chiropractors' offices | $30,100 | 4% |
What Is the Hourly Salary for a Medical Assistant?
As of Sept. 26, 2022, data from Salary.com displayed the average hourly pay for medical assistants in the U.S. as $18. Across the country, hourly salaries range from $16 — 10th percentile — and $21 — 90th percentile. Factors that play into how much medical assistants make per hour include:
How many years a medical assistant has been in the profession
Relevant education
Certifications held
Additional relevant skills
Where Are Medical Assistant Hourly Salaries the Highest?
The latest data from the U.S. Bureau of Labor Statistics lists the top five states or federal districts with the highest-paying hourly salaries on average for medical assistants:
Washington: $22.75
District of Columbia: $22.45
Alaska: $22.30
California: $21.53
Massachusetts: $21.25
However, it's worth noting that the top five metropolitan areas with the highest-paying hourly salaries are all in California:
Vallejo-Fairfield: $28.21
San Francisco-Oakland-Hayward: $26.41
San Jose-Sunnyvale-Santa Clara: $25.90
Santa Rosa: $25.74
Sacramento-Roseville-Arden-Arcade: $24.78
Other Medical Assistant Benefits
In addition to being paid a nice salary or hourly wage, medical assistants can expect these typical benefits from their healthcare industry employer as full-time employees:
401(k) retirement plan, plus matching
Accidental death and dismemberment insurance
Paid vacation and sick time off
Make Your Money Work Better for You
What Do Medical Assistants Do?
Medical assistant duties vary depending on the specialty, size and location of their medical facility and the state laws that govern them. 
| Medical Assistant Clinical Duties | Administrative Duties |
| --- | --- |
| Taking patient vital signs | Scheduling patient medical appointments |
| Administering vaccinations and other medication injections | Handling patient billing, email and mail correspondence |
| Collecting laboratory specimens | Updating and entering patient medical records into an electronic system |
| Taking patient medical histories | Completing and coding insurance claim forms |
Medical assistant schedules vary. Most work full-time, including days, evenings and holidays. Shiftwork is common at around-the-clock facilities such as hospitals.
What Education and Training Are Needed To Become a Medical Assistant?
A person can become a medical assistant with a high school diploma, through on-the-job training or with a post-secondary certificate. Medical assistant programs are available at four-year colleges and universities, community colleges and vocational and technical schools and usually take one to two years to complete.
Make Your Money Work Better for You
What Other Skills Are Good for Medical Assistants To Have?
In addition to education, on-the-job training and certifications, medical assistants will need to possess abilities such as:
Using technical equipment like blood pressure monitors
Intelligently discussing medical information with patients and colleagues, especially physicians
Accurately recording and communicating detailed vital patient information to physicians and insurance companies
Reading and understanding medical charts and diagnoses and coding medical records for accurate billing
What Does the Future Look Like for Medical Assistants?
Many currently working as medical assistants are projected to leave the occupation by 2031. Because of this shift, the U.S. Bureau of Labor Statistics reports that the medical assistant profession is expected to increase by 16% over the next 19 years. This projection is faster than average across all other occupations.
Final Take
Medical assistants are primarily responsible for assisting physicians with their jobs and helping patients feel comfortable during visits with their physicians. Medical assistant salaries vary based on state requirements, years of experience, education and the type of healthcare facility. A certificate can increase a person's chances of earning higher pay as a medical assistant.
FAQ
What is the highest hourly pay for a medical assistant?

According to Salary.com, medical assistants can make as much as $21 dollars an hour, but most fall closer to $18 an hour, and some make as little as $16 an hour.

Where do they pay medical assistants the most?

Data from the U.S. Bureau of Labor Statistics suggests that medical assistants are paid the most in the Vallejo-Fairfield area of California. The state with the highest average pay for medical assistants is Washington.
Information is accurate as of Oct. 14, 2022.
Our in-house research team and on-site financial experts work together to create content that's accurate, impartial, and up to date. We fact-check every single statistic, quote and fact using trusted primary resources to make sure the information we provide is correct. You can learn more about GOBankingRates' processes and standards in our editorial policy.
Make Your Money Work Better for You