How Much Do Truck Drivers Make?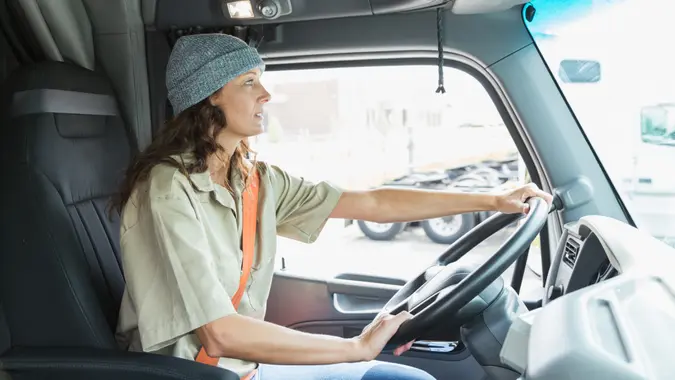 kali9 / Getty Images
People who shudder at the idea of a 9-to-5 job in a stuffy office building might be drawn to the truck driving industry when choosing a career. According to a report by the Los Angeles Times, truck drivers and heavy machinery operators are among some of the most in-demand jobs in the United States.
With flexible hours, apprenticeships to learn the trade without spending thousands on college tuition and a purportedly high salary, being a truck driver can seem like a great career choice. But do truck drivers make good money, or is the financial reality of a truck driver's checking account balance a bit grimmer?
How Much Do Truck Drivers Make?
According to the U.S. Bureau of Labor Statistics, truck drivers' annual mean wage in 2021 was $52,240 with full-time employment — but depending on the employer and role, truck driver salaries can be over $200,000 per year. The salary a truck driver can expect will vary depending on several factors.  
Location
A truck driver's base location determines what routes the driver has access to and the average job value they can accept. Truck drivers residing in Washington, Alaska, New Jersey and New York had higher salaries in 2021 when compared to those living in other states.
Make Your Money Work Better for You
Hauling Type
Load type also dictates how much a trucker can earn. Truck drivers who operate full-load hauls earn more than drivers who carry partial loads similar distances.
Certifications
Truck drivers who operate specialized vehicles earn more than drivers who only require a standard commercial license. For example, reefer truck drivers operate vehicles that must maintain a lower internal temperature, increasing the driver's salary.
Experience
The more years of experience a truck driver has on the road, the more money they are likely to earn per mile. As truck drivers gain more years of experience, they often have the opportunity to apply to specialized licensure programs to improve their pay rates.
Which Truck Drivers Get Paid The Most?
Truck drivers who want to earn more money can do so by specializing in their hauling type or how they structure their business. The following trucking specializations earn the most money on average.
Owner-Operators
Owner-operators are self-employed truck drivers and are more akin to small business owners than standard truck drivers. As the name suggests, owner-operators maintain their own commercial licensure, book loads on their schedule and plan their own routes and logistics.
Make Your Money Work Better for You
The average annual income of an owner-operator in the trucking industry is about $147,000 in 2022, according to Indeed. Owner-operators enjoy the most freedom in the industry but do not have set schedules.
They also have a higher upfront cost when compared to company drivers, as owner-operators must cover the cost of their own commercial driver's license (CDL) training and certification. They must also own or lease their own vehicles and any commercial space the company's headquarters uses to operate.
Team Drivers
Team drivers split their time on the road with one or more additional team drivers, handing off the wheel as needed to keep the load on the road. Team members can take turns driving and sleeping, which increases efficiency and the money earned. Sharing the workload, however, means you also share the profits. Teams must split their earnings.
Make Your Money Work Better for You
Team drivers must also have great communication skills, flexible schedules and work well under pressure. If you like having company on the road and don't mind sharing your profits with your partner, team driving may be a good option. In 2022, the average full-time team driver earns around $83,000 annually according to Glassdoor.
Specialty Vehicle Haulers
Specialty vehicle haulers are truck drivers who operate flatbed vehicles able to haul other vehicles. Specialty vehicle haulers must be trained to load and secure multiple types of vehicles to their hauler. They must be experts in operating with and without an additional load. According to Glassdoor, the average annual income for a truck driver specializing in car and specialty vehicle hauling is about $83,000.
Final Take 
While being a truck driver can pay good money, it may not be the right choice for everyone. Truck drivers must spend long hours alone on the road and be away from home for weeks at a time during the busy season. This occupation can appeal to singles looking to boost their income without a college degree.
However, being a truck driver might be too taxing for parents of young children, those taking care of elderly parents or anyone with ongoing commitments outside of career development.
Truck Driver Salary FAQ
Do truck drivers actually make good money?

The average annual income for a truck driver is about $52,000. This is higher than the median individual income in the United States, which is about $35,000 annually. Individuals must decide whether the time spent away from home and taxing hours on the road are worth this income level.

How is truck drivers' pay calculated?

Truck driver pay is calculated on a per-mile basis. Companies agree to pay truck drivers an agreed-upon number of cents per mile, with truck drivers operating on specialty routes or with specialized vehicles or operating permissions commanding the highest per-mile rates. The average truck driver drives between 2,000 and 3,000 miles per week.

How often do truck drivers come home?

The answer to this question varies depending on the truck driver's route and preferences. For example, most team drivers are away for two to three weeks, while regional drivers may only be away from home for a few nights a week. It is against the law for a truck driver to drive consecutively for more than 11 hours or be on duty for more than 70 hours in any eight-consecutive day period.
Information is accurate as of Oct. 13, 2022.
Our in-house research team and on-site financial experts work together to create content that's accurate, impartial, and up to date. We fact-check every single statistic, quote and fact using trusted primary resources to make sure the information we provide is correct. You can learn more about GOBankingRates' processes and standards in our editorial policy.
Make Your Money Work Better for You