How To Properly Look for a New Job When You Already Have One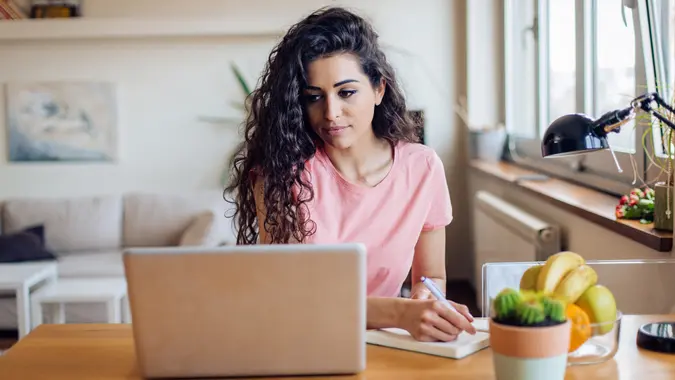 RgStudio / Getty Images
If you're intent on finding a new job and quitting your current one, you're not alone. The Great Resignation is still on a roll. According to a survey by Resume Builder, one in four workers plan to find a new job in 2022, and half of them are seeking better pay and benefits.
See: 8 Remote Jobs That Pay at Least $20 Per Hour
Ending Soon! Nominate Your Favorite Small Biz by July 25 for the Small Business Spotlight 2022
Whatever your reason for seeking another job, it's crucial to go about it in the right way. To help, here are some pro tips from job experts to put you on the right track if you're looking for a new job while you're still employed. 
Be Clear About Your Motivation for Leaving Your Current Job
"A new manager?" queried Jen Emmons, talent strategist at Carex Consulting Group. "Lack of opportunity or an increase in total comp? The desire for a smaller or larger size company? A different culture? You've grown and desire something new? Or perhaps if you are honest with yourself, you may have burned some bridges and want a fresh start? Self-awareness is key."
Make Your Money Work Better for You
Emmons said it's important to know the real reasons you are seeking a new job. "It will help you to show up differently and avoid repeating past mistakes in your next role," she said.
Don't Share Your Plans With Co-Workers
"When trying to remain professional while looking for a new job when still employed, it is in your best interest to not talk about it with anyone at your current job," said Rachel Eddins, a professional career counselor and the executive director at Eddins Counseling. "It really isn't anyone's business but your own, and it can cause issues within the office to be talking about actively looking for other employment."
She added, "Even if you think your conversations with work friends are safe, it can be too risky. If word gets to your boss, it could cause severe issues and also make things awkward when you haven't even found a new job yet."
Live Richer Podcast: Trading Secrets – From Crypto to Congress – With WallStreetBets
Never Use Your Employer's Time or Resources To Look for a Job
"Conduct your job search from home, using your own email address and computer," said Michelle Dumas founder and CEO of Distinctive Career Services, LLC. "Never include your work email on your resume, and never answer a job-search-related inquiry using your work email. You shouldn't even use your work computer to store or print your resume."
Make Your Money Work Better for You
Adjust Your LinkedIn Profile Settings
"Adjust your privacy settings so that updates aren't shown to all your connections every time you make a change," said Greg Marano, résumé specialist at The Syracuse Pen. "That will make it harder for your boss or colleagues to notice any flurry of activity that may raise suspicions."
Think Twice Before Using LinkedIn's 'Open to Work' Label
"Be careful about applying the LinkedIn 'Open to Work' label," said Marano. "Your current employer may see it, and that could make your time there harder (or make them less likely to give you time off for an interview). On the other hand, you could use it as a tactic to get that raise you want; if they see you're serious about leaving, that may be the incentive they need to find ways to make you happy enough to stay. Use this technique carefully, though; it may backfire!"
Be Efficient
"Keep a spreadsheet with openings, applications and key details, and save copies of the job postings as a reference," said Dan Shortridge, a resume writer and career coach with Results Resumes. "That will save you time and energy later on."
Be Smart
"Use your network to identify opportunities that aren't posted and to get valuable referrals," Shortridge said. "Reach out to trusted former colleagues, mentors and managers who can speak well of your work, and ask them for any leads they know of. The emphasis here is on 'trusted': Make sure they're not going to spill the beans on your search."
Make Your Money Work Better for You
Shortridge had another tip for playing it safe during your job search. "Also, research your target employers and key staff to see if they have any connections to your current employer's key staff. In a small industry, people may be closer than you know."
Submit Fewer but Higher-Quality Applications 
"Pick and choose the jobs you really want and the ones you're really qualified for," said Alan Edwards of Undercover Recruiter. "Take time to tailor and customize your resume and cover letters for each one. It's better to send 10 applications and get five interviews than send 100 applications and get only one."
Explain Your Situation to Prospective Employers
"If you're already employed and looking for a new job, you can't just ask your boss for a reference," said Eddins. "Because of this, it can be tougher to offer good references to possible employers. If you let [prospective employers] know you are still employed and haven't told [your current employer] you are looking for a new job, they are more likely not to call your manager."
Avoid Rash Decisions
"Interviews can be stressful, and it can be tempting to accept the first job offer you receive," said Chris Lewandowski, president of Princess Dental Staffing. "However, it's important to take your time to consider all of your options before making a decision. Remember why you want to leave your current job in the first place. If those things are not resolved in your new role, move to another opportunity."
More From GOBankingRates
Make Your Money Work Better for You