10 In-Demand Jobs To Consider in 2023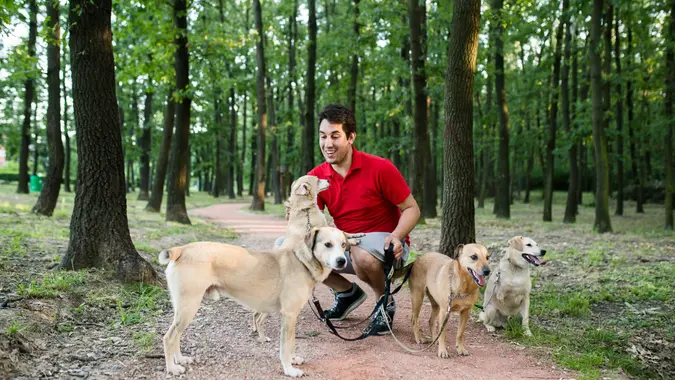 hedgehog94 / Getty Images/iStockphoto
While unemployment remains low, fears of a recession in 2023, combined with an uncertain economic landscape that could trigger more job layoffs, are on the minds of many Americans.
Indeed, 31% of American employees say they are concerned about their workplace potentially planning budget cuts or layoffs, according to a Dec. 14 Workforce Confidence survey by LinkedIn, as GOBankingRates previously reported.
Yet, the unemployment rate was unchanged at 3.7% in November and has been in the 3.5% to 3.7% range since March, according to the Bureau of Labor Statistics. And for Americans 55 and older, the landscape is even more positive, as the rate is even lower, at 2.5%, AARP reported, which means employers are eager to hire, especially in certain positions.
AARP compiled a list of these roles, based on BLS data and projections for now through 2031, finding that there is "a range of professions suitable to different backgrounds and levels of experience."
While medical professions show the most growth potential, other professions also look promising.
Here are some of these jobs, according to AARP's findings:
1. Nurse Practitioner
Increase in jobs: 45.7%
Average hourly wage: $56.75
2. Data Scientist
Increase in jobs: 35.8%
Average hourly wage: $52.24
3. Information Security Analyst
Increase in jobs: 34.7%
Average hourly wage: $54.46
4. Umpire, Referee or Other Sports Official
Increase in jobs: 31.7%
Average hourly wage: $24.86
5. Web Developer
Increase in jobs: 30.3%
Average hourly wage: $38.09
6. Choreographer or Dancer
Increase in jobs: 29.7% and 24.5%, respectively
Average hourly wage: $19.47 for both
7. Physician Assistant
Increase in jobs: 27.6%
Average hourly wage: $57.43
Make Your Money Work Better for You
8. Home Health Aide
Increase in jobs: 25.4%
Average hourly wage: $14.07
9. Travel Agent
Increase in jobs: 19.7%
Average hourly wage: $22.39
10. Animal Care Specialist
Increase in jobs: 19.4%
Average hourly wage: $14.19
More From GOBankingRates