Is Air Freight/Delivery Services A Good Career Path?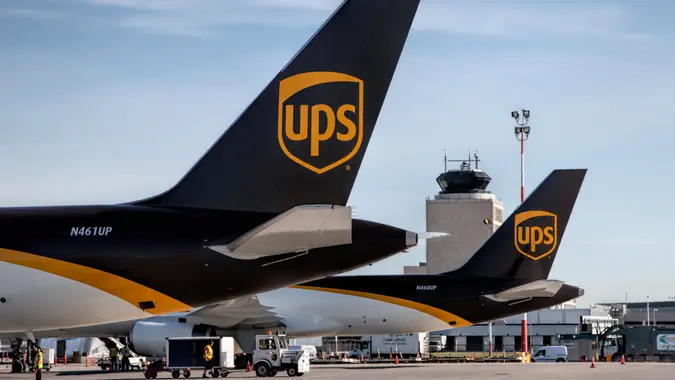 RayOneMedia / Getty Images
Despite globalization's recent e-commerce slowdown, a full turnaround is not expected, as the demand for air freight and delivery services continues to grow in tandem. In fact, the industry is generating billions of dollars every year and is expected to rise over the next five years. 
As the demand for these services increases, so does the demand for workers in this sector. Different employment positions in this industry require different skills and come with varying salaries. So, is pursuing air freight and delivery services a good career path?
What Qualifications Are Needed To Work in Air Freight Delivery Services?
Qualifications vary based on different types of jobs. Some positions only require a high school education, while others involve obtaining an air cargo transportation certificate. Higher-tier employment positions may ask for college degrees in specific areas, such as logistics.
Some air freight delivery positions require physical strength and stamina to fulfill the job demands. Other jobs need workers skilled in machine operations, such as using a pallet jack. Displaying a solid awareness of safety and time management are competencies that span all positions within the industry.
What Are Some Types of Air Freight Delivery Service Careers?
Air freight delivery service positions span from entry level to professional. Here are some of the top jobs in the industry worth taking a look at.
Freight Handler
Freight handlers are in charge of incoming and outgoing freight. Primary responsibilities include transportation of goods, record-keeping and overseeing safety standards. Typically, freight handlers use machinery, so they're often required to be certified to drive and operate vehicles, such as forklifts. Organization, communication and basic computing skills are a high priority for the role.
Average Annual Salary: $47,470
Estimated Hourly Rate: $18.67 per hour
Core Competencies Required: Organization, communication, attention-to-detail, health and safety compliance, and IT literacy
Make Your Money Work Better for You
Freight Forwarder
Freight forwarders manage the entire transportation process from start to finish. The job description usually consists of:
Communicating and organizing suitable arrangements with the relevant parties
Negotiating pricing
Coordinating transit and attaining insurance coverage
Preparation of documentation
Readying warehousing facilities
Managing records through IT systems
Most freight forwarders don't need education beyond a high school diploma. However, some do have higher degrees, and these workers may have more job responsibilities due to their education. 
Annual Salary Range: $43,042 to $77,059
Estimated Hourly Rate: $21 to $37
Core Competencies Required: Communication, negotiation, organization, bookkeeping and IT literacy
Aircraft Cargo Handling Supervisor
An aircraft cargo handling supervisor may also be known as an "aircraft loadmaster." This person oversees the shipment loading/unloading, staffing necessities and security measures. In addition, they are often part of the in-flight aircraft crew to monitor cargo and help manage emergencies.  
Annual Salary Range: $38,830 to $82,450
Estimated Median Hourly Rate: $25.74
Core Competencies Required: High level communication skills, ability to analyze and resolve discrepancies, strong care for detail and computer skills — specifically with data entry and processing
Freight Broker
A freight broker identifies and secures freight solutions to minimize costs and maximize sales while adhering to all required standards. They work as a middleman for organizing loading and drop-offs and oversee the status of each order they make. Record-keeping for orders is essential, and freight brokers must keep up with market trends to spot and secure the best deals.
Annual Salary Range: $30,020 to $69,450
Estimated Hourly Rate: $37.18
Core Competencies Required: Negotiation, sales, accounting, strong attention to detail, communication and IT literacy
Freight Logistics Operations Manager
A freight logistics operations manager will work with third parties and staff to control warehouse facilities, including organizing drivers for goods transportation and ensuring all employees are completing their work in compliance with standards. While a lot of assistance is available from the warehousing team for this role, it's the job of the freight operations manager to make sure processes run smoothly and errors don't happen through people management.
Annual Salary Range: $64,202 to $77,928
Estimated Hourly Rate: $31 to $37
Core Competencies Required: People management, leadership, compliance, customer relationship management and organization
Make Your Money Work Better for You
Freight Agent
An air freight agent's responsibility is to coordinate imports and exports between airlines and terminals. They track and route shipments while maintaining records of each delivery that comes in. Strong customer service and oral communication are a must for liaising with clients and negotiating financial rates. Health and safety qualifications as well as college degrees are beneficial for the role. 
Annual Salary Range: $36,317 to $49,594
Estimated Hourly Rate: $17 to $24
Core Competencies Required: Attention-to-detail, organization, negotiation and communication
Final Take
Air freight delivery services can be a brilliant industry to work in for developing a long-term career. There is great earnings potential as workers gain experience and move up the ladder, making it an ideal proposition for someone interested in the business and transportation sector.
Those interested in following up on one of the above roles can research for opportunities and training online. Updating a resume, preparing a cover letter and practicing interview skills are great ways to optimize the chances of landing a job.
FAQ
Here are some common questions people ask about air freight and delivery services careers.
Is freight a good career?

Freight services can be a good career with high earnings potential, especially when following paths of progression and attaining qualifications.

What states pay the most for air freight delivery services?

Connecticut, Maine, South Dakota, Oregon and Massachusetts pay the most for freight and cargo workers according to the U.S. Bureau of Labor Statistics.

Where can I find an air freight delivery services jobs?

Some of the largest companies in the U.S., including DHL, FedEx and more hire for air freight delivery services jobs. There are thousands of job openings that can be found on reputable websites such as Indeed.com and LinkedIn.
Make Your Money Work Better for You
Our in-house research team and on-site financial experts work together to create content that's accurate, impartial, and up to date. We fact-check every single statistic, quote and fact using trusted primary resources to make sure the information we provide is correct. You can learn more about GOBankingRates' processes and standards in our editorial policy.