5 Job Factors That Are More Important Than Compensation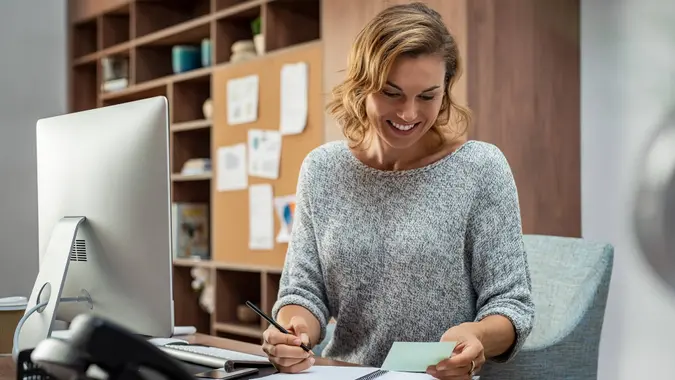 Ridofranz / Getty Images/iStockphoto
What do employees really want from their employers? Lavish perks, ranging from shorter workweeks to signing bonuses, are currently being used by various companies to attract workers. Companies recruiting employees, however, might want to look beyond using the carrot-and-stick approach to recruit and retain talent.
Read: Nearly Half of Americans Quit Their Jobs Because They Feel Unappreciated by Management
Discover: Workers Seek Healthier Relationships with Jobs as Offices Reopen
Cengage Group released a January 2022 Great Resigners Report revealing the main factors pushing U.S. employees out the door and what they're looking for in their next employer. More than half of resigners want nonmonetary benefits more than they want pay. The Great Resignation has the opportunity to shift into The Great Rehiring if employers evolve their hiring policies to focus on the following factors employees want the most.
Trust
Colleen DelVecchio, Gallup-Certified Strengths Coach and chief maximizer at Maxady, said the majority of job seekers who come to her coaching practice want trust and compassion in their workplace more than they want money.
"Over the past two years, job seekers have told me countless stories of managers not trusting them and having no compassion," DelVecchio said. 
Make Your Money Work Better for You
Some stories DelVecchio said she has heard include companies that have mandatory meetings at the beginning and end of the day to ensure employees are working their full eight hours. 
"Employees want to be trusted that they will get their job done," DelVecchio said. Trust in the workplace translates to even more important factors, like flexibility in when and where employees work, understanding what their goals are and having supervisors who support their work. 
DelVecchio said that employees want a compassionate leader, someone who is thoughtful in how they interact with their team, understands their needs and has their back. Compassionate leaders listen to, understand and support staff. This further allows employees to build trust with their employers. 
"Attracting and retaining great employees requires demonstrating that employees are trusted, valued members of the company," said Marla Cormier, president and founder of Emerging Leader Training. "These employees want to work for leaders who trust them to deliver, even when they aren't sitting in the same building."
Find Out: How Work-Life Balance Can Make You a Better Employee
Flexibility
Lawrence Dearth, president of recruitment at Insight Global, has been working closely with job seekers of all generations to understand what is most important to them as they decide what job to take. The rise of remote work means workers are keyed into flexibility in the workplace. 
Make Your Money Work Better for You
"Flexibility is now table stakes to attract top employees," Dearth said. "Top talent knows that there are hundreds of great companies that will give them that flexibility. They can now demand that who they work for meets the criteria, as their options are much larger."
Melissa Lopez, co-founder and CEO of Onyx Offsites & Trainings, said implementing flexible schedules helps promote personal wellness and a healthy work environment. 
"What we have seen in the past two years shows that job seekers prioritize work schedule flexibility over remote work," Lopez said. "Businesses should look to offer hybrid work, remote work, in-person work, flexible hours, childcare or other necessary accommodations that allow employees to feel and perform their best."
Connection
As remote work continues to increase, employees want to feel connected to the company, their colleagues and the purpose and values of the business.
Lopez said maintaining a culture of collaboration and teamwork remotely is essential for employee retention and business success. Employers must adapt in-person communications systems to fit remote and hybrid work so remote workers don't feel the negative effects of isolation, fatigue and disconnection. 
Make Your Money Work Better for You
"Activities that encourage communication and care can help ensure people feel connected to their team," Lopez said. "This can be as simple as virtual events providing a change of scenery between meetings or more comprehensive team-building programs."
As organizations continue to prioritize the wellness, health and vitality of employees, Lopez said individuals will deliver higher levels of performance. They will also feel part of a culture that is greater than themselves.
"The connection that employees used to feel by being on-site every day is now replaced by doing real, meaningful work for companies whose purpose and values align with their own," Dearth said. "That's why companies investing in ESG, DEI and who are clear about their values and their purposes are winning this war for talent."
See: Best (and Worst) States for Work-Life Balance
Training and Development 
Findings from the Great Resigners Report show reskilling is a key stepping stone to new opportunities. Of those surveyed, 78% had started taking steps to learn new skills. 
Cormier said employees want training and development in the workplace.
"Whether it's a formal mentorship program where they are paired with leaders in various areas of the organization, or a specific training program that provides them the skills needed to move into supervisory positions, they want to see opportunities to grow within the organization," Cormier said.
Recognition
Everyone wants their voice to be heard and recognized in the workplace. This applies to all employees, whether you work in person, hybrid or remote. 
Cormier said that employees want to know they will be listened to when they have ideas to improve a process or see an opportunity to change a long-standing practice. Employees also want action to follow their feedback. This makes them feel that they are a meaningful part of the team.
From flexibility with remote work to having a true work-life balance, the pandemic has shown all of us what is possible in the workplace. Cormier said that companies, and leaders, who recognize these needs and find ways to meet them will ultimately win the ongoing war for talent.
More From GOBankingRates
Make Your Money Work Better for You