5 Best Jobs for 12-Year-Olds That Pay Well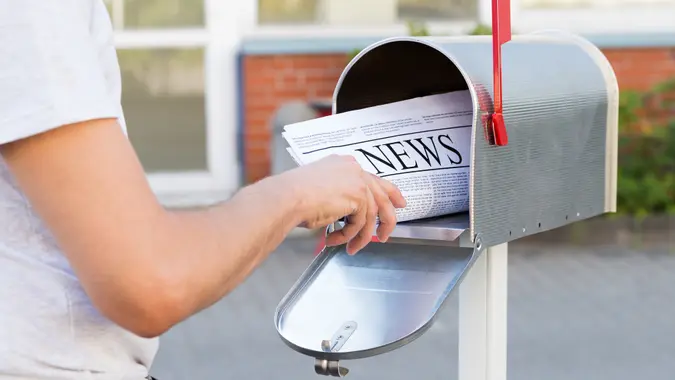 AndreyPopov / iStock.com
How can a 12-year-old make money? With young children, it's often not just a case of what jobs they can legally do, but also what jobs they can do well and are not too young for. Often the best jobs for older children are the traditional ones that come to mind — babysitting and doing chores for your friends and neighbors, such as mowing lawns, shoveling snow and walking dogs. Keep reading for more information on jobs for 12-year-olds that could be a good fit for your child and how much they pay.
What Jobs Can You Get At 12 Years Old? 
So what jobs would be a good fit for your child? Here are a few examples, and how much they pay on average. 
1. Babysitting
If your 12-year-old is mature enough, they can help take care of younger children for your family, friends and neighbors. Every parent knows that sometimes they need someone to watch their young children while they run errands or take a break, and since a 12-year-old is less experienced than a professional nanny or babysitter, they may also be cheaper. An average wage for a babysitter is around $10-25 per hour, though that can vary wildly based on what people are willing to pay.
2. Dog Walking
Kids and dogs are often best friends, and there's nothing wrong with turning that mutual love into something that brings in a paycheck. Working can be hard when you're younger — doing something fun can make the process easier. According to Payscale, the average pay for a dog walker is around $15 per hour, though it can range anywhere between $10 and $30.
Make Your Money Work Better for You
3. Yard Chores
Gardening and related chores can be more physically demanding, but they're also a good way for your child to make money and spend more time outdoors. Children can mow lawns, rake leaves, shovel snow and water plants. How much your 12-year-old can make an hour will depend on the type of work and how good of a job they can do. For example, most children will be paid somewhere around $5-15 an hour for mowing lawns. 
The good thing about doing yard chores is that there's potential for growth. As your child builds relationships with clients, they may be asked to take on other tasks around the yard or house. For example, if neighbors need a fence painted, or the garage cleaned, they may let your child know. Plenty of odd jobs always need to be done around the house, so there's potential to build responsibility and a bank account simultaneously. 
4. Delivering Newspapers
Depending on your neighborhood, a paper route may help your kid make some money while getting exercise. Children can deliver newspapers on bicycles, covering houses in their neighborhoods. Many newspapers will pay a flat rate of 10 to 15 cents per newspaper, so the amount your child makes will depend on how many houses they deliver to and how fast they can do it.
5. Cleaning Houses
If your 12-year-old is good at household chores like cleaning or laundry, they may be able to do them for your friends, neighbors or family who are busy and need help. The upside is that if your child has already been helping with chores around the house, they may have enough experience to do a good job. According to ZipRecruiter, on average, your child could make about $17 an hour for cleaning.
Make Your Money Work Better for You
Other Ways for Your Kids To Make Money
Aside from chores and odd jobs, children can also develop their entrepreneurial spirit by making different things that they can sell in the area or online. The classic lemonade stand always comes to mind, but plenty of other options exist.
The Department of Labor website mentions that holiday wreaths and other home decorations could be a good idea. Making things like jewelry, clothing and paintings or drawings can bring out your child's artistic nature while helping them earn spending money. Baking cakes and cookies for a local bake sale is another option.
What Work Is Legal for 12-Year-Olds?
The Federal Government has outlined certain age restrictions for work in its Fair Labor Standards Act. Restrictions are placed on non-agricultural and agricultural work separately because farms have traditionally been places where the whole family works in the U.S.
These restrictions are outlined as follows: Nonhazardous "real" jobs, such as working in a restaurant or store, can only be done by kids aged 14 and 15 for no more than three hours per day. Minors 16 and 17 years old may perform nonhazardous jobs for unlimited hours. However, minors under the age of 14 can still do some types of work outside of school hours in an informal setting. The Department of Labor provides the following examples:
Delivering newspapers
Performing on radio, television, movie or theatre
Working for their parents at their solely-owned non-farm business — except in mining, manufacturing or hazardous jobs
Gathering evergreens and making evergreen wreaths
Most states base their working-age laws around federal restrictions, but it may be a good idea to check what the laws are in your state.
Make Your Money Work Better for You
What About Taxes?
It may sound funny, but if your 12-year-old is successful enough at their work, they may have to file taxes. If their income during the year was more than the standard deduction of $12,950, then according to the tax code, they will have to file a personal income form. While that's a large amount for a 12-year-old to make, it's certainly possible, so be aware that you may need to help them file tax documents if the issue arises.
Final Take
Though there are limits, the options for jobs a 12-year-old can do vary enough that your kid should be able to find something. A good first step would be to sit and talk to your child about what they want to do. They're more likely to do well when they're included in the process — and the job fits their interests and strengths. Then you can ask around to see if your friends, family or neighbors need a babysitter, a dog walker or someone to do home and garden chores. Working for the first time can be difficult, so make sure to encourage your child as much as possible as they get started.
Information is accurate as of Dec. 29, 2022. 
Our in-house research team and on-site financial experts work together to create content that's accurate, impartial, and up to date. We fact-check every single statistic, quote and fact using trusted primary resources to make sure the information we provide is correct. You can learn more about GOBankingRates' processes and standards in our editorial policy.