Best Paying Jobs for 16-Year-Olds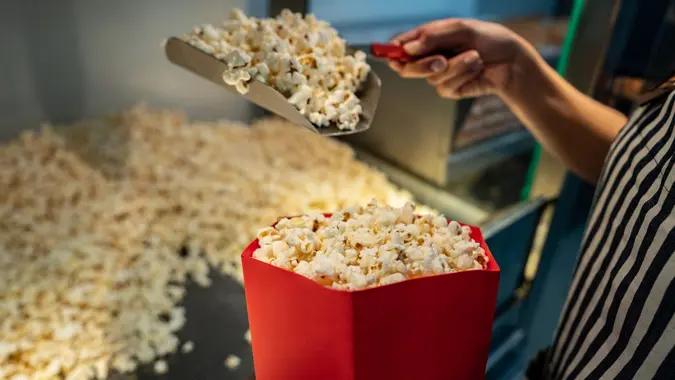 andresr / Getty Images
With rising inflation, many teens are looking for jobs to help cover costs in their homes, as well as pay for gas, food or even entertainment. But what are the best jobs for 16-year-olds?
Minimum wage is still stuck at $7.25 at the federal level, the same rate it has been since 2009. However, in January, the Biden administration increased the minimum wage for federal employees and contractors to $15 an hour, which was an important first step toward change.
Fortunately, 30 states and Washington D.C. have set minimum wages that exceed the federal level of $7.25. That means there are many opportunities for 16-year-olds to find relatively well-paying jobs. Additionally, the labor shortage and the "Great Resignation" in 2021 and 2022, when quit rates reached record levels of 4.5 million people in one month, have forced many employers to increase pay rates.
But what jobs pay best for a 16-year-old? And where do most 16-year-olds work?
15 Best Jobs for 16-Year-Olds
Here is a look at some of the best paying opportunities for teens, including many with flexible or weekend hours to work around a school schedule.
1. Babysitter
Babysitting rates have skyrocketed post-pandemic, with parents eager to pay a high price to escape for a date night after more than a year of staying home. In May 2022, GoBankingRates reported that some teens were making as much as $30 an hour babysitting. Indeed lists the national average rate for babysitters at nearly $21 an hour.
Make Your Money Work Better for You
To make yourself more desirable for this job — and able to command top dollar — consider taking a first aid and CPR course as well as the Red Cross babysitter certification course. It's fairly easy to spread the word on social media, around your community and in your school that you are looking for babysitting gigs. In doing so, you'll learn marketing and advertising skills that may help you land other jobs in the future or even start another business in the future.
2. Tutor
After years of virtual or hybrid learning, many elementary and middle school students have fallen behind in basic subjects. A smart 16-year-old can help bridge that gap as a math or English tutor. Care says that high school students can earn anywhere from $15 to $50 an hour for tutoring. Parents will feel they are getting a bargain, since certified teachers can get $100 an hour or more for the job.
3. Restaurant Busser
Restaurant bussers typically make more than the federal minimum wage, earning an average of $9.20 an hour, according to PayScale. Those just starting out can expect to earn an average of $8.77. These may not be great wages compared to babysitting or tutoring. But it can open doors to becoming a server, where you can earn a fortune in tips. If you are interested in a career in restaurant management or hospitality, becoming a busser is a good way to start. Plus, most restaurants can offer evening and weekend hours that can fit your schedule.   
Make Your Money Work Better for You
4. Dog Walker
If you like dogs and feel confident walking dogs of any size, you can make decent money as a dog walker. Most people who hire you won't care about your age as long as you are responsible and know how to work with animals.
Indeed reports that the average salary for a dog walker in the U.S. is $21.41, but this can vary depending on where you live, with dog walkers in San Francisco earning more than $26 an hour.
You can't list your services on Rover until you are 18 years old. But there are other ways to get dog walking gigs. You can market your services the same way you would babysitting, by spreading the word around your community and your school. You can also ask your parents to post in community groups on Facebook.
5. Pet Sitter
You can combine your dog walking business with a pet sitting business to increase your opportunities and profits. Unless you already drive, you'll want to stick to pet sitting in homes you can reach by foot, on your bike or through public transportation. A pet sitter would feed pets while the owners are on vacation or out-of-town, let dogs out or walk them, clean kitty litter and give the pets some TLC they might be missing while their owners are gone. It can be a fun, rewarding job and you can earn an average of $12.41 an hour, according to Zippia.
Make Your Money Work Better for You
6. Social Media Assistant
Do you love playing on social media? Many small business owners and entrepreneurs need someone to help them post on Facebook, Instagram, Twitter, TikTok and LinkedIn. As a social media assistant, you might spend time creating simple graphics in Canva for posting, scrolling social media for ideas on engagement posts to get people interacting, and replying to questions and comments from followers.
You can market your services online and work as a freelance social media assistant. But many companies are willing to hire younger people to manage their social media, too. According to Zippia, social media assistants earn an average of $21.22 an hour. If you work for a company, it's unlikely you would earn that rate just starting out but, as a freelancer, you can set your rates that high — or even higher — to earn hundreds of dollars a week.
7. Virtual Assistant
Similar to a social media assistant, a virtual assistant may also manage social media accounts. But the role of a VA also extends to administrative support for a business. You may book travel arrangements, schedule appointments, make phone calls or organize emails. You might even manage an email list for the business owner or company.
A virtual assistant works remotely, so you'll need a solid internet connection and a reliable internet-connected device like a computer, netbook or tablet. ZipRecruiter lists an average VA salary at roughly $28.79 an hour. Of course, you'd have to set your working hours around school, sports and activities.
8. Car Detailer
Do you love washing your car, inside and out, until it shines? You could launch a car detailing business in your neighborhood today. Professional car detailing services can cost as much as $300 or more. Yelp says an average detailing session goes for $176. When you detail a car, you go beyond just washing to remove tough stains and odors, vacuum, shampoo, wax and even treat the leather and vinyl. It's not hard, but you'll want to invest in the right cleaning products and you'll need to have excellent attention-to-detail skills, if you'll pardon the pun.
9. Landscaper
At 16, you may not be old enough to work for a landscaping company. But if you can handle a lawnmower, hedge trimmer and weedwhacker — and have access to that equipment — you can start your own. People pay between $25 and $50 for basic lawnmowing services, according to LawnLove. You can start building your business by asking your neighbors if they need a hand with lawn care.
10. Snow or Leaf Removal
When the lawnmowing leads dry up during winter, you can pivot your business to snow removal. All you need is a shovel or — better yet — a snow blower. If you're using your parents' snow blower just make sure to replace the gas you use and try to keep the blower in good working condition.
Likewise, you can also earn money cleaning up leaves in the fall.
Snow shovelers who use the Shovler app can make between $35 to $75 per job, but it doesn't accept shovelers who are 16. Still, that's a good guideline for setting your rates and you can see how lucrative this job can be in snowy regions.
11. Movie Theater Usher, Concession Stand Worker or Cashier
Many movie theaters will hire 16-year-olds as ushers, concession stand workers or cashiers. These may not be the best jobs for 16-year-olds. AMC reports that concession workers make roughly $8 an hour while ushers and cashiers start at minimum wage for their state. However, the opportunity to see movies for free is usually one of the perks, which could make this a worthwhile first job.  
12. Fast Food Worker
Many millennials and Gen Xers started their working lives at their favorite fast food restaurant. A fast food job, in past years, would not have made any lists of best-paying jobs. But in order to compete in the tight labor market, these restaurants are increasing their wages. Taco Bell announced it's increasing its average minimum wage to $15 an hour beginning in mid-2024. Likewise, McDonald's increased its average employee wage to $13 an hour, with the goal of an average wage of $15 an hour across all company-owned locations by 2024. Many fast food chains also provide tuition assistance, so if you stick with the job through college it could really pay off.
13. Retail Store Clerk
According to Glassdoor statistics, many retail and grocery store clerks earn an average of $13 to $15 an hour. Kroger and Walmart are amongst the highest-paying stores. You only need to be 14 years old to work in some positions at Kroger, making it a great first job. Walmart also hires 16-year-olds, although you'll need to be 18 to apply for a job at Sam's Club.
14. Lifeguard
Most lifeguards are required to be at least 16 years old and to pass a lifeguard certification course, as well as first aid and CPR certifications. You may think of this as a summer job unless you live in a warm climate, but you can also work at an indoor water park year-round. According to ZipRecruiter, teen lifeguards earn an average of $16 an hour. It's a lot of responsibility but if you love the water or the beach, there could be worse ways to spend your weekends.
15. Housecleaner
Housecleaners typically charge between $25 and $90 an hour. As a teen, you may want to charge less to line up a steady client list and increase your rates as you gain more experience. Still, those rates put housekeeping near the top of our list of best paying jobs for 16-year-olds. You'll want to invest in your own cleaning products instead of raiding your kitchen cabinets for the tools you need to do a good job. You may be able to attract more clients or charge more if you purchase eco-friendly and safe, natural cleaning products.
Final Take
When it comes to the best jobs for 16-year-olds, there are plenty of choices. Some jobs require a certain skill set, while others are willing to train new hires. Many of the best paying opportunities for teens include flexibility in scheduling and offer weekend hours to work around their school schedule.
FAQ
What jobs pay best for a 16-year-old?

Tutor, babysitter, housecleaner and snow shoveler are amongst the highest paying jobs for a 16-year-old. You'll notice the gigs that require marketing or sales abilities and a level of entrepreneurial spirit pay more than traditional W-2 jobs, such as working at McDonald's or Walmart.

What is the easiest job for a 16-year-old?

The old adage that if you love what you do, you'll never work a day in your life rings true no matter your age. Some may find being a movie theater usher to be the easiest job on this list if they love film. But if scrolling and posting on social media all day is your jam, you might find being a social media assistant the easiest job. Likewise, pet sitting is pretty easy, especially if you love animals. Would you want to get paid to cuddle cats?

Where do most 16-year-olds work?

Jobs for 16-year-olds run the gamut from the traditional fast-food restaurants to at-home positions like social media manager or virtual assistant. There are more opportunities than ever before for teens to earn a part-time income with flexibility and gain experience for a future career path.
Information is accurate as of Oct. 25, 2022.
Editorial Note: This content is not provided by any entity covered in this article. Any opinions, analyses, reviews, ratings or recommendations expressed in this article are those of the author alone and have not been reviewed, approved or otherwise endorsed by any entity named in this article.
Our in-house research team and on-site financial experts work together to create content that's accurate, impartial, and up to date. We fact-check every single statistic, quote and fact using trusted primary resources to make sure the information we provide is correct. You can learn more about GOBankingRates' processes and standards in our editorial policy.
Make Your Money Work Better for You