How to Prevent Rage Quitting in the Workplace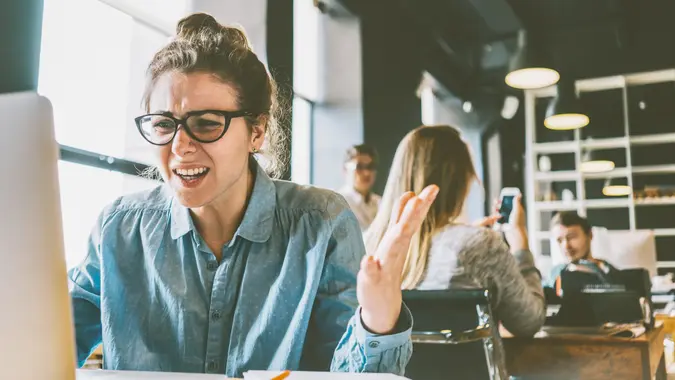 littlehenrabi / Getty Images/iStockphoto
Here are some signs that your job has you headed towards burnout (if you're not there already): The idea of going to work every day fills you with excruciating dread. Every email delivers a pang of anger mixed with despair. You type up 10 emails a day that you almost send to your boss telling them everything wrong with the company. And everything wrong with them. You fantasize about how good it would feel just to quit. Who cares if you don't have anything else lined up and your savings account is drained? The thought of never having to read one more Slack message from your coworker saying "Per my last email…" is worth going broke.
But then, reality sets in and you realize that "rage quitting" might lead to "rage missing rent" which would lead to "rage having to move back in with parents." While it's true that if your current job makes you want to rage quit every day, it's not a great place to work, it's also true that quitting on impulse will lead to bigger problems in your personal life. Here are some ways to mitigate the disappointment you feel at your job and hate it a little bit less. 
Make Your Money Work Better for You
Find Out: 20 Jobs Where You Can Make $60,000 Out of College
Learn More: 45 Jobs That Can Make You a Millionaire Before Retirement
Take Time Off
American workplace culture can sometimes make taking a vacation feel like a crime. In other countries, management implements mandatory vacation time, or has up to 38 paid vacation days, yet in America, only 38% of workers said their employer encourages time off, with 32% saying they feel like they can't take time off due to their workload However, 83% of Americans say that when they do take time off, they feel less stressed and recharged when they return to their jobs.
If you have the means, always take the time off. Especially if you don't particularly love your job, time spent away can be crucial. Your focus will be on something other than work, and you can reevaluate what's important to you, so that when you return to work, it doesn't seem all-consuming.
Taking scheduled time off could also mean calling in sick less often. If you know you have some planned relaxation coming up, it may give you something to look forward to which may give you the motivation to power through for now. And then you won't have to spend your day off worried about going outside, posting on social media or feeling guilty about not showing up. 
Make Your Money Work Better for You
Important: Should Employers Require Workers To Take Time Off?
Speak Up
One important step to take when you hate your job is figuring out why you hate it. Is it the work itself, or is it unfair treatment? If you loathe your job because you feel you've been saddled with extra work without being recognized, or your ideas are being overlooked, perhaps you need to have a frank conversation with your manager. Sometimes, we get into a rut thinking our supervisor knows that we feel unappreciated, yet they're choosing to ignore that fact, when in reality, they simply have no idea. Talking this through might illuminate key facts to them, and might lead to better working conditions that ultimately make you happier and more satisfied with what you're doing. 
Career Change? Companies That Let You Work From Anywhere
Vent
If you've been keeping your work rage bottled up, now's the time to let it out. Tell a close friend, a therapist, a partner, or all three if you want! Being dissatisfied at work is a common experience. Realizing you're not alone and hearing that people you love and trust have been through the same thing can be very comforting, and give you hope that there's light at the end of the tunnel. It can also be such a relief to voice all of your concerns and annoyances about your job so you don't feel like you have to carry such a heavy burden all the time. Plus, having a good laugh at your job's expense can bring some levity to what might otherwise seem like a joyless experience. 
Make Your Money Work Better for You
Just remember: Venting by itself can't solve the problem, so once you've gotten your feelings out it's time to reflect on what needs to change. Otherwise, you may get stuck in a cycle of pushing down your feelings, getting relief when you let them out and then starting the cycle all over again.
Make an Escape Plan
If you've taken time off, spoken up, talked through your feelings and still feel there's no way to salvage your current job, start working toward finding a new job. Set aside an hour a day where you're not at work to dedicate to job hunting. Make sure to keep it discreet (no posting on LinkedIn), but if you have some trusted friends or old colleagues, reach out and let them know you're looking for something new. If you feel like you simply can't work at your job much longer, start working on a savings plan that will last you at least six months after you quit. If you quit your job, you're often not eligible for unemployment, so this savings nest is key. 
Once you have a plan in place for leaving and are actively working on finding a new job, the animosity you have for your current job will likely start to fade. The energy you spend hating your current job is much better used to change your circumstances.
More From GOBankingRates
Make Your Money Work Better for You