Is Quitting the Key to Success? Why Hundreds of Millionaires Say Yes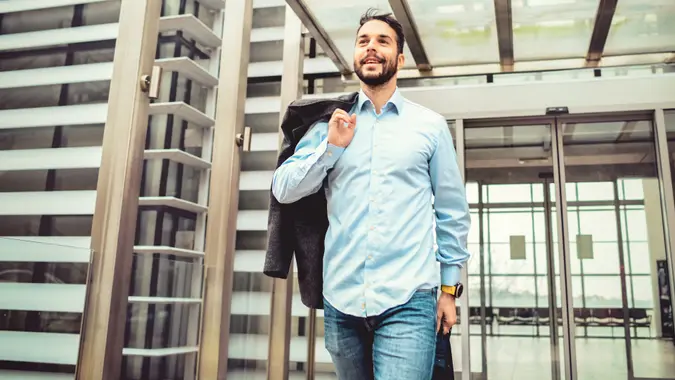 bluecinema / iStock.com
There's no questioning the drive it takes to become a millionaire. The vast majority gain their wealth through hard work, strict financial discipline and consistent and wise investing over time. However, it seems the very rich have another important thing in common: Many quit their jobs to achieve the financial freedom that comes with being a millionaire.
See: Rich People Are Dropping Banks With Low Interest Rates — Should You?
Find: People Making 6 Figures Are Shopping at Dollar Stores — What They're Buying
Contrary to popular belief, most millionaires make their fortunes rather than being born into them. According to Ramsey Solutions' National Study of Millionaires, 79% of the 10,000 millionaires surveyed didn't receive any inheritance from their parents or family.
After interviewing over two hundred millionaires over the past five years, CNBC's Tom Corley found that all had recognized warning signs in their pre-millionaire careers and quit to pursue better opportunities that would ultimately set themselves on the road to great wealth. Of the 233 millionaires questioned by the "Rich Habits" expert, 51% were entrepreneurs, 28% had conventional 9-to-5 jobs and 18% were high-level corporate executives. But as Corley noted, all decided to make a mid-to-late career pivots away from linear, traditional career paths to open new doors in their careers.
Make Your Money Work Better for You
Successfully reinventing yourself certainly takes a brave leap of faith in your abilities but it also takes intuition and recognizing "red flags" at your job. Here are some common warning signals to keep your eye on in the workplace. 
Underused and Underpaid
Creating your own career from the frustration of being underutilized is a common career event shared by the millionaires in Corley's research. The dissatisfaction of robotically doing your job day in, day out, can spur you to look for opportunities that make use of your capabilities and value elsewhere. Likewise, if you want to be successful and earn more, staying the course when you are living paycheck-to-paycheck should be enough to necessitate a change of direction.
Toxic Work Environment
When you are finding it difficult to work or progress in your career due to the negative atmosphere or company culture created by the managers and employees around you, it might be the time to take steps to protect yourself and your career development. As Corley noted, putting up with "Managers who are demanding, selfish, arrogant or have little interest in your opinions won't help you reach your earning potential."
Dave Ramsey: Here's the 'Quickest, Right Way To Become a Millionaire'
Conversely: 35% of Millionaires Believe It Will Take 'Miracle' To Achieve Secure Retirement
Make Your Money Work Better for You
Industry Instability
As Forbes reported, a few decades ago, the acronym VUCA (Volatile, Uncertain, Complex and Ambiguous) was created to describe "uncontrollable" situations or environments. Depending on any number of motivations or trends, some industries are simply more erratic than others. Sometimes you need to take a bold chance to obtain the level of success you want by changing careers. Giving the example of a millionaire who jumped from an unstable manufacturing company to a burgeoning discount brokerage firm, Corley maintained that your skills are more transferable than you think.
More From GOBankingRates
Make Your Money Work Better for You