Reasons Your Unemployment Claim Was Rejected — And How To Fix It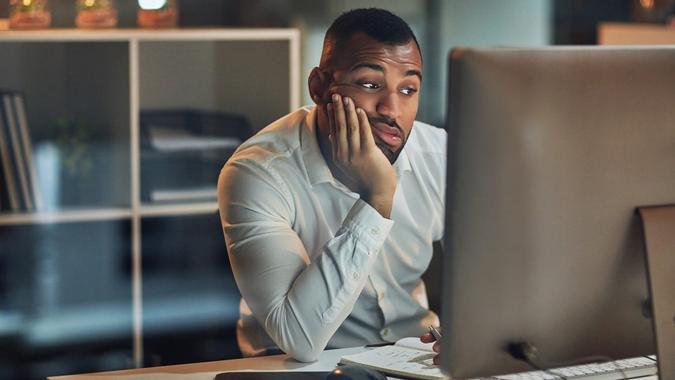 LumiNola / Getty Images
A critical component of the social safety net, unemployment insurance is a joint state-federal program that pays cash to eligible people who are out of work until they can find new jobs. In the time of the pandemic, unemployment benefits were the difference between sinking and swimming for millions of Americans. The Federal Pandemic Unemployment Compensation (FPUC) program was a key element of the CARES Act, but its $600 per week bonus compensation expired in July 2020. 
Read: Americans' Savings Drop to Lowest Point in Years
The stimulus relief package that Congress passed in late December, however, extends FPUC into 2021, but the benefits have been reduced by half to $300. In most cases, anyone who is eligible to receive standard unemployment benefits will qualify for the FPUC boost — but what about those whose claims are denied? If you applied for unemployment benefits but got bad news in the mail, don't panic. There are steps you can take and things you can do to fix it and get the payments you need to see you through.
Make Your Money Work Better for You
See: How To Interview for a Job Over Zoom
There Might Be a Quick Fix
The first step is to learn why you were denied. Your denial comes with something called a notice of determination, which explains why your claim was rejected. Sometimes, people are denied for reasons as simple as a mistake on their application, like forgetting to include an employer. Other eligible people might be denied because they applied in the state where they live instead of in the state where they work. In cases like these — where a denial doesn't necessarily mean you're ineligible — you can either update the initial application or simply reapply. Depending on your state's protocols, one option may be faster and easier than the other.
Find Out: How Do Your Stimulus Payments Affect Your Taxes?
Or You Might Have Truly Been Deemed Ineligible
In other cases, people are denied because they have, in fact, been deemed ineligible for unemployment benefits. All states set their own eligibility guidelines and some states might deny claims for different reasons than others, but, according to the United States Department of Labor, most people are deemed ineligible because they:
Quit a job without good reason

Were fired for misconduct

Aren't ready, able and willing to work

Stopped actively looking for a job

Lied on their application

Refused a fair offer to work
Make Your Money Work Better for You
More: What It's Like To Job Hunt During a Pandemic
You Still Have One Card To Play
No matter the cause outlined in your notice of determination, you have the right to appeal. Instructions for filing an appeal will arrive with your notice of determination, including, in some cases, the form you need to file it. It's important to note, however, that your employer has the right to appeal, too. The appeals process varies from state to state, but you don't need a lawyer no matter where you live — although hiring one certainly might help — and in most states, you have roughly 30 days to appeal before your claim is permanently denied.
Read: 30 Things You Do That Can Mess Up Your Credit Score
Some states, like New Jersey, convene a tribunal to hear your case. In states like Arizona, a judge will decide. Either way, you'll have a chance to plead your case, tell your side, present documents and communications as evidence, and perhaps even call witnesses. In most cases, this can now be done remotely. While your appeal is taking place, it's important that you continue to file weekly claims so that if you do win your appeal, you can be back-paid for those weeks.
Make Your Money Work Better for You
More From GOBankingRates
Make Your Money Work Better for You