Should Stay-at-Home Moms Get Basic Income? Experts Weigh In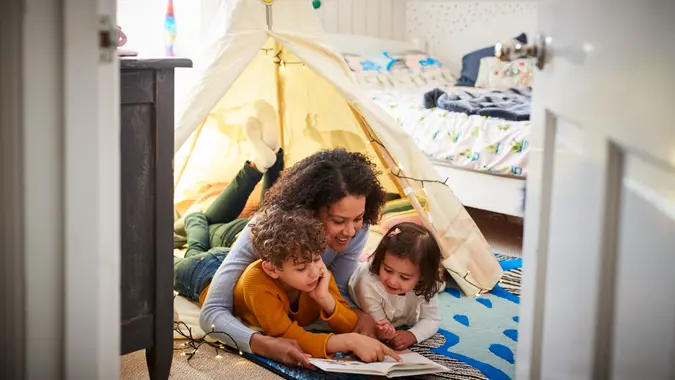 monkeybusinessimages / Getty Images/iStockphoto
During the coronavirus pandemic, more than 12 million women lost jobs and over 2 million left the workforce altogether, CBS News reported. Many of those women left their jobs to take care of children who were no longer able to attend school or day care with facilities closed.
"We lost 30 years of progress," Reshma Saujani, the founder of the nonprofit Girls Who Code and a mother of two, told the news channel. "Think about that. The reality is, is we are in a moment of rage. Every mother I know has just had it."
Read: Why Some Believe Universal Basic Income Will Help Us
The Other Side: Why Some Believe Universal Basic Income Will Hurt Us
Saujani has suggested a basic income for mothers as part of what she is dubbing "The Marshall Plan for Moms." The plan calls for a short-term monthly stipend for mothers who need to leave the workforce to provide child care, along with paid family leave, affordable child care and pay equity.
Make Your Money Work Better for You
But is a basic income for stay-at-home moms a good idea? GOBankingRates asked career pros, executives and other financial experts to weigh in.
Why Stay-at-Home Moms Should Receive Universal Basic Income
Rachel Neill, the CEO and co-founder of two HR talent acquisition firms — Carex Consulting Group and Talent Bandits — and a mother of seven, believes that basic income for stay-at-home mothers is a good idea.
"The fact that families with the available resources are paying for childcare is an indication that taking care of children is a skill and job worthy of receiving compensation for," she said. "I have been successful enough in my career that I am able to have a flexible work schedule and hire additional childcare help; however, many are not. The burden and responsibility of raising a family is more often than not automatically assigned to the women. If women are routinely pushed into domestic, familial roles, society and our government should be held accountable for fairly compensating them."
Find Out: Here's How Much Economists Say Stay-at-Home Moms Should Get Paid
Neill said that a universal basic income for stay-at-home parents would be beneficial for children, and would also push employers to offer better parental leave policies to encourage mothers and fathers to stay in the workforce.
"In providing basic income for stay-at-home mothers, children are more likely to receive needed attention, love and necessary care from their immediate families and caretakers, a practice that has shown to positively impact a child's overall development and learning," she said. "On a larger scale, providing stay-at-home mothers (and fathers) with a basic income would help raise societal awareness about the value and importance of childrearing. In the U.S., it's at the employer's discretion to determine the specifics of parental leave and many states don't have parental leave protections in place. This leaves new parents in a tough position in terms of how to handle childcare at a point in a child's life where attention and development are vital."
Make Your Money Work Better for You
Keep Reading: Nearly 10 Million Working Moms Are Burned Out, Thanks to COVID-19
Although the pandemic shined a light on why stay-at-home parents should be eligible for a basic income, Neill believes this type of support should be available even when we are not in a time of crisis.
"I was fortunate enough to be able to work from home throughout the pandemic. Many women were not — they were forced to choose between staying at their job or staying home to take care of their children," she said. "Unfortunately, [due to] a situation for many that wasn't even a choice, they had to stay home and watch their children, but simultaneously fear they would not be able to provide for their family. Women (and men) should never be put in a position where taking care of their children puts them in a situation where they do not have the resources to provide for their children."
Helpful: 34 Savings and Money-Making Tips for Moms
Bridget Gainer, vice president of global public affairs at Aon, believes that universal basic income for parents is one of the many policies that should be in place to ensure talented men and women don't permanently leave the workforce when they have children.
"UBI builds resiliency because it provides stability should caregiving interfere with work," she said.
Make Your Money Work Better for You
Gainer also believes that other potential solutions — some publicly funded, some employer-funded — for keeping parents in the workforce include expanded public child care options, an increased child tax credit (which has already been enacted), flexible work arrangements, private caregiver credits for employees and on-site child care.
"The pandemic is forcing us to confront certain issues that have been brewing for a long time," she said. "The lion's share of policies in place to support people with caregiving responsibilities simply don't work. Or don't work enough."
Find Out: What The First Year of The Pandemic Looked Like for The Working Mom
Why Stay-at-Home Moms Shouldn't Receive Universal Basic Income
Stacy Caprio, founder of Her.CEO, believes that providing a universal basic income for stay-at-home moms would negatively impact the U.S. economy.
"I don't think it's a good idea to give stay-at-home moms a basic income simply because it would put an undue strain on the financial system that would end up hurting everyone, including the stay-at-home moms themselves in the long-term," she said. "Anytime you start printing more money to finance income that isn't based on work or contribution, you start having more money in circulation, which when used, contributes to inflation and debases the currency. This makes all the money you've saved worthless, and it makes the price of everything more expensive on a small scale. When too much inflation happens, money can become worthless and the entire financial system can be reset with a huge standard of living decrease for everyone in the country, such as has happened in places like Venezuela and Zimbabwe."
Read: 48% of Women Don't Want to Go Back to Work in the Office Full Time
And although Neill supports basic income for parents, she too acknowledges there could be some drawbacks: "The cons are similar to any other government-funded program: There will always be people who may not qualify but still need assistance, and there will be those who might take advantage."
More From GOBankingRates
Last updated: April 26, 2021
Make Your Money Work Better for You