Should You Be Looking To Make a Career Change in 2022?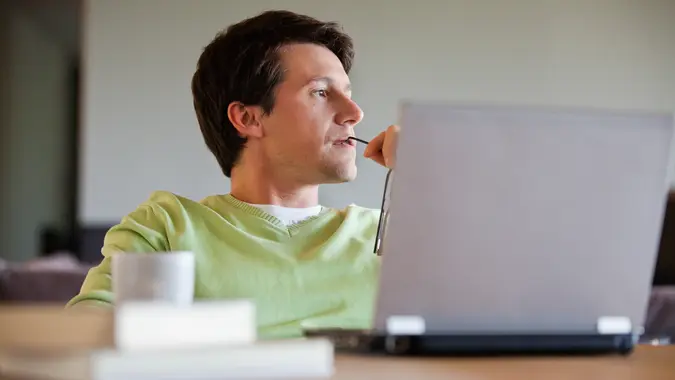 Sam Edwards / Getty Images
With the Great Resignation now more than a half-year-old, anyone pondering a career change might think they missed their window of opportunity. But the same forces that caused the unprecedented workplace exodus that defined last year's labor market are still in play.
See: How To Jump-Start Your Job Search and Find the Perfect Position in 2022
Find Out: How To Interview For a Job When You're Wearing a Mask
"Today's job market is primed for candidates," said Mikaela Kiner, founder of the HR consulting firm Reverb. "Between the Great Resignation, fallout from COVID, and shifting expectations, workers certainly have the upper hand."
Will 2022 be a good year to leave your job for a new company or even a new field altogether? For most experts, the answer is a resounding yes.
Dream Job Alert: These 10 Companies Let You Work From Home AND Have Unlimited Vacation Time

Changing Jobs? There's Plenty To Be Optimistic About
Experts are mostly bullish about the prospects for professionals pursuing a change of direction in 2022 — and much of that optimism has to do with the incredible tools that modern job hunters have at their disposal.
Make Your Money Work Better for You
"2022 is shaping up to be a great year for a career change due to the large range of options that now exist to educate yourself in a new area, network globally with others, rebrand yourself, and position yourself as a subject matter expert," said TED Speaker and career development coach Michelle Enjoli.
But if 2022 does go on to be defined by mass career-hopping, it will be because the extraordinary events of last year set the stage to make it possible.
"2021 and the Great Resignation added to the confidence in this ability because of the changes in mindset that occurred with the increase and development of remote work, hybrid working environments, and new career options," Enjoli said. "All of these developments helped destigmatize making big career changes, especially for those looking to make a change mid-career or later."
In the Office: Handshakes and More Office Rules Changed by COVID
2021 Set the Stage for Seismic Change in 2022
Colleen Paulson, an executive resume writer and career consultant based in Pittsburgh, also believes 2022 will be a great year for professionals changing paths — and, like Enjoli, she attributes a lot of it to the unprecedented events that shook the labor market in 2021.
Make Your Money Work Better for You
"With the Great Resignation, workers at all levels are leaving their jobs, and many top companies still have a talent gap," Paulson said. "They are finding it difficult to replace those employees who are gone. If you can show how you can effectively help an employer to solve their pressing business problems, then it definitely is a great time to make a change."
Joseph Gutheinz, the general law partner of the Gutheinz Law Firm, is even more direct in his optimism.
"Never in my half-century of employment have I encountered such a target-rich environment for job hunters," he said. "This is truly a once-in-a-lifetime opportunity for young people who want to find their first jobs and for seasoned employees who want to move up in their present positions or to take a leap of faith and hunt for a new and better position. As a criminal defense attorney, I am seeing people leave both jail and prison and secure middle-class employment. These times make me wish I were young again and could start over. I certainly would not waste this opportunity."
Make Your Money Work Better for You
Be Prepared: How To Interview for a Job Over Zoom
Keep Your Old Job Until You Lock Down Your New Job
The events of 2021 gave many workers a false sense of security that they can quit their jobs and stroll right into another position somewhere else that's at least as good. That's a dangerous presumption.
"This isn't the time for leaving a job without another secured opportunity," said Shannon Grosswiler, owner of Jolt C3: Career and Transition Coaching. "Despite the economy and employment numbers, employees are at a strong advantage if they already have a job and want to find a new position. In the face of so much uncertainty due to Omicron, future variants, supply chain problems, and inflation, making sure there is a stash of at least three months of living expenses is the safest option if another job hasn't been secured, but this sum for a family of four is often out of reach."
Read: 6 Career Mistakes To Avoid During an Economic Downturn
Most of the Success Will Be Concentrated in a Few Key Fields
Your ability to change careers in 2022 will have a lot to do with which industry you're pursuing.
"In the face of the Great Resignation, there is a huge shortage of workers in fields such as healthcare, logistics, leisure and hospitality, retail, and manufacturing, just to mention a few," said Paul French, recruiter, career coach and founder of Intrinsic Executive Search.
Those, however, are not the only hot industries for people looking to change gears in the coming year.
"Sectors including technology, e-commerce, entertainment, and gaming have been bolstered by the pandemic," Kiner said. "That means these sectors are growing rapidly and need all the talent they can get. The people who work in those industries, known as information workers, are always in high demand. That means they can command not only salaries but work-from-anywhere jobs. If one company refuses to be flexible, there are plenty of others who are more than willing."
Either Way, Keep Your Expectations in Check
Media reports have portrayed the Great Resignation as a fantasy world where people looking to change careers can just choose a field, pick a job listing, breeze through the interview process as a formality, and walk away with a high-paying position with good benefits — oh, and why not toss in a sign-on bonus for good measure?
Don't count on it.
"Right now, many industries are in disarray from labor shortages occasioned by the lockdowns and hospitalizations," said Swati Chalumuri, a personal finance expert, freelance blogger, and millennial mommy entrepreneur at HearMeFolks.com. "At the same time, the global supply of both labor and raw materials is facing uncertainties. As such, it's hard to tell if the grass is truly greener on the other side."
Get the Job: Highest-Paying Work-From-Home Jobs
If It's Time for a Change, Then Make a Change
On the other hand, if you've hit a career brick wall and a change of pace has become a must, then 2022 is as good a year as any to switch lanes.
"If you're not happy with what you're doing in your career, then I believe that anytime could be a good time for a change," said Dan Slocum, founder of bestfitwork.com. "Yes, certain times may be harder than others — I'm not expecting 2022 to be one of those times — but work has such an impact on your overall life that it's critical to enjoy what you're doing. So if you're not happy with what you're doing for work, make a change to create the life you want, regardless of the particular dynamics of a given year."
More From GOBankingRates
Make Your Money Work Better for You